As President Kenneth Kaunda of Zambia stepped out of his plane onto what is left of the war-ravaged Entebbe International Airport, he stopped a yard away from the outstretched arms of the newly reelected president of Uganda. Apollo Milton Obote. Instead of embracing. Kaunda went down on his knees—to pray for Uganda.
His host tearfully followed him to his knees. The huge throng of chanting, dancing Ugandans who had come to meet the Zambian leader were hushed to sudden silence and, with bowed heads and bent knees, joined their leaders in five minutes of intensely joyous worship.
When the scene was shown on television later that evening, tens of thousands of viewers in Uganda and neighboring countries also fell to their knees in prayer—not only for Uganda, but also in appreciation for the spontaneous public acknowledgment by the political leaders of God's sovereignty over events in the region.
Kaunda came to Uganda on January 18 to join Presidents Daniel arap Moi of Kenya and Julius Nyerere of Tanzania in congratulating Obote and his fellow Ugandans on successfully returning their country to constitutional and democratic rule after nearly a decade of brutal military rule under General Idi Amin.
The leaders also came together to work out a regional plan to rehabilitate Uganda's shattered economic and administrative structures. But at a public rally, the leaders addressed themselves to different but equally important casualties of the Amin era: public morality, devotion to national goals and interests, and national unity. They spoke of the importance of forgetting the painful recent past in order to build a viable future for the country.
Hope for Uganda is once again on the ascendant. The country's natural beauty, rich cultural heritage, and vast economic potential of agricultural and mineral wealth caused the famous explorer and journalist Henry M. Stanley to christen it "the Pearl of Africa." Indeed, Kenya and Tanzania were of interest to European missionaries and colonists only because they happened to lie between Uganda and the sea. Stanley drew a sharp contrast between the "blank, amorphous barbarism" of the Kenya and Tanzania areas and Uganda's "civilization and order." "Uganda," said another missionary. Cardinal Lavigerie of the White Roman Catholic Fathers, "is like an orchid in a field of poison ivy."
Hindsight tells quite a different story. One recent visitor to Kampala, a Nairobi journalist who accompanied President Moi, remarked to a Ugandan colleague that Uganda is still a paradise. "Oh yes, don't we know it," came the prompt answer. "That's our problem: everyone wants a share of paradise. There will never be peace here."
It is true that Uganda has known no peace in its short recorded history. The well-organized kingdoms the Europeans found on the northern shores of Lake Victoria had disciplined and well-trained armies on full-scale and permanent alert to attack neighboring kingdoms at every available opportunity.
When the Arabs and the French joined the British in the scramble for Uganda, the religious dimension became part of Uganda's heritage of violence. Even after the British had firmly established their sovereignty over Uganda, the Muslims, Catholics, and Protestants continued the savage bloodletting. Uganda has thus given Africa her first 22 saints, canonized by Pope Paul VI in 1969 in the first-ever papal visit to Black Africa.
The saints are particularly dear to Ugandans: they literally could have called on the "legions" of their fighting men in the Catholic party to rescue them from the treacherous hands of the incumbent Baganda king, Kabaka Mwange. Although none of the religious parties had taught their followers the ways of peace, the personal faith of martyrs did. They died clenching their Bibles and singing hymns.
Curiously, the British had a remarkably peaceful rule over Uganda for the 50 years preceding independence, through a system of indirect rule, sharing power with the tribal kings. The constitution they negotiated with Obote at independence in 1962 partly continued the system, making kings constitutional rather than divine rulers. But Obote's political program called for a strong, centralized, socialist, unitary, republican state. To destroy the kingdoms, he enlisted the support of army commander Idi Amin, who accomplished the task with ruthless efficiency. It was even easier for Amin to get rid of Obote, after the president's unpopular move to destroy the kingdoms.
Consumed in a diabolical lust for power. Amin's single political program was to keep himself at the State House. He accomplished this fairly easily by decreeing himself life president of Uganda, and then setting about defending his position by killing anybody he suspected of disliking the idea. In eight years, half a million Ugandans died. In eight years, not a single new school or health center, housing development or factory, had gone up in Uganda: the national wealth was devoted to supporting the rapidly expanding military establishment. To remove Amin from power cost Uganda and Tanzania another 50,000 lives.
The suffering of the churches at the hands of Amin reached its symbolic peak with the martyrdom of Anglican Archbishop Janan Luwum just before the Easter weekend of 1977. In probably the last public statement he ever made. Luwum read out a statement by Ugandan bishops who were meeting at the time in Kampala: "We believe in the life-giving love of Christ, we proclaim that love to all without fear—as Your Excellency [Amin] knows. We speak publicly and in private against all evil, all corruption, all misuse of power, all maltreatment of human beings. We rejoice in the truth, because truth builds up a nation, but we are determined to refuse all falsehood, all false accusations which damage the lives of our people."
A few days later, Luwum was dead. But not the church of Uganda. Somehow, as persecution intensified, the Christian churches of Uganda grew in membership by leaps and bounds. It became difficult for them to receive aid from outside Uganda, yet the churches were never at any other time healthier financially than during the Amin era: local giving to the various churches went up between three-and fivefold. It was dangerous to attend church meetings, yet in such meetings throughout Uganda, there was standing room only. Uganda officially became an Islamic country and joined the Organization of Islamic States; yet the Uganda that Amin ruled quietly became Africa's most Christianized country with an estimated 83 percent of the citizens declaring themselves to be Christian.
"But please don't misunderstand the situation." cautioned a leading Ugandan churchman speaking recently to a Nairobi journalist in Kampala. "We have Christians here. But the Christian church is severely damaged, not only as a community but also as an institution."
Under Amin only two Christian church communities were legal: the Catholic church and the Anglican church. All other communities had to pick between the two for institutional affiliation, and those who did not like the arrangement were told to get out and had their properties confiscated. Amin fortunately did not have proper machinery for implementing his decrees and a number of communities continued business as usual with only a few cosmetic changes. But the new arrangements encouraged undiscipline and weakened structural and doctrinal unity in the churches. Liberation gave rise to Nairobi-style street-corner preaching, which is regarded as the major cause of the proliferation of independent churches in Kenya.
"Amin left the churches in pieces." said the churchman. "We have to rebuild everything: new chains of command, training programs and institutions, publishing houses, social service programs, church buildings, and so on. As you can see. I have to get the toilet facilities at this office working again: they haven't worked for seven years." he said, as he rose quickly to drive more than a mile away to use one.
Later on, at the rally for the visiting presidents of Kenya, Tanzania, and Zambia, the churchman broke down in tears as he heard Obote explain to his guests that the greatest casualty of the Amin era had been the sense of social responsibility. "As you see, we still have good, loving people; we have good traders, mechanics, teachers, churchmen, but we have lost our sense of being a nation, or working for one another."
Obote then turned to his countrymen and spoke at length about the national philosophies of the countries led by his guests that had made those countries islands of peace and stability in a continent in turmoil: Zambia's Christian humanism. Tanzania's ujamaa spirit of selfless brotherhood, and Kenya's harambee spirit of forgiveness and reconciliation.
Uganda, it appeared, had become poison ivy in a field of orchids! "Pray for us," Obote said as he bade farewell to his guests.
The Iran Hostages
How Kathryn Koob'S Faith Sustained Her As A Captive
"I felt from the very beginning that I would go free. I didn't know whether it was going to be five days, five months, or 15 years, but I was pretty sure I was going to walk away from that place."
That place—the U.S. Embassy in Tehran—separated hostage Kathryn Koob from freedom for 444 days, but it never separated her from the love of Christ. Her testimony to faith in God as a primary source of strength and comfort during captivity affirms a devotion that has been an integral part of her life.
Confirmation of her optimism about eventual release came from the Bible. "I received a promise verse," she said, "when my Bible fell open to Psalm 118, verses 17 and 18: 'I shall not die, but live, and declare the works of the Lord. The Lord hath chastened me sore: but he hath not given me over unto death.' " The passage sustained Koob throughout the monotonous days of confinement.
While she was confined, Koob said she perceived God as "agolden column, a pillar of support and strength. My day revolved around that golden column, and I looked to God as the source of everything."
Her early days as a hostage were among the worst, especially the first terrifying 24 hours when "we didn't know what was going on, we weren't allowed to speak to anyone [at the embassy] and we had no accurate information" about what the militant students wanted. At the time of the takeover on November 4, 1979, Koob was conducting a routine staff meeting at the Iran-America Society, which she directed. When the seizure of the embassy was completed, Koob was escorted from the Iran-America Society and held on the embassy compound grounds. She recalls that before most of the other women hostages were released, they were all tied to chairs facing the wall in a large reception area of the ambassador's residence. "We were not allowed to speak to each other … and we were not permitted to look at each other."
But Koob had her Bible, and one day she spotted a church hymnal on an embassy bookshelf. The Iranian students gave her the book after she had convinced them the hymnal was not the same as her Bible. Following the release of all the other women, the two remaining women captives. Koob and Elizabeth Ann Swift, were separated from one another for four months, and had contact only with their militant caretakers.
"Approximately the second week in December, I suddenly realized that something that had always interested me was the life of contemplatives," Koob recounts. "It's always fascinated me, because I've wondered how people could live a life of silence. So I set up for myself a sort of contemplative order with a schedule of prayers for others, and devotions."
She sang hymns to herself, memorized passages of Scripture, and spent time in prayer and meditation. "I tried to remember there were a lot of people in the world a lot worse off than I was. I was warm and dry and had plenty to eat."
Her exercise of faith was built on a foundation of firm belief that "God gives us the strength to do what he asks us to do." At home in Fairfax County, Virginia, Koob has been active with Lord of Life Lutheran Fellowship (American Lutheran). Her involvement in several congregations has included teaching Sunday school and singing in the choir. Koob, 42, grew up in a devout Lutheran family on a 200-acre Iowa farm. She graduated from Wartburg College, a Lutheran school in Waverly, Iowa. From 1958 to 1960, Koob served as a district parish worker for her denomination, assisting nine midwestern parishes in establishing new churches.
A mature faith shaped her attitude throughout the days in Iran. She made no "bargains" with God, but instead would wake up every morning and say, "Thank you for bringing me through the night. You've given me this day and I give it back to you." Taking it one day at a time, she recalls, is "the only way you can do it."
"I kept hoping it would go away tomorrow, and just kept working on today. That was very, very basic. What I learned when I was small kept me going." One concept learned in childhood was an equanimity about death. A pastor told her when she was young that "when my eyes close in death, they open in heaven." Although her certainty about release never left her, she said she was aware of the possibility of death, but felt no fear about it.
When Koob, along with many of the other hostages, appeared on television during a Christmas celebration in 1980, she sang a verse from "Away in a Manger." Since her return, she said, she has been asked many times whether her choice of the third verse, which contains the phrase "Take us to heaven to live with Thee there," indicated a state of depression. "I can't imagine heaven being depressing under any circumstances," she has replied. "I just wanted to share a prayer with the world, with the nation, and with my family, with my nieces and nephews."
While depression never gripped her, there were times of frustration and disappointment. "I got discouraged and the waiting got long. I suppose the lowest point was January 1, 1980, and I don't know why. Nothing particular happened. I suspect that perhaps it was because it was New Year's, and we'd gone on for a month, and it seemed to me that everything had hardened."
In March 1980, she was reunited with Ann Swift. They drew special strength from the New Testament promise of Matthew 18:20—"Where two or three are gathered together in my name, there am I in the midst of them." Koob laughed as she recalled, "We kept reminding him that we were two."
Koob's faith provided inspiration at home, too. In Fairfax County, her Lutheran church rallied with prayer support, letters, cards, and Sunday school projects. Koob's sister, Mary Jane Engquist, is an active member of Lord of Life, and found her congregation "very supportive. They were there when we needed them." Koob has received a huge volume of mail sent to her sister's address, and much of it comments on her exemplary faith. "I've been going through her mail here," Engquist said, "and many of the letters tell how Kate brought people back to Christ or reinforced their faith."
Koob's plans for the future include returning to the U.S. International Communication Agency (formerly U.S. Information Agency) in Washington. With regard to foreign assignments, she said, "I feel the same way I did when I came into the agency: don't ask where the job is. Ask what the job is." Previous foreign service assignments have taken her to three African countries and Romania.
While she is clearly not eager to return to Iran, she does not preclude the possibility of a visit there in the future. Koob thinks there is a future for Iran, "because Iran is an old, old civilization. It has a long history of fighting and unrest within itself, but I think there will be an Iran for a long time to come."
Recognizing that her treatment was far better than most of the male hostages received, Koob believes the student militants "thought they were treating us very well, by their standards." She didn't hesitate to let them know that "we absolutely were appalled by the tactics they were using." But one student told her just before the January 20 release, "We could have treated you a whole lot worse."
The impact of the experience on her spiritual life crystallized for her the importance of Christian education at an early age. "Young people should have the opportunity and be required to do memory work." she said. Lay leaders and pastors would do well to make sure that "very basic, simple concepts of Christian faith are understood." As she wrote to a nephew in Florida, "Be sure and study your catechism, because you never know when it's going to come in handy."
BETH SPRING
Opposition
Assailants Gut Churches Of French Evangelicals
Early this year, in a matter of 24 hours, one evangelical church in Lyon, France, was destroyed and another vandalized. The first, related to The Evangelical Alliance Mission, was burned to the ground at night. The second, a Brethren assembly, was broken into and defaced on the following evening.
The TEAM-related church at Ecully, on the outskirts of Lyon, is a relatively young church, established in 1973. In 1977 the congregation bought and made interior alterations to a house overlooking the main road into the city. On the night of January 2, a neighbor was awakened at 4 A.M. by the sound of breaking glass. From her window she saw four men jump into a car and drive away. Through the closed shutters of the church building, she said, she could see flames dancing, and called the fire department. Fire fighters arrived on the scene only minutes later, but the blaze had already destroyed the building. Flames were so high it took more than an hour to contain them. The intense heat deformed even the building's metal framework.
Police and fire department officials reported that the fire had been carefully planned. The French windows stood wide open; papers and books from the pastor's study had been piled beneath the centrally located stairway and drenched with gasoline. Igniting this caused an explosion, breaking all the windows.
The Brethren assembly, situated a mile and a half away inside Lyon, meets in a hall on the ground level of an apartment building. The damage was less complete, but equally malicious. A side door had been forced open, books and papers in the church stacked high and set afire. The piano was smashed to pieces, chairs were broken, and armchairs slashed. The smoke-blackened walls bore a message in red paint, written by the vandals. It was a Bible verse in the translation used by the Jehovah's Witnesses: "In the beginning was the Verb and the Verb was with God, and the Verb was a god." The words "a god" were underlined. (The Louis Segond Bible, used currently by evangelicals in France, renders John 1:1, "In the beginning was the Word, and the Word was with God, and the Word was God."
While no one has come forward claiming responsibility, the police recognized a pattern of malicious attacks on evangelicals and set a constant watch on all evangelical churches in the Lyon area, of which there are about 15. No one blamed the Jehovah's Witnesses.
A text, changed weekly, is posted on the exterior wall of the Ecully church, and is visible to motorists bound for Lyon. At the time of the fire it read: "Christ is King." After the fire, the members chose a text to convey an attitude that extended to their enemies. The fire-blackened wall carried the words. "Jesus loves you."
NOREEN VAJKO
World Scene
The Billy Graham crusades under way in Mexico received hostile advance press coverage. Writing in the January 28 issue of the popular magazine Impacto, Fernando Pineda urged that Graham be denied a visa. Graham's mission, he said, is to preach a "vulgar and visceral anti-communism … to soften up his Protestant brethren so that they will not dare to object to the designs of our 'neighbor' regarding our natural resources." He also claimed that Graham demanded an honorarium of 10 million pesos ($476,200). This was a fabrication: it has been Graham policy for decades to accept no local crusade funds as salary, honorarium, or gift.
Clergyman Ian Paisley is leading allies throughout Northern Ireland to protest a British "sellout" to the Irish Republic. The separatist Protestant member of Parliament is seeking to sidetrack so-far secret meetings between British Prime Minister Margaret Thatcher and Irish Prime Minister Charles Haughey with a show of strength. Meanwhile, the Presbyterian church in Ireland is sending an eight-person delegation to the United States in May to defend its stance to U.S. Presbyterians. Led by moderator Jack Weir, the delegation will attend the Houston annual meetings of the United Presbyterian Church in the U.S.A. and the Presbyterian Church in the U.S.
Two more leaders of the unregistered Baptist churches in the Soviet Union have been arrested, leaving only three members of its governing council at liberty. Alexi T. Kozorezov was arrested the day after Christmas, and his wife. Alexandra, president of the council of prisoners' relatives, has gone into hiding. Dimitri V. Minyakov, a member of the executive body of the Council of Evangelical Baptist Churches, was arrested on January 21.
The Scriptures are news in Communist Europe. Items: The Roman Catholic Church in Czechoslovakia has obtained permission to print 100,000 copies of a recent Czech Bible translation (Protestants were allowed to print 60,000 copies in each of the last two years). Using paper and binding materials supplied by the United Bible Societies, the Romanian Orthodox Patriarchate is printing 15,000 books of Psalms and 25,000 shorter Bibles this spring. There are no complete Bible commentaries in the Russian language, but the first volume in a translation of William Barclay's commentary on the New Testament came off the press in January. Project sponsors—the Baptist World Alliance and the Mennonite Central Committee—have approached Soviet officials for permission to import the 17 volumes.
The World Council of Churches has ambitious plans for developing a new confession of the common faith of Christians. At a January meeting in Annecy. France, the WCC Faith and Order Commission decided to begin this process, which "will take us up to the end of the century." by consolidating existing agreements among churches in the areas of baptism. Eucharist, and ministry. A study project on these topics—now almost complete—is to undergo final revision and be sent to denominations for consideration in 1982. The WCC hopes for official assent by 1984.
Zambia's President Kenneth Kaunda has lashed out at mainstream churches in his country for criticism of the nation's only political party, the United National Independence Party, and the government. What angered Kaunda were criticisms by a former bank official who was given generous space in the religious fortnightly newspaper, the National Mirror. Addressing former local government officials, Kaunda said that if something was wrong with the party, they should approach it directly instead of "hiding behind the Mirror." The church, he said, is supposed to be the "shining mirror through which the nation could reflect itself. If this mirror gets cracked, how are we going to tell if we are alright or not?"
More Soviet Jews are bypassing Israel to come to the United States. Last year only about one-third of the 22,000 permitted to leave the Soviet Union chose to go to Israel. This trend concerns the Hebrew Immigrant Aid Society, which works with American Jewish and Israeli agencies. It recently announced a new policy of providing counseling for Soviet Jews who, upon their arrival in Vienna, Austria, decide they don't want to go to Israel. Unless they have close relatives elsewhere, the HIAS executive vice-president said in New York, ' "a conscientious and sensitive effort will be made to help them choose to go to Israel."
Three British missionaries were set free in Iran last month. The Anglican missionaries had been held since August of last year on suspicion of espionage. The Ayatollah Mohammed Beheshti, head of the Iranian Supreme Court, ruled on February 18 that documents relating to their case had been forged. The three are Jean Waddell, former secretary to the exiled bishop of Iran, and John and Audrey Coleman.
Methodists in India gained autonomy from the United Methodist Church in the United States at its central conference in Madras in January, severing links that had existed for 125 years. The 150 delegates named their church the Methodist Church in India and elected two new bishops, expanding the total from four to six. UMC financial assistance will continue and it will maintain a fraternal relationship with its daughter church now come of age.
The strong nationalism of the Nagas, an ethnic grouping that straddles the India-Burma border, has given headaches to both central governments for a generation. Last summer some 2,000 Burmese Nagas fled across the border into India after other tribals attacked them and set fire to their villages. Churches on the India side mobilized, collecting funds and clothing for distribution and, in the process, winning a favorable hearing for the gospel from the predominantly animistic refugees.
Opportunity and manipulation are both revealed by letters received from Vietnam late last year. The Alliance Witness reports that one Ho Chi Minh city (formerly Saigon) church expected to surpass its 1980 goal of 1,500 new believers and 400 baptisms, but another, closed by authorities two years ago, has only been allowed to reopen with a pastor who often sides against the congregation's spiritual leaders.
More than 60 Protestant and Roman Catholic churches have been reopened in China since September 1979. This figure, verified by the Chinese Coordination Center of World Evangelism, includes five Protestant churches known to have been reopened since last October. Also, a nationwide entrance examination for Nanking Union Seminary was held in December, a first step in training Protestant pastors for the official Three-Self Patriotic Movement.
North American Scene
Fearing too few votes for a constitutional amendment, abortion opponents in Congress are considering a "prolife bill" instead. The legislation would leave the Constitution untouched, but legally deem human life to "exist from conception." The sponsors say abortion would then mean taking human life and could not be constitutionally protected. Critics call it "a backdoor attempt to amend the Constitution." Senator Jesse Helms and Representatives Henry Hyde and Romano Mazzoli are sponsors of the bill. The strategy behind this move is simple. The constitutional amendment requires a two-thirds majority in each house—support that doesn't exist. The new bill requires a simple majority, and sponsors believe they can achieve that.
The editor of the fundamentalist Sword of the Lord newspaper has refused to appear on a conference rostrum with Roman Catholic Phyllis Schlafly. Both antifeminist Schlafly and editor Curtis Hutson were to participate in the 1981 James Robison Bible Conference. Hutson said he could not appear with a Roman Catholic, since "the Catholic church does not accept the Bible as the inspired, inerrant Word of God." Schlafly said she does believe in the Bible but declined to "respond in kind."
"Protestant fundamentalist schools" are growing faster than any other elementary and secondary schools in the nation, according to Phi Delta Kappan, a journal for professional educators. One organization reported a 31 percent growth rate among evangelicals in the current school year. Critics of the schools have said they are growing because of racism, even labeling the institutions "segregation academies." Phi Delta Kappan disputes that charge, and other observers list discouragement with public schools, decline of school discipline, and disbelief in "secular humanism" as the true factors behind growth.
Followers of Sun Myung Moon have not been popular in Accord, New York, where the Unification church has established a camp. Church officials say the camp is only for education, prayer, and recreation, but townspeople claim "Moonies" have been noisy and have done strange things at the camp. One resident said he sees "limp bodies" being carried out of it. Another said persons from the camp come into her grocery asking for help. Operators of the camp, meanwhile, accuse townspeople of equally strange deeds: two camp buildings have burned, a bomb has exploded, tires have been slashed, and rocks have been thrown at the campers.
The federal government should not promote sex education or prescribe contraceptives to teen-agers on Medicaid, thinks Richard Schweiker, the new secretary of health and human services. Schweiker said sex education is the role of the family and that doctors should not prescribe contraceptives to unmarried, teen-age patients covered by Medicaid. His opinions clash with those of the former secretary, Patricia Roberts Harris, who said the nation faced "disaster" if teen-agers were not educated about contraceptives.
Personalia
Waldron Scott has resigned as general secretary of the World Evangelical Fellowship, citing "compelling personal reasons." He has held the position for six years. Wade T. Coggins, executive director of the Evangelical Foreign Missions Association, was appointed to fill the job for an interim period of one year. A search committee has been named to find a successor to Scott. During Scott's tenure, the number of national fellowships in the worldwide organization has nearly doubled.
Raymond V. J. Windsor has been appointed principal at All Nations Christian College in England, effective in April 1982. A physician, he has been executive director of BMMF International, and a wide-ranging speaker on missions.
Tim LaHaye, author and educator, has resigned his pastorate at the 3,000-member Scott Memorial Baptist Church in El Cajon, California. LaHaye resigned to devote more time to his Family Life Seminars, weekend conferences on marriage and the family, and to step up his campaign against "secular humanism." Reports that LaHaye will increase his involvement with Moral Majority are "totally in error," he said, though he will continue as a board member. LaHaye is also chairman of Californians for Biblical Morality, an association of conservative California pastors.
James R. Graham (82), has retired as president of Christ's College in Tanshui, Taiwan. Graham has been succeeded by David C. White, vice-president at the college and a Presbyterian Church in America missionary. Graham founded Chungyuan University in Chungli, as well as Christ's College.
Vergil Gerber has resigned as executive director of the Evangelical Missions Information Service, in connection with his coming retirement as an active missionary with the Conservative Baptist Foreign Mission Society.
Jim Bakker, president of the PTL religious network and host of the PTL Club on television, and his wife have asked public school authorities to allow them to hire a tutor for their daughter, 10-year-old Tammy, rather than keep her in school. Bakker said the girl has been harrassed in classes because of her parents' connection with PTL, and that she needs time to travel with the family. The Bakkers also have a son, Jamie, age five.
Have something to add about this? See something we missed? Share your feedback here.
Our digital archives are a work in progress. Let us know if corrections need to be made.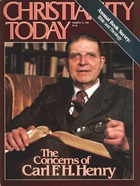 This article is from the March 13 1981 issue.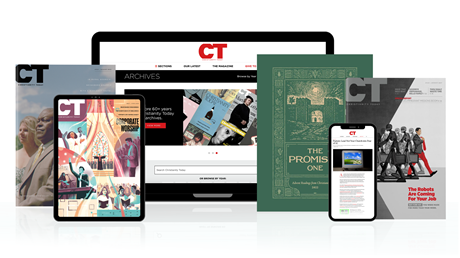 Annual & Monthly subscriptions available.
Print & Digital Issues of CT magazine
Complete access to every article on ChristianityToday.com
Unlimited access to 65+ years of CT's online archives
Member-only special issues
Subscribe
Transforming Poison Ivy Back into an Orchid
Transforming Poison Ivy Back into an Orchid