The twentieth century allowed painting to become purer, less literary.
"Painting Is the music of God, the inner reflection of his luminous perfection." And so it was—400 years ago when Michelangelo penned those words. But is it today? Christianity, for most painters, has lost the ability to stimulate. Religion is no longer a driving force in Western culture, or so some say.
Does this mean there is no religious art now being produced by important painters? No. Acknowledged or not, the Creator remains behind all forms of positive artistic expression. Though no longer at the service of a specific dogma, artists still respond to their "religious" impulses.
The most significant body of religious art in the last 30 years has been produced by a trio of artists belonging to a branch of abstract expressionism. Known as "color-field" painters (so-called because of their use of enormous canvases covered with fields—or "flames" or "clouds"—of usually solid pigmentation), Clifford Still, Mark Rothko, and Barnett Newman forged a new kind of art that distinguished them from their gesture-painting, existentially minded cousins (Jackson Pollock et al.).
Innovative as their compositional styles were, these painters seldom discussed formal matters. Paramount in their thinking was subject matter—ironic as that may seem to the uninitiated viewer of their abstract paintings. Rejecting the forms and symbols of organized religion, Still, Rothko, and Newman sought to thrust themselves into the transcendental realm of experience through their art. In 1948, Barnett Newman declared:
"We are reasserting man's natural desire for the exalted, for a concern with our relationships to the absolute emotions. We do not need the obsolete props of an outmoded and antiquated legend. We are creating images whose reality is self-evident.… We are freeing ourselves of the impediments of memory, association, nostalgia, legend, myth, or what have you, that have been the devices of Western European painting. Instead of making cathedrals out of Christ, man, or life, we are making [them] out of ourselves, out of our own feelings."
Turning their backs on the quest for beauty that preoccupied most Western artists for centuries, these painters reached out to grasp what seemed to them a more primordial, simpler emotion. It was as if they hoped to drive modern man—and his sophisticated sensibilities—back to a time, long past, when primitives stood in raptured silence before stone idols. Such a goal explains their use of huge canvases as a device to swallow up the viewer in the work itself (unlike most large pictures, these paintings are designed to be seen close up).
The power these paintings exude is undeniable. Recently in New York, Rothko (who, along with Newman, died in 1970) and Still have had major retrospectives. Still especially retains the ability to overwhelm the viewer. Despite one critic's objection that "the artist does not impress one as an outsize talent," these canvases, with their leaping, pulsating flames of color, do evoke emotions in the onlooker.
But what emotions? With his gruff—even sloppy—application of paint to the canvas, Still is apparently attempting to reject beauty in his work. Yet he fails—some of his paintings are quite beautiful. Color is, after all, one of God's loftiest inventions. Rothko, Newman, and Still, because of their dependence on color, cannot avoid an inherent beauty in their paintings. Herein lies the tragedy: these artists, like so many contemporary painters, have rejected the source of their inspiration. Having renounced the biblical explanation of their longing for transcendent truth as irrelevant, they "sat in darkness and the deepest gloom, prisoners suffering in iron chains, for they had rebelled against the words of God" (Ps. 107:10–11, NIV).
Yet Christian artists must explain why these paintings are so effective. Could it be these artists are correct in their assumption that the old forms of religious art no longer communicate to modern men? Perhaps Jacques Maritain is right when he advises us that "the distinction between 'church art' or 'sacred art' and an art that is religious not by virtue of its intended purpose but only by virtue of the character and the inspiration, is only too evident, for what is most lacking nowadays in a great number of works of sacred art is just precisely a truly religious character."
Can christian artists use the compositional discoveries of the color-field painters and infuse them with new content, or even redeem the original meanings these artists sought to convey? Perhaps not. Perhaps it is necessary to move beyond this stage.
One thing, however, is clear: Christian art cannot go backwards. Philosophers like Francis Schaeffer and the late H. R. Rookmaaker seem to be pointing artists back to the Reformation period and earlier for models. Rookmaaker particularly laments the painter's shift from craftsman to apostle of "High Art." In his last pamphlet, Art Needs No Justification, Rookmaaker argues that nineteenth-century painting marked the decline of subject matter as the primary concern of the artist, "leading in our century to the rise of nonfigurative art." Chronologically he is correct. However, he explains this shift almost totally in terms of the rise of humanism and the Age of Reason—in other words, philosophically. Though acknowledging the invention of photography "may have played a part in this," Rookmaaker totally underestimates the impact photography had on the painter. Freed from his social responsibilities as a recorder of history, the artist explored new techniques and avenues of expression.
Actually the Christian painter had begun to lose his distinctive function even earlier. Before the invention of printing when handwritten copies of Scripture were scarce, and people who had the ability to read them even scarcer, the artist was compelled to depict biblical stories in a literary fashion. Is it coincidence that religious art began to flounder as the distribution of Scripture increased? Too many Christian artists today are attempting to fill the outmoded and unnecessary role Pope Gregory the Great enunciated centuries ago: "Painting can do for the illiterate what writing can do for those who read."
Like it or not (and, as a painter, I like it), the twentieth century allowed painting to become a purer, less literary, more direct vehicle of the artist's emotions. Nostalgically evoking a lost age of innocence does not help the contemporary Christian artist communicate to his fellows. It is imperative that we speak in the language of our time, a task that challenges the best in any artist. As Maritain concludes: "Do not say that a Christian art is impossible. Say rather that it is difficult, doubly difficult—fourfold difficult, because it is difficult to be an artist and very difficult to be a Christian. Say that the difficulty becomes tremendous when the entire age lives far from Christ, for the artist is greatly dependent upon the spirit of his time. But has courage ever been lacking on earth?"
MARK MARCHAKMr. Marchak is himself a painter. He is New York City coordinator for the Conservative Baptist Home Mission Society.
Have something to add about this? See something we missed? Share your feedback here.
Our digital archives are a work in progress. Let us know if corrections need to be made.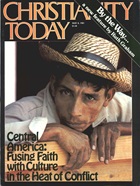 This article is from the May 8 1981 issue.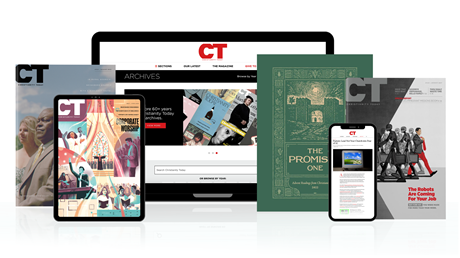 Subscribe to Christianity Today and get access to this article plus 65+ years of archives.
Home delivery of CT magazine
Complete access to articles on ChristianityToday.com
Over 120 years of magazine archives plus full access to all of CT's online archives
Subscribe Now
Refiner's Fire: Painting, Philosophically Speaking
Refiner's Fire: Painting, Philosophically Speaking