After All, My Name Is Eutychus
(with apologies to the late Ogden Nash)
Not all the words of tongue or pen
Could describe the noise made by garbage men
(Or "sanitary engineers" or "waste consultants"
or whatever name they carry.
(All of them are noisy, every Tom, Dick, and Harry.)
I'm lying in bed on my day off and I want to sleep,
When along they come with their "Bang
bang! Clang clang! Beep beep!"
And the thing about which garbage men
especially brag
Is the fact that they can make noise even
with paper stuffed in a plastic bag.
Dr. John Henry Jowett would have made
a spiritual blessing out of all this Monday-morning racket;
But I don't have a mustache, and I'm not
in his spiritual bracket.
Jowett heard the noise of the workers'
boots in the early morning hour,
And dove to his desk and wrote sermons
with vigor and power.
I hear the garbage men and just put the
pillow over my head,
Which probably explains why our mid-
week service is so dead.
Preachers need sleep just like other people,
maybe more.
Church members can sleep in church,
but the preacher dare not snore.
Preaching is hard work, especially if you prepare.
You can't just snatch those great messages out of thin air.
On my day off, I need my sleep!
I have to write sermons that are relevant and deep.
So, garbage men, keep those metal containers quiet!
Or I'm coming out to start a nice evangelical riot.
EUTYCHUS X
Tongues Required?
Thomas F. Zimmerman says in "Priorities and Beliefs of Pentecostals" [Sept. 4] "… they hold that speaking in tongues is the initial evidence of the baptism in the Holy Spirit …" Since baptism in, with, or by the Holy Spirit is what makes one a Christian, then following logically from Mr. Zimmerman's statement one must reach the conclusion that anyone who does not or has not spoken in tongues cannot possibly be saved!
RICHARD B. TAYLOR
Fairfax, Va.
Confusion Abounds
Ironically, the reason for America's misunderstanding of Jerry Falwell's view of Moral Majority ["An Interview with the Lone Ranger of American Fundamentalism," Sept. 4] can be clearly seen in the two quotes on pages 24 and 26. Each of these two "reasons for America's existence," and thus the reasons for Moral Majority's existence, has a distinctly theological flavor—"world evangelization" for obvious reasons, and "the protection of the Jews" because of Falwell's decidedly premillennialist approach to the Scriptures. If Falwell himself has the two realms of religion and politics so confused, is it any wonder that, as Tom Minnery writes, "The press has failed to discern the crucial separation that Falwell sees between faith and politics?"
TOM GERDTS
Martinton, Ill.
I believe Falwell should recognize that his perplexing dichotomy between religion and politics, confusing as it may be to evangelicals who are familiar with his language, is certain to confound the mass media who cannot be expected to distinguish between the different hats he wears.
JAMES E. RUARK
Grand Rapids, Mich.
I have nothing but the highest regard for the excellent reporting and fairness with which you presented Moral Majority and Jerry Falwell. Having just entered the pastorate, I have known I must come to some sort of evaluation of this movement, but I have had neither the time nor resources to do that properly. You have saved me hours of time and the risk of embarrassment by providing these three articles. In less than an hour I gained a balanced, fair, and intelligent analysis of the movement. This issue alone was worth the cost of a year's subscription.
REV. DURWARD GARRETT
First Baptist Church Devils
Lake, N. Dak.
After reading your interview with Falwell, one could easily perceive that if Mr. Falwell were Jewish, he might be embraced as the long-awaited "political Messiah." Alas, they would be much better off accepting Jesus' nonpolitical position; then again, maybe Falwell would be also!
JERRY D. ANDREWS
Hales Corner, Wis.
It is encouraging to see that Falwell is capable of change from, for example, a racist position, toward an awareness of the social implications of the gospel; in distinguishing between sin and the sinner, and so on.
I hope to see further maturation of his views and philosophies: (1) to the inclusion of the welfare of all parties in the Middle East on an equal basis without riding the ambiguous "bless them that bless thee" concept so uncritically; (2) to an understanding of the power of the gospel to be independent of any national protection as it was in its infancy; (3) to the realization that the tie to American political, economic, and military advantage is a liability rather than an asset to the gospel; (4) to the understanding that no man can serve two masters in being a disciple of Jesus Christ.
If and when Falwell arrives at these more mature postures, there will undoubtedly be others who will disown him for turning "liberal" and pick up the firebrand of radical rightism and American provincialism.
REV. CHESTER I. KURTZ
Landisville Mennonite Church
Landisville, Pa.
Worship Can Happen Anywhere
I appreciate worship and agree it is important, but Robert Webber ["Church Buildings: Shapes of Worship," Aug. 7] seems to fall into the same trap with most of the American church: the surroundings make worship. If this were truly the case, the early Christians must have had none; and many of our brethren in other countries also neglect this ethereal quality. When you are really in tune with the Holy Spirit, you know that any place or no place will do.
JOE H. SCHULTZ
Marietta, Ohio
Wrong Church
I don't think the Church of the Brethren will appreciate the listing of Ashland Theological Seminary [Ashland, Ohio) as belonging to them [News, Sept. 4].
The Ashland Theological Seminary of Ashland, Ohio, is sponsored by the Brethren Church. Both the Church of the Brethren and the Brethren Church came from the same historical background, but divided in 1882.
WILLIAM H. SCHAFFER
Auburn, Wash.
Serving The Complete Body
I was encouraged to read Huffs "Not Smart Enough for Church" [Aug. 7]. The mentally retarded are finally finding acceptance in today's society. Communities have developed a wide variety of excellent services, and the secular media have produced books and television programs concerning the retarded with increased regularity, all of this making them more visible, better received, and more complete individuals. The secular community has made a strong commitment to the mentally retarded population.
Unfortunately, the same zeal doesn't surface in Christ's church. Few churches have programs for the retarded, and others, though concerned, lack the expertise. Most either fail to recognize the need or leave it to the secular community. The mentally retarded need spiritual feeding and fellowship as much as anyone in the body of Christ.
GARY BENNETT
Carson, Calif.
Controversial Game
The attack on Dungeons and Dragons, the fantasy role-play game [News, Sept. 4], appears one-sided and misplaced. The games' spokesman puts his finger on a crucial problem when he states, "D & D critics … don't understand the game. They just leaf through a manual or two."
I have played the game and observed others, usually young people, playing it as well. For all the talk about demons and demigods and the like, it remains that the chief source and limiting factor in any D & D game is the players themselves. What they bring to the game is what they get out of it. Every step of play is governed by logic, common sense, and imaginary skill of the players themselves. The characters and their "powers" are little more than tokens, obstacles to make the game more interesting. To be sure, many young people can lose themselves in these games, but they will do that with television or movies.
The absorbing part of D & D arises from the way we enter its "drama" through our imaginations. It may be too much to suggest that any given game is the "creative enactment of a Tolkien fantasy." But by the same token, D & D derives its force and attraction by the same dynamic typical of great literature. In D & D we are literally drawn into the battle between good and evil, order and chaos. If the characters and situations become enthralling, how does this differ from reading a Tolkien story, or one of the Chronicles of Narnia, or L'Engle's A Wrinkle in Time?
REV. JAMES M. STANTON
The Episcopal Church of St. Stephen Deacon & Martyr
Stockton, Calif.
My question is: Are you for it [D & D] or against it? I cannot find that distinction anywhere in the article. I am a member of the group that got D & D thrown out of the Rancho Cordova Recreation and Parks District. I am also a born-again, Bible-quoting, tongue-talking, water-walking, blood-washed, Assembly of God, God-fearing Christian. Your article comes very close to promoting this filthy, Satanic "game."
The following list is just a few of the things this so-called game promotes, and teaches: Demonology, witchcraft, Voodoo, murder, rape, blasphemy, assassination, insanity, suicide, sex perversion, homosexuality, prostitution, Satan worship, gambling, Jungian psychology, barbarism, cannibalism, sadism, desecration, demon summoning, necromantics, divination, and many more. I can prove every word simply by using the D & D books themselves.
ROY T. WELDON
Rancho Cordova, Calif.
True Peacemaker
Some involved in the inerrancy debate have claimed to be irenic. Your editorial on the Toronto Conference on Scripture [Sept. 4] was that in fact. Thank you for taking that stance publicly and for committing Christianity Today to that position.
WILLIAM W. WELLS
Wheaton, Ill.
Important Omission
In his article on the Evangelical Orthodox Church—Spiritual Counterfeits Project debate [News, Aug. 7], Ronald Enroth did not mention perhaps the most significant item: SCP has withdrawn the report from publication, the event which started this whole fight. BISHOP C. RONALD ROBERSON The Evangelical Orthodox Church
Santa Cruz, Calif.
Dr. Arole Not Alone
I am concerned that, in describing the Aroles' fine contribution to Christian medical missions in India ["Medical Mission Makes Some House Calls," Aug. 7], you and CT's readers do not forget the many other Christian physicians and nurses and paramedical personnel in India who have been as strongly and effectively committed to this "new line of missionary health care." In fact, for many years, primary health care and preventive medicine have been pioneered and developed by many Christian individuals and groups. I would caution against referring to other medical missions in India as consisting only of "traditional high-rise curative hospitals geared to the treatment of middle- and upper-class patients."
In India and other developing countries I have lived in, most Christian primary and community health programs were born as an outreach of some Christian medical "institution." They are effective because of the back-up professional and teaching facilities of their parent "institution."
KENNETH M. SCOTT
Swannanoa, N.C.
Correction
The speaker in the news photo (p. 50, Sept. 4) is Joseph Parker, not Tim Robertson. We regret the error.—Eds.
Letters are welcome. Only a selection can be published. Since all are subject to condensation, those of 100 to 150 words are preferred. Address letters to Eutychus and His Kin, CHRISTIANITY TODAY, 465 Gundersen Drive, Carol Stream, Illinois 60187.
Have something to add about this? See something we missed? Share your feedback here.
Our digital archives are a work in progress. Let us know if corrections need to be made.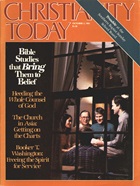 This article is from the October 2 1981 issue.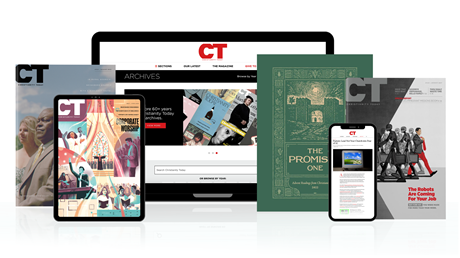 Subscribe to Christianity Today and get access to this article plus 65+ years of archives.
Home delivery of CT magazine
Complete access to articles on ChristianityToday.com
Over 120 years of magazine archives plus full access to all of CT's online archives
Subscribe Now
Eutychus and His Kin: October 2, 1981
Eutychus and His Kin: October 2, 1981