Churches and agencies cooperate in Michigan program.
He didn't ask, "Brother, can you spare a dime?" But it was obvious he had a hard-luck story. So when he walked into the Wednesday night prayer meeting, defeat tugging down the lines in his face, the brothers responded. They listened to his story, then counseled him into the small hours of morning. Only the love of Christ could heal this man and give him reason to live, for he had just lost his wife and children in a car accident. After a soul-wrenching 5 A.M. conversion, they gave him enough money to go north to the funeral.
The good brothers were had. The man they helped had used the car accident story before. It had worked then, too. He was an experienced panhandler; his special touch, churches.
Something new? Not to Virgil Gulker, director and founder of LOVE, Incorporated, a Holland, Michigan, program that is spreading into communities all over Michigan. In fact, "chronic dependents" are one reason Gulker originated LOVE.
LOVE's stated purpose is helping needy people. But the way it helps them is by coordinating the efforts of a community's private and public agencies as well as those of its churches. More specifically, LOVE reduces unnecessary duplication of agency services, develops an inventory of available community resources, increases agency responsiveness to needs making them more accountable to their sources of support, and identifies and screens out chronic dependents.
More than four years ago as director of the Good Samaritan Center in Holland, Gulker visited the area's service agencies. He asked directors of the City Mission,
Salvation Army, Community Action House, Police Service Unit, and others to give him a list of 12 people they were helping who might be considered chronic dependents. Six agencies listed the same 12 people—convincing evidence that Holland's helping hands were duplicating efforts and being duped in the process.
Gulker later visited Holland churches, discovering the familiar list of 12 had also done a number on them. The list grew to 80.
"Chronic dependents," said the soft-voiced, clear-eyed director of LOVE. "I could tell you stories …" He said he ought to write a book on how to get freebies from the churches. "You make the rounds," he said, "from church to church. You may only get $10 or $15 a stop, but after a while that adds up."
Gulker said many of these "parasites" actually solicited help alphabetically from churches listed in the Yellow Pages. He always has strong suspicions, he said, about seeing those pages torn out of books in telephone booths.
Gulker worked to entwine Holland's service agencies into a cooperative, non-duplicating community network that could help the truly needy while screening out roving panhandlers. Their goal was to de-institutionalize people—to urge all families receiving public assistance to become independent of it within a year, and to deny aid to any who would not meet certain self-help conditions such as budgeting, employment, parenting education, or job skills training.
The next phase of Gulker's program was LOVE, Incorporated. It came about in response to a minister's embarrassment at how well agencies were working to meet community needs that the churches ought to have been providing. Gulker marked out a four-square-mile area of Holland in zones, assigning responsibility for needs arising out of each zone to churches in that area. Acting on referrals from the Good Samaritan Center, people serving as contacts in 74 churches recruited volunteer help and material assistance from their congregations.
In 1980 alone, more than 377 needs for such services as budget help, baby-sitting, transportation, tax assistance, sign language, tutoring, and hospice care were supplied by LOVE churches. "I am convinced," said Gulker, "that God will allow no need that Christ's church does not have the resources to meet." With gently persuasive sincerity he continued, "The body has all the gifts it needs to minister to its community. The key to changed individuals, even whole communities, is organization."
Gulker's talent for organizing is one of many. He came to the Good Samaritan Center with a Ph.D. in English literature and language from the University of Michigan and with six years' experience in prison work implementing rehabilitation programs like "Books Behind Bars." He also attended Western Theological Seminary for a year to round out his social concerns with some theology.
Gulker described church volunteers garnered by LOVE's interdenominational network as a special kind of worker. "Their quality of care is higher," he explained. "They expect no gain for their efforts. They aren't paid. They have a selfless attitude, and want to take the time to help."
At the heart of Gulker's program is the Family Support System, a unique adoptive care model used by churches to provide residential and supportive services on a contractual basis for high risk, indigent, or abused families. Churches could use this "ministry model" to meet the needs of parolees, probationers, terminal cancer patients, disabled or handicapped persons, senior citizens, and others.
"Within each community one finds at least one church," says LOVE, "with its own community of caring people who possess all the love, time, resources, and skills required to alleviate most needs. Multiply all those assets in one church by the number of churches in a community and you have created a helping network with the potential to significantly reduce mental, physical, spiritual, and emotional needs. All that is needed then is an organization plan to harness and direct that vast, largely untapped resource."
LOVE is that plan—for Holland and surrounding communities of Zeeland, Douglas, and Saugatuck that have asked to be included in the program.
How do Holland area pastors regard LOVE? "My thoughts about LOVE," said C. William Hoesman of Zion Lutheran Church, "are all positive. The strength of this program is that each church is responsible for its own geographical area, keeping it in its own bailiwick to answer to needs.
"Our community has good interdenominational cooperation," he continued, "and LOVE has certainly fostered this nice atmosphere."
Pastor Calvin Bolt of Faith Christian Reformed Church said, "LOVE has helped us as churches to coordinate our help within the community. Instead of each church doing its individual program, our efforts are now coordinated."
Mark Mayou, First Baptist Church pastor, appreciates LOVE because "they have screened requests for help. They know who are professional panhandlers and who really have needs. That's taken a lot of weight off my mind. I know I have a place to call to check people out who call me for help. And if they really do need help, LOVE can help me channel them to it."
Mayou has had years of experience with the church freeloader. "I was in South Haven for awhile," he said, "where there was no organization like LOVE. I really ran into some doozies. I was taken.
"They always call on the weekend," he said, "late at night when everything's closed. They ask for food, money, or a place to stay. So you give them a few dollars, and next week you find out you are about the fifteenth place they hit. They make the rounds of all the churches—then go back to a nearby town where they live.
"I've never run across anyone like Mr. Gulker before. He's wise to who really needs help. He uses existing programs, organizing them and centralizing information, to channel requests and refer people to the right place for help."
Gulker's LOVE succeeded so well in Holland that 19 other Michigan communities asked for the program. Thus it was that in early 1981 Gulker, "with a dream in his heart, a knot in his stomach, and a step out in faith," decided to resign from the Good Samaritan Center to take LOVE to other Michigan cities. Flint has already incorporated the program.
President Reagan's budget cuts forcing cutbacks in federally funded community agencies are a direct mandate to the church; it no longer has the option to care about community needs, said Gulker. "It must care." Moving forward in his chair with all the optimism and determination of a man who has already found the answer to his own question, he said, "What it must ask now is how it will care."
North American Scene
An estimated 8,000 people gathered nightly to hear Argentine-born evangelist Luis Palau in his first full-scale, bilingual crusade in the U.S., in spite of warnings to San Diego Catholics about the dangers of fundamentalist evangelists. Although Palau, the "Billy Graham of South America," expressed hope that San Diego would become the spiritual cornerstone of California, he said eight days were simply not enough to reach a city of more than a million people. His recent five-week effort in Glasgow was "more like it," he said. "You really get a chance to become acquainted with the people and to find out what their problems are."
If you give money to Maryland's United Way, none has to go to an agency or beneficiary you disapprove of. Julie Henseley, director of communications for United Way, said complex new computer equipment now makes "donor options" possible. That is all well and good, since Archbishop William Borders urged Catholics to back the United Way's fund-raising campaign only if contributions could be withheld from Planned Parenthood of Maryland. Said Borders, "Recently, on the local and national levels, Planned Parenthood has begun an active public campaign to lobby for legislation supporting abortion. This aggressive and public advocacy by Planned Parenthood demands a response."
The cost of reaching the lost has surpassed even "700 Club" show host Pat Robertson's ability to raise money for the Christian Broadcasting Network. For the first time, CBN will carry commercials, thereby reaching into the marketplace pocketbook for advertising dollars to reach the lost. Companies opting for a piece of the network's projected audience of 15.5 million homes are Richardson-Vicks, makers of Vicks Ny-Quil, Formula 44, Oil of Olay, and Clearasil; Newsweek, General Mills, Time-Life, and Oscar Mayer.
Oral Roberts, Rex Humbard, and Jerry Falwell—watch out: the Catholics are coming to television. "With the deregulation of the broadcast industry and the mass purchasing power the electronic church has applied to the broadcast medium," said Edwin O'Brien, director of communications of the New York archiodcese, "the Catholic church is being effectively shut out of over-the-air broadcasting." The Roman Catholic church is therefore planning a nationwide television network, with headquarters in New York, that will link parishes, parochial schools, and colleges by satellite and cable. The Catholic network is expected to be operational by 1984.
Neither a borrower nor a lender be, said Shakespeare—and the California Supreme Court. Citing separation of church and state, the court ruled it is unconstitutional for the state to lend textbooks to private and parochial schools. Lost is a $3.6 million state program that annually provided 50 percent of textbook needs for participating schools, 90 percent of which are religious. The loan program had been challenged in a suit by the California Teachers Association and the American Civil Liberties Union of Southern California. State officials said they would undertake an immediate review of other programs that involved private schools and students in an effort to see if they might be affected by the court's decision.
Private charities now can expect an $18 billion drop in donations over the next four years. According to a study by the Urban Institute of Washington, D.C., tax cuts expected to spur investment by upper-income taxpayers, who usually pay some 40 percent of donations to charity, will also reduce their incentive to donate by placing them in lower tax brackets. In addition, what these taxpayers would have paid in taxes they are now able to save, providing even less incentive to give the money away. "It's a triple whammy against the nonprofit organization," said Brian O'Connell, president of the Independent Sector, a coalition of 320 foundations that commissioned the study.
The Devil made him do it, say two Connecticut lawyers defending 20-year-old Arne Johnson, accused of first-degree murder. Dubbed "the Brookfield demons" by local residents of the town where the crime occurred, the case has provoked national attention as the first in legal history in which demon possession will be argued as a defense. Johnson's devils, say his lawyers, descended when he challenged the ones attacking his girlfriend's 11-year-old brother, David Glatzel, saying, "Take me on instead; come into my body." It seems they obliged. Murder resulted from his grotesque behavioral change.
Have something to add about this? See something we missed? Share your feedback here.
Our digital archives are a work in progress. Let us know if corrections need to be made.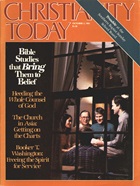 This article is from the October 2 1981 issue.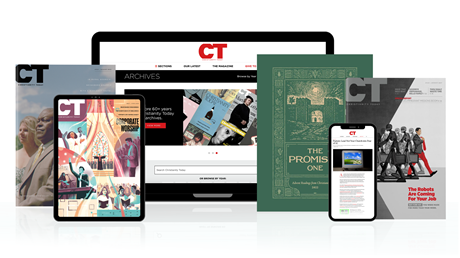 Subscribe to Christianity Today and get access to this article plus 65+ years of archives.
Home delivery of CT magazine
Complete access to articles on ChristianityToday.com
Over 120 years of magazine archives plus full access to all of CT's online archives
Subscribe Now
Love Helps Needy without Being Had
Love Helps Needy without Being Had