His only props are two logs approximately 17 to 25 inches long and 10 to 18 inches in diameter: he uses them as a seat. His only companions on stage are an imaginary horse and an equally imaginary—and somewhat doltish—companion named Michael. But when Roger Nelson steps forward and begins his 120-minute portrayal of the founder of Methodism, he is John Wesley.
Nelson's one-man dramatic vehicle, The Man from Aldersgate, is breathing new life into the idea that drama can communicate the gospel. The historical Wesley logged some 250,000 miles on horseback, delivering his message of freedom in Christ; Roger Nelson has logged over 175 performances that proclaim the eighteenth-century English evangelist's message anew. And this play sends audiences away with the feeling they have met a man, not listened to a legend.
While there may be certain contemporary interest in one-man shows (for example, the currently successful St. Mark's Gospel with Eric Booth; see CT, June 12, p. 53), the idea of watching and listening to such a performance sounds to some about as exciting as tepid tea. Roger Nelson makes the potion hot and sparkling, neither over- nor underacting the role.
An audience's first glimpse of Nelson's reincarnated Wesley is when he makes his way onstage looking—and for all the world sounding—like a man past 70. A colonial, tricorn hat crowns his thick mantle of white hair, completing the period costume. As the old man settles down on his logs and begins to reminisce, one is quickly drawn to a very human personality from an earlier age.
Wesley's humor, for example, shines through dialogue with the invisible Michael: "Were you quite certain to draw this water upstream from where the horses were drinking and not downstream?… Does it matter?… It matters a great deal to me.… Never mind; I think it would be better if I didn't know." You learn something about his family: of 18 siblings, only 8 survived infancy. Of his six surviving sisters, "not one of them made a good marriage." His impression of the preaching of the day that sought to emulate Lord Chesterfield is dismissed with a delightful example of obtuse Chesterfieldian prose.
The old man's memories reach back to his childhood escape (at the age of 5½) from death in the manse blaze, calling himself "a brand plucked from the fire."
But by far the most time is taken in a clear, lucid, and careful explanation of his conversion at the age of 35. Some 80 to 85 percent of the material in the play comes from Wesley's own writings, and playwright Brad Smith has carefully crafted this section, revealing Wesley's inner struggles as he recalls his discussions with Moravian Peter Boehler, and culminating with a description of the now-famous meeting in Aldersgate Street when the reading of Martin Luther's preface to Romans opened the floodgates and he finally saw salvation as an instantaneous work of faith.
Actor Roger Nelson is no amateur. Though he followed other interests after active involvement in high school drama (appearing in five musicals at suburban Chicago's New Trier High School with fellow student and friend, Ann-Margret), he did not turn to the stage again until after he had earned a B.A. in mathematics, served a hitch as a U.S. Army officer assigned to the Sentinel Project, and spent three years as a civilian mathematician at a military arsenal. But his acting urge was rekindled in 1970 and he moved to New York. There he studied at the American Academy of Dramatic Arts, and began appearing in stock and repertory as well as off-Broadway productions. His credits include leads in Butterflies Are Free, The Prime of Miss Jean Brodie, Forty Carats, and West Side Story. To supplement his income he also taught at Hunter College (N.Y.) and Fairleigh Dickinson University (N.J.)—and even managed to earn an M.S. in computer science.
In New York he met a man named Paul Moore, then pastor of a church located in what was once a theatrical club to which Nelson had belonged. At Moore's request, Nelson helped the church develop a theater company, including street theater in Times Square. One night Moore had a dream: in it, Roger Nelson was John Wesley. But the dream was only that until the day Nelson met Brad Smith, a free-lance writer and playwright. Though there were no funds to develop a play to bring the dream to life, Smith accepted the challenge. For the next several months he researched Wesley's life and writings, and by the fall of 1977 had a completed, two-hour script.
Nelson was excited with the results. He soon began performing bits and pieces of the play at informal gatherings around Colorado Springs, where he had recently relocated. His home church, Winnetka Bible Church near Chicago, also staged an early performance, and since the play was being financed out of Roger's own pocket, their love offering was welcomed.
The first full-length performance took place in June 1979 at the University of Colorado; now, over two years later, the end is not yet in sight. The largest audience was at the International Sunday School Convention in Detroit a year ago, commemorating the two hundredth anniversary of the Sunday school. Some 5,000 watched a production that even included a live horse for the first time. Fall performances this year include such diverse institutions as the U.S. Air Force Academy and Trinity Evangelical Divinity School.
When Nelson took the play to a Wisconsin church last fall, he was not expecting to hear the performance followed by an evangelistic invitation. To his utter amazement, 40 people—10 percent of the audience—expressed a desire to receive Christ. Because the play can have that kind of impact, Nelson has no plans at present to quit what is an exhausting pace. Though he did not view the play as an evangelistic tool at the outset, he has become increasingly impressed with the way God can use this simple dramatic vehicle to communicate the gospel.
The play is also giving rise to other dramatic possibilities. The United Methodist Church has discussed with Smith and Nelson the possibility of a filmed version that would coincide with the denomination's bicentennial in 1984. Smith's mind is already running to a variety of possibilities that would bring Wesley alive on the screen in a different kind of adaptation. And the success of the Wesley work sent Smith off to research the life of hymnwriter Fanny Crosby. The resulting one-person play uses some 99 percent of Crosby's own words in a format similar to programs the hymnist presented during her lifetime, as she sang and spoke while seated at a piano. Now if only a producer can emerge with a short, slight actress who can sing and play the piano and …
Nelson and Smith would agree that it was God who brought The Man from Aldersgate into their lives. Perhaps the closing lines Nelson speaks as Wesley are not so coincidental when one contemplates the idea of using drama to witness to others the force of God in one man's life:
"Here's a thought before I go that has kept me on the right path for many years now. 'If we seek God in all things and do all for him, then all things are easy.' "
Have something to add about this? See something we missed? Share your feedback here.
Our digital archives are a work in progress. Let us know if corrections need to be made.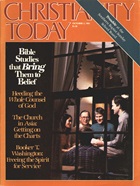 This article is from the October 2 1981 issue.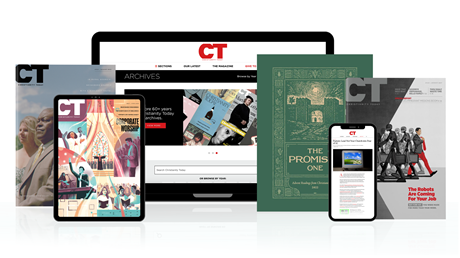 Subscribe to Christianity Today and get access to this article plus 65+ years of archives.
Home delivery of CT magazine
Complete access to articles on ChristianityToday.com
Over 120 years of magazine archives plus full access to all of CT's online archives
Subscribe Now
Refiner's Fire: John Wesley Alive!
Refiner's Fire: John Wesley Alive!