Overlooking other evangelical perspectives, a pre-election sideshow focused on a disputed view.
As the 1984 presidential campaign approached its end time, the politics of Armageddon took center stage in Washington. The Christie Institute, an ecumenical public policy group, secured the signatures of 100 religious leaders on a document challenging the "ideology of nuclear Armageddon."
The ideology's adherents, the statement said, use biblical prophecies "to justify nuclear war as a divine instrument to punish the wicked and complete God's plan for history." Although the document did not mention President Reagan by name, he and his contacts within the Religious Right were clearly the intended targets.
New Right leaders Paul Weyrich and Ron Godwin showed up at the press conference that announced the Christic Insititute's "statement of religious concern." Weyrich and Godwin issued a counterstatement saying the institute "falsified the theology of conservative ministers in order to turn public opinion against these leaders and ultimately against the President."
Moral Majority leader Jerry Falwell, cited in other Christic Institute materials as a dispensationalist who believes nuclear war is inevitable, denied the charge. "Most evangelicals fully believe there will not be a nuclear war," he said. "We have confidence in a God who loves all people and additional confidence in the intelligence of world leaders."
While the flap was more of a preelection sideshow than a serious theological debate, it raised questions about what Christians believe and how those beliefs could affect their outlook on public policy. Views on millenialism and the tribulation appeared prominently in the secular press. The view of eschatology being dicussed, however, was confined to a version popularized by Hal Lindsey in his best-selling book, The Late Great Planet Earth (Bantam). Lindsey applies specific Old Testament prophecy and the symbols of the Book of Revelation to contemporary events.
Whether Reagan realizes that he is espousing dispensational premillenialism is debatable. The President is inclined to use the word "Armageddon" in a generic sense, said J. Douglas Holladay, a staff member in the White House office of public liaison. "He means the end of time, the final dénouement of history." In his second debate with Democratic presidental nominee Walter Mondale, Holladay pointed out, the President said he does not know if "Armageddon is a thousand years away or day after tomorrow."
Christic Institute research director Andrew G. Lang said Reagan's theological perspective is not what worries many church leaders. Rather, he said, their concern centers on the way believers in a "nuclear Armageddon" might seek to shape the President's world view and policy decisions regarding war and peace. "We are concerned about the religious sanction offered by dispensationalism for the belief that conflict with the Soviet Union is a historic inevitability," Lang said.
Reagan's characterization last year of the Soviet Union as "the focus of evil in the modern world" and his comments about the disintegration of communism heighten Lang's concern that arms control talks with the Soviets may be neglected. In a report, Lang called nuclear dispensationalism "a particularly violent mixture of religious intolerance and anticommunist ideology." The prospect of victory for the forces of good, defeat for the evil side, and a "rapture" removing all Christians from earth before the troubles begin in earnest appeals to people who fear nuclear war, Lang said. "If I were a right-wing anti-Communist, dispensationalism is the religion I'd shop around for. It permits people to avoid dealing responsibly with the Soviet Union."
In its research, the Christic Institute overlooked other evangelical perspectives on the end times. Serious Bible scholars reject Lindsey's fanciful depiction of how today's world events mesh with biblical prophecies. In a book entitled There's a New World Coming (Bantam), Lindsey writes, "According to the prophet Daniel, the Russians will sweep down to join the Arabs in an attack on Israel and will then continue right through Israel to Egypt and take it over." He deals with the prospect of nuclear war almost flippantly, saying, "Nuclear weapons will surely be used in any warfare in the future. The major powers of the world aren't stockpiling nuclear weapons for nothing, and even an effective arms control agreement between nations wouldn't do away with existing weapons."
As a result, Lindsey is not taken seriously even at his alma mater, Dallas Theological Seminary. "[Lindsey] goes beyond our teaching," said seminary president John Walvoord, Sr., adding that there is no way to prove that Scripture describes a nuclear exchange. "The end-time war is a conventional war. I disagree with him that the Bible teaches nuclear war."
Lindsey is not the first to draw apocalyptic conclusions from global events. CHRISTIANITY TODAY advisory editor Kenneth Kantzer pointed out that when Napoleon ruled France, some Christians "had it all plotted out" that Napoleon would reconstruct the Holy Roman Empire and usher in the Second Coming. Between the two world wars, the same concern arose about Germany. "One generation's set of specifics looks pretty ridiculous to the next," Kantzer said. "Lindsey tries to map it all out in great detail. A lot of us think it's not very safe to do that."
Evangelicals largely agree that a time of terrible destruction throughout the planet will precede Christ's return. The sequence of events leading to Christ's return, and what God chooses to do with believers, are points of disagreement among Christians.
Kantzer said the big mistake of the doomsday proponents is to assume that the forces of good and evil in the Bible necessarily refer to the United States and the Soviet Union. "The real question is: Do we still work toward peace? I don't know anyone who would say no."
Armageddon refers to a site in Israel where the writer of the Book of Revelation envisioned a great, final battle. Lindsey says the battle will intensify when the Soviet Union invades Israel from the north. To reach that conclusion, he relies on proper names from the Book of Ezekiel, which he translates into "Russia," "Moscow," and another Soviet city. However, numerous Bible scholars—including those at Falwell's Liberty Baptist College—dispute Lindsey's linguistics.
Elmer Jantz, writing in the Liberty Bible Commentary (Thomas Nelson), says no linguistic analysis yields the result Lindsey proposes. Theologian Carl F. H. Henry says biblical prophecy "certainly applies to some historical period. But the problem is, when someone says we've moved into the last several years, then you go counter to Christ's own warning against setting the day or the hour."
Walvoord said he believes the signers of the Christic Institute statement misunderstand Reagan as well as dispensationalism. "To accuse Reagan of nuclear dispensationalism is totally unjustified," he said. "There is no such thing, and Reagan has no theological moorings to that sort of teaching.
"Dispensationalism has to do with the stewardship of life and has nothing to do with nuclear war," he said. "A premillenialist has just as much obligation to work for arms control as anyone else. I believe in a pretribulational rapture, but certainly we should work for world peace in every possible way."
Eerdmans Takes Over Publication Of Controversial Intervarsity Book
The William B. Eerdmans Publishing Company has agreed to take over publication of the book Brave New People. Written by medical biologist D. Gareth Jones, the book originally was published in the United States by InterVarsity Press (IVP).
In September, IVP halted further sales because of a wave of protest from many who perceived the book as being proabortion (CT, Sept. 21, 1984, p. 63).
"We feel the book was simplistically treated [by those who opposed it]," said Jon Pott, Eerdmans's editor in chief. "What happened was a blow not only to this book, but to thoughtful evangelical Christianity."
Pott said he and IVP editor James Sire considered the possibility of Eerdmans taking over publication of the book independently. Pott said Eerdmans's readers are likely to accept a book like Brave New People. "People sort of expect us to be on the progressive edge of evangelicalism," he said.
Terms of the agreement are still being worked out between Eerdmans and IVP in the United Kingdom, which owns the rights to Brave New People and continues to sell it overseas. Pott said he did not know if the Eerdmans edition would contain any changes.
Have something to add about this? See something we missed? Share your feedback here.
Our digital archives are a work in progress. Let us know if corrections need to be made.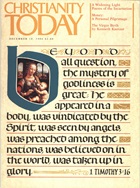 This article is from the December 14 1984 issue.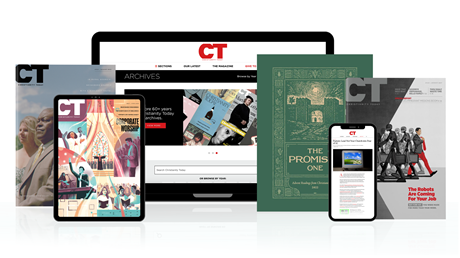 Subscribe to Christianity Today and get access to this article plus 65+ years of archives.
Home delivery of CT magazine
Complete access to articles on ChristianityToday.com
Over 120 years of magazine archives plus full access to all of CT's online archives
Subscribe Now
Critics Fear that Reagan Is Swayed by Those Who Believe in a Nuclear Armageddon'
Critics Fear that Reagan Is Swayed by Those Who ...