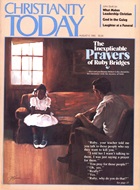 This article is from the August 9 1985 issue. Subscribers can read all of CT's digital archives.
A number of the nation's leading cult watchers say nontraditional religions are on the increase. None of the 14 cult specialists who responded to an informal survey said the trend toward cultic aberrations is diminishing. Ten of the respondents said it is growing, and four said it is "about the same."
"Some [cults] diminish, some grow, new ones are formed. It's always here," said Lowell D. Streiker, author of The Cults Are Coming (Abingdon). "Always a fringe in society seek out bizarre and novel groups.… As social problems arise, groups arise to address the issues." Streiker said that Scientology, the Divine Light Mission, the Hare Krishna movement, and Sun Myung Moon's Unification Church are "in decline.… The Children of God are stable. Shepherding is growing—as are deliverance/healing/prosperity groups."
"The new cults … continue to expand," said John E. Dahlin, editor of The Discerner, "but they are not matching any of the major cults in expansion and influence."
Several respondents cautioned against being misled by a decrease in news media coverage of cults. "The phenomenon has become so common that it is no longer newsworthy unless 'local color' or tragedy [are involved]," said Betty McConahy of the Citizens Freedom Foundation.
John H. Gerstner, emeritus professor of church history at Pittsburgh Theological Seminary, said the upward trend is "traceable to the decline of authentic Christianity in the mainline denominations." Dahlin agreed with Gerstner. "Cults will continue to expand, due to the lack of evangelical emphasis by most of the leading denominations," ...
1
Our digital archives are a work in progress. Let us know if corrections need to be made.
Cult Specialists Assess Nontraditional Religions in the Mid-Eighties
Cult Specialists Assess Nontraditional Religions ...