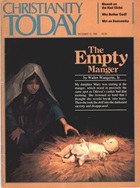 This article is from the December 13 1985 issue. Subscribers can read all of CT's digital archives.
Born this day in the city of David a tough-minded Peacemaker.
Somehow in this world of fear and war, of hate and revenge, the story of the Prince of Peace seems incongruous. What we need is not lowly Jesus, meek and mild, but a Prince of Power and Might. We need what the stricken apostles sought as they stood by the resurrected Jesus on the Mount of Olives. We say, "Will you at this time destroy the wicked powers that dominate the world and terrify us? Will you, right now, usher in the kingdom of perfect peace and righteousness we long for?"
But now as then, our Lord puts us off by declaring that it is not for us to know the time of his return. "You will hear of wars and rumors of wars, but see to it that you are not alarmed. Such things must happen, but the end is still to come" (Matt. 24:6). And so, with hope deferred but not destroyed, we realize that a sovereign God has not decreed a deliverance from the threats of war and destruction and grief and pain and death. That peaceable kingdom will come, but only with Christ's return at the end of the age. He sends us back into the fearsome cauldron of human struggles. And as loyal and obedient followers of the Prince of Peace, we do not dare withdraw from the front line of the battle.
Strangely, he brings us his peace only when, with it, he also brings us assurance that we shall find no peace in this world. Our Lord came to his own, and his own did not receive him, but rather crucified him. Likewise, this Lamb of God sends his followers back into the world as salt and light. And because the world loves darkness, it rejects the light. When today's Christian goes about his Master's business, he must, with saints of former times, be prepared to endure the world's resentment so vividly ...
1
Our digital archives are a work in progress. Let us know if corrections need to be made.
Disturbing the Peace