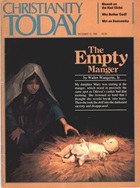 This article is from the December 13 1985 issue. Subscribers can read all of CT's digital archives.
The case for persisting in prayer.
Perhaps the most unpopular concept regarding the practice of prayer is persistence. Is it really necessary to bring the same request to God time and time again? Or does such repetition represent a serious lack of faith?
Whatever our misgivings about coming before the all-knowing, all-powerful God with the same petitions over and over, persistence is scriptural. It is an essential element in New Testament praying. And Christ himself taught its necessity and importance.
Christ-Taught Persistence
Jesus powerfully and clearly taught the necessity of dogged persistence in his moving parable of the unjust judge (Luke 18:1–8).
In verse 1, Luke declares explicitly the reason for the parable: "Then Jesus told his disciples a parable to show them that they should always pray and not give up" (NIV). The word should indicates not merely the duty, but the necessity of persistence in prayer. (In other words, persistence is not only nice, but necessary to effective prayer.) And the word always should be understood as praying continually or persistently in spite of the temptation to give up because of delayed answers.
The parable centers on two characters: a corrupt judge and a needy widow. The corruption of the judge is vividly set forth by the double characterization, "who neither feared God nor cared about men." This points up the unlikelihood of anyone receiving his consideration.
The petitioner is someone seemingly very unlikely to prevail before this self-centered magistrate. (The first-century audience knew that widows were utterly helpless.) This particular widow, however, has a weapon: persistent petition.
Her action is set forth with the verb "kept coming." She made not one appearance before the judge, ...
1
Our digital archives are a work in progress. Let us know if corrections need to be made.
Why Keep Bothering God?