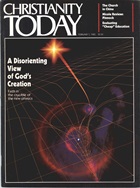 This article is from the February 1 1985 issue. Subscribers can read all of CT's digital archives.
"Sometimes it just isn't bearable to be fully awake."
Paul Brand, the noted missionary physician to India, observes of Nobel Peace Prize-winner Mother Teresa: "She cannot save all India, so she seeks the least redeemable, the dying." Brand also recalls the words of Malcolm Muggeridge: that statistically, Mother Teresa does not accomplish much by rescuing a few stragglers from a cesspool of human need. "But then Christianity," Muggeridge clarifies, "is not a statistical view of life."
Rumors of this same theme echo throughout the pages of a significant novel, The Year of Living Dangerously. The people of Indonesia remember 1965 as "the year of living dangerously." So named by Sukarno, the late Indonesian president and deity figure, 1965 brought violence, political upheaval, and continued mass starvation to this equatorially inflamed arc of islands in Southeast Asia. Fifteen years later, Sukarno's title would attach itself to a novel, and then to a motion picture, each sharply depicting Indonesia's internal chaos. The novel, especially, goes well beyond its own title, speaking about a Third World plight that, when focused on, makes the senses sting. But for anyone interested in increasing his or her sensitivity to problems in the Third World, The Year of Living Dangerously is invaluable.
Written by Australian journalist and novelist C. J. Koch, the book looks starkly at Third World poverty. Picture the story as a stage play in which all the actors are journalists. Through the eyes of Billy Kwan, a dwarf cameraman, we tour a tunnel of poverty in the hot slums of Jakarta, Java. People bathing in sewage, scrounging for rice and scraps of meat, sleeping in huts the size and shape of cardboard boxes—each is shown through Kwan's compassionate ...
1
Our digital archives are a work in progress. Let us know if corrections need to be made.
The Year of Living Dangerously
The Year of Living Dangerously