I think a Christian response to these mind-boggling ethical problems must be built upon two critical—and biblical—points of view. The first is basic and, thereby, most important. It is that we are obligated to the right of people to live, and out of love for them to promote, support, heal, and preserve their lives whenever possible. We should always be on the side of healing and preserving human life, whether prenatal or neonatal. And we should be relentlessly opposed to any trend that makes our selfish desire for a comfortable life more important than the challenge of caring for handicapped lives.
The second point of view is subordinate to the first. It grows out of the profoundness of moral decision making in a world of tragedy. There are anomalies that stagger our imagination. A fetus that is either missing a brain or has a brain too small to give any promise of genuinely human life is a case in point. To absolutize in these situations is not to rise to the defense of life but to sink to unusual and unwarranted cruelty. I believe that in our decision making we must have a passion for life, but a compassion for the living. There is a need for line drawing, but life does not allow us to draw permanent lines for every situation. We must allow for the exercise of what Saint Paul called "spiritual understanding and wisdom" in those cases where sad and tragic decisions must be made.
As for Dr. Elkins, his medical ethics are born of both conviction and compassion. His conviction leads him to support handicapped human life, and his compassion allows him to discern very exceptional cases. He is a convincing witness against all egotistic choices that fail to preserve prenatal and neonatal life. His own family experience supports the belief that love can abound over grievous childhood handicaps. However, he is adverse, and properly so, to giving biomedical ethics over to politics. And he is opposed to an insensitive absolutism that rides roughshod over all circumstances and allows for no compassionate exception in extremely tragic cases. He recognizes that there may be unusual cases in which to preserve life would be unwarrantedly cruel for all concerned. All in all, Dr. Elkins illustrates the kind of ethical discernment that I should devoutly wish for every Christian physician.
One caution: Dr. Elkins's discussion is rather physician-oriented. He does not discuss the right of parents to make decisions contrary to their doctor's good counsel, a matter that is very crucial to the entire decision-making situation.
The Christian Action Council (CAC) was involved in 50 or 60 hours of discussion over Baby Doe legislation, and what we saw—and what is not readily apparent from the interview—was an unprecedented consensus bringing together disability and right-to-life groups. The result of that unanimity is the law we have today, which, incidently, attempts to lift the burden off the physician's shoulders in these extreme cases. It gives medicine a malpractice standard with which they are all familiar: that is, a physician must now simply ask the question, "Is there a treatment to correct the anomaly?"
In working with Baby Doe regulations and discussing their intent and implementation, one of the things that has troubled us most is the prejudice against handicapped people, especially those with Down's syndrome and spina bifida. The assumption, as Dr. Elkins points out, is that these kids will lead lives filled with pain and suffering, lives that are destined to be unproductive. Such thinking is totally erroneous. Here at CAC we had an intern with spina bifida, a boy whose parents were told their son would not have a life worth living. Today he attends William and Mary College.
In his candidness, Dr. Elkins has spoken on behalf of life. He is correct in saying that it is just a short step from abortion to infanticide. Indeed, it demonstrates the schizophrenia of our society when we work on a neonate of 21 weeks, yet abort a fetus of the same gestational age.
I agree with Dr. Elkins's call for a deeper motivational response than the blanket "All babies should be resuscitated and put on respirators." However, we must be careful not to oversimplify what is, in fact, the principle of the prolife position: namely, that we want to do all we can to enhance the possibility of living for the handicapped and the unborn child. To prolong an agonizing, painful situation for several days for the sake of some group's political agenda is, as Elkins rightly points out, inhumane. But I'm not sure that very many people would say that that is what they are trying to do.
We must do all in our power to help the critically ill patient—newborn or otherwise. But, of course, there are those tragic situations where such help is impossible. The temptation here, however, is that once such a situation is identified, we tend not only to let the patient die as comfortably as possible, but to accelerate his death as well. Before reaching that point, we must put the patient in the Lord's hands and confess we cannot do anything more, but that we will not do anything to accelerate the patient's death.
The Word of God is equal to such ethical challenges. It contains the principles for answering even the most dramatic questions facing modern medicine—and us as a society—in this technological age. Yet whether or not the church is effectively applying that Word is another matter altogether. We all too often allow technology to dictate our principles rather than have our well-thought-out principles dictate our use of technology. Christian institutions are not meeting today's medical-ethical challenges largely because they don't think scripturally and critically about them until minds are already made up and decisions already reached.
Have something to add about this? See something we missed? Share your feedback here.
Our digital archives are a work in progress. Let us know if corrections need to be made.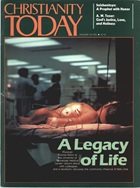 This article is from the January 18 1985 issue.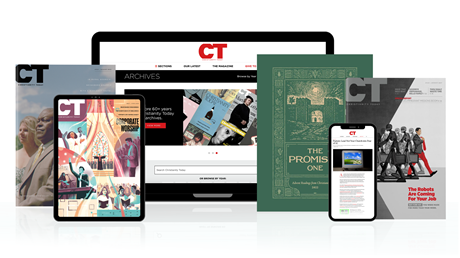 Subscribe to Christianity Today and get access to this article plus 65+ years of archives.
Home delivery of CT magazine
Complete access to articles on ChristianityToday.com
Over 120 years of magazine archives plus full access to all of CT's online archives
Subscribe Now
Responses to Elkins
Responses to Elkins