Did the speeches give conventiongoers a taste of what the next presidential election will hold?
Politics permeated several plenary sessions of the National Religious Broadcasters (NRB) Convention in Washington, D.C., last month, hinting at what may be in store for the 1988 presidential election.
Vice President George Bush, considered a likely Republican standard bearer, addressed the several thousand broadcasters about "one core of principles" around which Americans unite. In a message reflecting President Reagan's priorities, Bush mentioned voluntary school prayer, tuition tax credits, and the battle over abortion, and he called for less reliance on the federal government to solve problems. "Our ultimate hope is in God," he said, "with whom nothing is impossible."
At a crowded breakfast session, U.S. Sen. Edward M. Kennedy (D-Mass.), a potential Democratic contender for the White House, was greeted with a standing ovation. He was invited to the NRB convention to "debate" Jerry Falwell, whom he has befriended over the past two years. Kennedy offered a lengthy statement about the place of religion in public life, charting fresh territory for Democrats who believe they need to reestablish ties with Americans of deep religious faith.
Falwell's remarks on a wide range of topics followed the senator's, and prepared questions were asked of both afterwards. No head-on confrontation took place, in an atmosphere that was both jovial and poignant. Kennedy, a Catholic, was asked how he had sustained himself emotionally through times of tragedy. "I grew up in a family where faith and prayer were extremely important, vital parts of our family life," he said. On the night his brother, President John F. Kennedy, was assassinated, he said he prayed the rosary with his father and read verses asking, "Death, where is thy victory?" from the New Testament.
Falwell and Kennedy took cordial parting shots at one another when each was asked what he would change about the other. Kennedy replied that Falwell was working too hard, and should "take a sabbatical in 1988." Falwell said, "I'd like the senator to become a great, great Republican Baptist."
Reagan, a fixture of three previous NRB conventions, had declined this year's invitation, so a videotaped message was scheduled. At the last minute, however, the President changed his mind and made a brief personal appearance. White House aides said pressing demands—including Reagan's State of the Union message and his budget proposal—required him to cut back on speaking engagements. But a syndicated column by Rowland Evans and Robert Novak hit hard at the President for turning down the NRB request, saying it illustrated how Reagan defers key decisions to aides. One top aide, the column said, decided to "disconnect the President from the religious right."
Reagan made light of the matter, telling the broadcasters he made the initial decision himself and then reversed it. "I was so mad I almost fired myself," he joked, "but I've decided to give myself another chance." White House public liaison aide Douglas Holladay described it as a difference in perception: "They [NRB] thought he owed it to them, and he felt a lot of different constituents can make that same claim."
Reagan's brief remarks commended NRB members for "doing your part to fill the world with God's word and make more gentle man's life on Earth. Like Saint Peter and his brother Saint Andrew, you have been good and faithful fishermen—and you have fought the good fight, for prayer in the schools and against abortion and for freedom in the world."
Reagan and Bush offered inspirational pep talks, while Kennedy and Falwell delved into issues dividing liberals and conservatives. Falwell and Kennedy agreed, however, that they value their time together as friends. They met for the first time in 1983 at Falwell's Liberty Baptist College in Lynchburg, Virginia, after Kennedy mistakenly received a Moral Majority membership card in the mail.
He called Moral Majority spokesman Cal Thomas to ask if it should be returned. Thomas said at the NRB convention that he told the senator, "No, we don't believe anyone is beyond redemption." Thomas invited Kennedy to Lynchburg, where the senator dined with the Falwells and addressed several thousand Liberty Baptist students. The two later met in Palm Beach, Florida, where Falwell prayed with Kennedy's ailing mother.
During his NRB appearance, Kennedy flashed his Moral Majority membership card, to the delight of the audience. "I never leave home without it," he said. Kennedy called his friendship with Falwell "remarkable," and mentioned that Falwell was among the first to call with condolences when one of Kennedy's nephews died from a drug overdose.
Kennedy hailed his opportunities to get to know conservatives and fundamentalists, saying, "We have had a genuine exchange of ideas, a continuing debate about truth and tolerance in American society." Now, he said, it is time to move beyond dialogue and identify areas for "common endeavor." Two areas of fundamental agreement, he suggested, involve both individual and national responses to famine in Ethiopia and apartheid in South Africa.
He said the moral obligations of both situations should be enough to "transcend even the most angry divisions" among Americans. Kennedy described South African policies of separating nonwhite family members from one another, and said, "There is no clearer profamily issue in the world today than opposing the South African law, which brings a kind of death to family life."
He framed the need for values in public debate by saying "there is not and should not be an impassable wall between the city of God and the city of man." However, he cautioned, "Religious witness should not mobilize public authority to impose a view where a decision is inherently private in nature—or where people are deeply divided about whether it is." Kennedy said abortion falls into this category.
Falwell disputed Kennedy on South Africa and abortion, couching his prolife views in a new acknowledgment of the need for compromise. Other prolife leaders criticized Falwell when he recently said on the ABC television show "20/20" that he would allow exceptions to banning abortion in cases of rape or incest. At the NRB convention, he compared his position to a person negotiating with hijackers who agree to let women and children go free. Rather than insisting on all or nothing, Falwell said, the prudent thing to do is to go along with a less-than-perfect solution while working toward an acceptable result.
He called on prolife leaders to develop alternatives to abortion, such as the Save-a-Baby adoption centers his church sponsors. Prolife groups need to "earn the right" to tell women they must bear their babies by offering loving alternatives, Falwell said.
His comments on South Africa condemned apartheid but endorsed Reagan's policy of "constructive engagement"—quietly urging change in South Africa while continuing business as usual. Falwell said America's own history of enslavement and prejudice should keep us from casting stones. "We can't ignore the fact that the worst civil rights violations are in Communist lands" and under Marxist dictatorships, he said, including some of South Africa's neighbors.
Men With Ties To Church Arrested For Abortion Clinic Bombings
Three men, including a pastor, have been arrested in connection with eight bombings at abortion facilities and at offices of prochoice organizations in the Washington, D.C., area.
The U.S. Treasury Department's Bureau of Alcohol, Tobacco, and Firearms (ATF) arrested Thomas Spinks, 37, Kenneth Shields, 34, and Michael Bray, 32, all residents of Maryland suburbs of Washington. Authorities say they uncovered evidence that the bombs used in the incidents had been built in Spinks's house. He is being held in a Baltimore jail. Shields and Bray were released after posting bond.
On the day after his arrest, Bray told reporters, "I have been framed, and I don't know how to get out of it." Bray said that while he had not chosen to halt abortions by destroying property, "I cannot condemn those who have." Because of that, he said he would not cooperate with ATF investigators.
The three suspects have been active in the prolife movement and in evangelical churches. Shields is a member of the Cornerstone Assembly of God Church in Laurel, Maryland, where Spinks attended until last year. Bray, a graduate of Denver Conservative Baptist Seminary, held a lay assistant position at Grace Lutheran Church in Bowie, Maryland, until last year.
Shortly after leaving Grace, Bray formed Reformatory Lutheran Church. He and another man copastor some 50 families who meet in a junior high school.
Bray has picketed several abortion clinics as a member of the Pro-Life Nonviolent Action Project. However, the Washington Post reported that those who know him and the other two suspects were stunned at the arrests.
According to an ATF official, the major break in the case came with the discovery of a fingerprint on a bomb fragment from an explosion at the Capitol Hill office of the American Civil Liberties Union.
An affidavit stated that the fingerprint belonged to Spinks. Authorities also discovered that Spinks, using a false name, had been storing in a local warehouse more than 200 pounds of chemicals similar to those found in his house and at the site of the eight bombings.
Less than two hours before his arrest, Bray told a reporter that he and Spinks had once marched together in an abortion protest and had attended the same church for a time. Authorities began to suspect Bray after a jogger gave a tip to a local television station.
The jogger said he had seen a man at the Metro Women's Medical Center in Wheaton, Maryland, minutes before it was bombed last November. The jogger said he recognized the man from television accounts of picketing at the clinic a few days prior to the bombing. Authorities say the man was Bray.
Spinks's wife told ATF agents that Bray and her husband had met a few days before Christmas in the area of the house where the bombs were allegedly manufactured. Authorities said they found Bray's telephone number on a slip of paper in Spinks's house along with a map showing locations of abortion facilities that had been bombed.
ATF offered as additional evidence against Bray three strands of hair found on a piece of tape attached to an explosive device at the site of the bombing of the Hillcrest Women's Surgi-Center in Washington.
Officials argued at Bray's hearing that the hair they found matched Bray's hair in more than 25 characteristics. However, under questioning from Robert Muse, Bray's attorney, an ATF investigator conceded that the hair samples were inconclusive.
Muse argued that there was not enough evidence to hold Bray. "The real charges are made against the other people," Muse said. An ATF affidavit demonstrated "tangential, superficial, almost noninvolvement by Mr. Bray," he said, ATF officials now say they know who was behind 20 of the 31 incidents of abortion clinic violence that has occurred since 1982.
Personalia
The Southern Baptist Radio and Television Commission has awarded its Distinguished Communications Medal to Walter Cronkite for his "dedication to truth and freedom of expression." Cronkite, anchor of "CBS Evening News" for 19 years, once was rated the most trusted public figure in the United States. The award honors lifetime achievement in communications.
Have something to add about this? See something we missed? Share your feedback here.
Our digital archives are a work in progress. Let us know if corrections need to be made.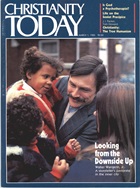 This article is from the March 1 1985 issue.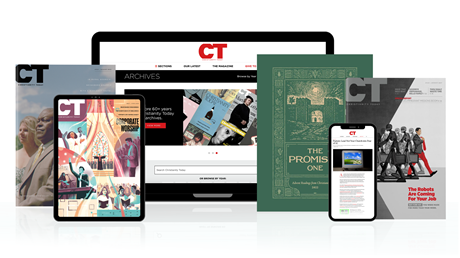 Subscribe to Christianity Today and get access to this article plus 65+ years of archives.
Home delivery of CT magazine
Complete access to articles on ChristianityToday.com
Over 120 years of magazine archives plus full access to all of CT's online archives
Subscribe Now
Religious Broadcasters Hear Politicians from Both Parties
Religious Broadcasters Hear Politicians from Both Parties