Classic and contemporary excerpts
Owning The Name
The title of Christian is a reproach to us if we turn ourselves away from him after whom we are named. The name of Jesus is not to be to us like Allah of the Mohammedans or like a talisman or an amulet worn on the arm as an external badge in the symbol of a profession thought to preserve one from evil by some mysterious and unintelligible potency. Instead we should allow the name of Jesus to be engraved deeply on the heart, written there by the finger of God himself in everlasting characters. It is our sure and undoubted title to present peace and future glory.
—William Wilberforce, Real Christianity
"Outdated" Convictions
Old movies offer some powerful lessons—lessons that our generation could easily miss. Prisoner of Zenda, for example, a movie released in 1937, portrays the intense and genuine love between a princess and a commoner. He pleads for her to run away with him, but by her strength and depth of conviction, she stops him cold, replying, "It is my duty to be here with my people!"
Such a response might have been acceptable in the thirties, but in the eighties an appeal to duty or convictions would be looked upon as unusual and outdated—even by people in the church.
—Bob Mumford, New Wine (March 1986)
Hurrying Away From God
It is said that Dr. Mortimer Adler suddenly left a discussion group at a tea quite disgusted, slamming the door after him. One person, trying to relieve the tension, remarked, "Well, he's gone." To this the hostess replied, "No, he isn't. That's a closet!" We share the same plight when we attempt to rush from God's presence. We are confined to ourselves.
—Myron S. Augsburger, When Reason Fails
Making Jesus "Fit"
The only real Jesus is one who is larger than life, who escapes our categories, who eludes our attempts to reduce him to manageable proportions so that we can claim him for our cause. Any Jesus who has been made to fit our formula ceases to be appealing precisely because he is no longer wondrous, mysterious, surprising. We may reduce him to a right-wing Republican conservative or a gun-toting Marxist revolutionary and thus rationalize and justify our own political ideology. But having done so, we are dismayed to discover that whoever we have signed on as an ally is not Jesus. Categorize Jesus and he isn't Jesus anymore.
—Andrew Greeley's introduction to Lloyd C. Douglas's The Robe, paperback edition (New York Times Book Review)
The Root Of All Evil
Radical faith doesn't mean that we all give up our money and become indigent, but it does mean that we give up the antiquated illusion that money isn't evil. We must face up to the frightening fact that anything money touches, it corrupts—including us.
Money is evil and, therefore, extremely dangerous. We should be running scared. We should fear money. We constantly need to check and recheck what money is doing to us—have a periodic money check-up. All of us had better start learning how to say no to money because, if we don't face up to the damage it is causing, we may find ourselves and the institutions we love destroyed by it.
—Mike Yaconelli The Wittenburg Door (April-May 1985)
A More Important Question
G. K. Chesterton once said that if he were a landlord what he would most want to know about his tenants was not their employment nor their income, but their beliefs.
—Eugene Peterson, Earth and Altar
A Christian'S Time Off
Where did we come up with this concept of "spare time," anyway? Is there any time for which we aren't accountable to God? Is there any time during which God doesn't care what you are doing? No Christian has ever had spare time. You may have spare time from labor or necessity, you may stop working and refresh yourself, but no Christian ever had time off from living like a Christian.
—William Law, Christian Perfection, a contemporary version by Marvin D. Hinten
Learning To Pray
"Lord, teach us to pray!" So spoke the disciples to Jesus. In making this request, they confessed that they were not able to pray on their own, that they had to learn to pray. The phrase "learning to pray" sounds strange to us. If the heart does not overflow and begin to pray by itself, we say, it will never "learn" to pray. But it is a dangerous error, surely very widespread among Christians, to think that the heart can pray by itself. For then we confuse wishes, hopes, sighs, laments, rejoicings—all of which the heart can do by itself—with prayer. And we confuse earth and heaven, man and God. Prayer does not mean simply to pour out one's heart. It means rather to find the way to God and to speak with him, whether the heart is full or empty. No man can do that by himself. For that he needs Jesus Christ.
—James Burtness, Shaping the Future: The Ethics of Dietrich Bonhoeffer
False Religion'S Face
A person may be full of talk about his own [religious] experiences. But often it is more a bad than a good sign. It is like a tree that is full of leaves that seldom bears much fruit. Or it is like a cloud which, although it appears to promise much fullness of rain, is only wind to a dry and thirsty earth.… Strong, false affections are much more likely to declare themselves than true ones. It is the nature of false religion to be showy and visible as it was with the Pharisees."
—Jonathan Edwards, Religious Affections
Carrying Our Weapon
Prayer is the wall of faith: her arms and missiles against the foe who keeps watch over us on all sides. And, so never walk we unarmed.
—Tertullian, On Prayer (The Ante-Nicene Fathers, Vol. III)
Whose Are We?
Why should we not alter to our use, quite humbly and dispassionately, a saying of St. Augustine's: "Many whom God has, the church does not have; and many whom the church has, God does not have."
—Karl Rahner, quoted in U.S. Catholic (March 1986)
Have something to add about this? See something we missed? Share your feedback here.
Our digital archives are a work in progress. Let us know if corrections need to be made.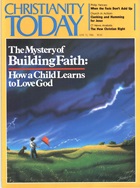 This article is from the June 13 1986 issue.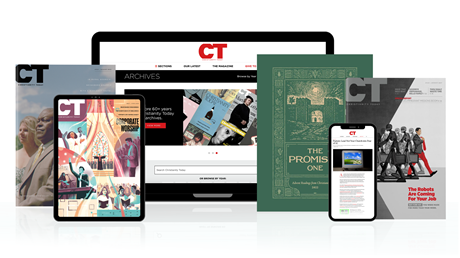 Subscribe to Christianity Today and get access to this article plus 65+ years of archives.
Home delivery of CT magazine
Complete access to articles on ChristianityToday.com
Over 120 years of magazine archives plus full access to all of CT's online archives
Subscribe Now
Classic & Contemporary Excerpts from June 13, 1986
Classic & Contemporary Excerpts from June 13, 1986