Late this month, the results of investigations into television evangelist Jim Bakker's sudden resignation from his PTL television network may determine how the ministry's new management under Baptist preacher Jerry Falwell will proceed.
An independent financial audit of the PTL network and Bakker's vacation theme park, Heritage USA, is in progress. In addition, investigations by members of PTL'S new board of directors and Bakker's denomination, the Assemblies of God, are under way. At a press conference following the new board's first meeting last month, Falwell emphasized his first task as PTL chairman is to "restore the credibility of this ministry nationwide."
Bakker's Departure
Late last month, Bakker resigned from PTL under a cloud of charges involving an alleged sexual indiscretion in 1980 with a New York woman named Jessica Hahn. The incident appeared to have been covered up by an agreement by PTL attorneys to pay up to $265,000 to Hahn and her legal representatives, according to the Charlotte Observer.
When he resigned, Bakker asked Falwell to take charge of his television network and related ministries. Through his lawyer, Bakker then began leveling accusations of a hostile takeover attempt by fellow television preacher Jimmy Swaggart. In a marathon of television appearances, Swaggart denied any thought of a takeover. But he did say he alerted the Assemblies of God, in which both he and Bakker are ordained, about rumors that seemed serious enough to warrant a church investigation.
Falwell appointed a new board, including National Religious Broadcasters executive director Ben Armstrong; former U.S. interior secretary and Assemblies of God layman James Watt; Atlanta businessman Jerry Nims; Thomas Nelson Publishers chairman Sam Moore; former Southern Baptist Convention president Bailey Smith; and evangelist Rex Humbard. Bakker's former senior executive vice-president, Richard Dortch, is the only previous board member remaining. He has been named president of PTL.
Executives of the Assemblies of God released a statement saying they have no evidence of a takeover bid. They refocused the question on Bakker's conduct, saying, "The evidence seems to indicate that effort and money have been expended to cover moral failure." In accordance with church procedure, Bakker's conduct is under investigation by the denomination's North Carolina district presbytery, under the direction of Charles Cookman.
Cookman, who served on the PTL board for seven years, issued a statement saying "Jim Bakker is one of ours. There is an open door of restoration available to him through his church."
Assemblies of God information secretary Juleen Turnage said moral charges like the ones leveled at Bakker, if substantiated, are grounds for dismissal from the church. Bakker and PTL president Dortch resigned their ordination credentials when the story broke. (Dortch has not yet explained why he tendered his resignation. But news reports have implicated him in arranging payments to Hahn.) Assemblies of God officials said the resignations of Dortch and Bakker would not be accepted until an investigation is completed.
Despite the Assemblies of God's doctrinal differences with Falwell, Turnage said the Pentecostal church's leaders deeply respect him. "We are both in the mainstream of evangelical theology," she said. "Jerry Falwell feels his main purpose is evangelism and witness, and that is the Assemblies of God's number one reason for being."
The Future Of PTL
Other Pentecostals, however, are critical of Falwell for appointing new PTL board members who are largely dispensational fundamentalists. And fundamentalists have criticized him for being a "heretic and a compromiser."
"I don't feel that as a fundamentalist I should be excluded from reaching out to a brother in Christ who may differ with me on anything that is not essential," Falwell explained. "As a matter of fact, I reach out to people who deny Christ. The Scripture says we should do good to all men, especially to them who are of the household of faith. This [PTL] is the household of faith."
Falwell has pledged to keep the PTL ministry distinct from his own Lynchburg, Virginia, empire, which includes Thomas Road Baptist Church, the Liberty Federation, Liberty University, and his "Old Time Gospel Hour" television program. Referring to Bakker's Heritage Village, Falwell said, "It was determined that this will be a Christian camp. It will not be a Baptist camp or a Pentecostal camp, and no one will be restrained from worshiping the Lord as he pleases. We are fully aware of who built this camp and this ministry and we're not here to expell anyone." PTL, which reported $129 million in revenues last year, employs about 2,000 people. It owns a 2,300-acre South Carolina theme park, including an amusement park, hotels, shopping mall, convention center, school, television studio, and housing for single mothers and the homeless.
Falwell said the effort to restore credibility would be damaged if Bakker attempted a comeback. "If Reverend Bakker were to appear here at PTL … the credibility problem we now have would be an impossible challenge for us and we would very likely step aside." Falwell said PTL will continue to pay Bakker's salary, which was not disclosed. Further announcements will be made concerning personnel, salaries, and PTL operations, Falwell said, following a board meeting on April 28.
The Deeper Questions
Accounts of Bakker's indiscretion have raised important questions about accountability and image throughout the Christian community. Falwell said Bakker and his wife, Tammy Faye, who is undergoing treatment for drug addiction, "need the prayerful ministry of the family of God everywhere."
At the same time, Falwell addressed the questions of accountability raised by the PTL incident. "Unfortunately, there are some on television who don't have a congregation, a board of deacons, a membership, a local base whom they must face several times a week. We're either going to deal with this ourselves or someone else is going to do it for us."
Cal Thomas, syndicated columnist and former communications vice-president for Falwell, believes "housecleaning and repentance are in order" throughout evangelicalism. He sees the Bakker episode as symptomatic of a larger defect within the Christian community that goes unchecked and unchallenged. "The church has a serious public image problem," Thomas said. "It is the cross that ought to be the offense and not our methods. This persecution is coming because we deserve it. It's not because of our righteousness."
Have something to add about this? See something we missed? Share your feedback here.
Our digital archives are a work in progress. Let us know if corrections need to be made.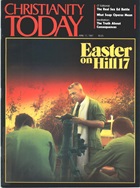 This article is from the April 17 1987 issue.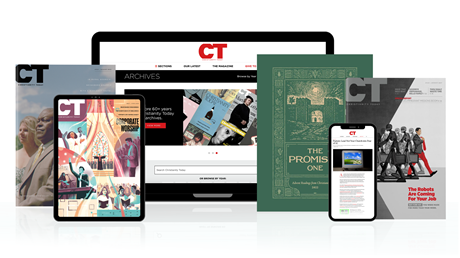 Subscribe to Christianity Today and get access to this article plus 65+ years of archives.
Home delivery of CT magazine
Complete access to articles on ChristianityToday.com
Over 120 years of magazine archives plus full access to all of CT's online archives
Subscribe Now
The Jim Bakker Affair
The Jim Bakker Affair