The Right Stuff
From the perspective of working hard at a wonderful marriage of 15 years, in raising four girls, and in having a deep concern for society's values, I found Tim Stafford's article "Intimacy: Our Latest Sexual Fantasy" [Jan 16] extremely helpful and reassuring. Without his larger foundation of knowledge and statistics, we've been doing the right things!
LISA WIENS
Minneapolis, Minn.
Thank you for Tim Stafford's expose of the Ethic of Intimacy. His penetrating analysis shows why the church and her leaders must uphold what the Bible teaches about marriage and divorce. One possible "lion" on the loose: the increasing number of ministers who erode the sanctity of lifelong monogamous marriage by remarrying themselves and/or presiding over remarriages after divorce. Might we not ultimately help many more than we hurt if we would uphold the absolute of Scripture that marriage is an inviolate commitment between husband and wife and "as long as both shall live"?
REV. LARRY ALLEN
Presbyterian Church of the Covenant
Houston, Tex.
Treaties that work
I endorse the general thrust of Terry Muck's editorial ["Promises, Promises," Jan. 16] that treaties are contracts between nations that ought to be encouraged. Common sense ought to tell us that if a nation repeatedly failed to live up to its committed word, no other nation would likely enter into new treaties with it. If the Soviets were half as unreliable as some American commentators assert, it would be criminal negligence even to consider a new treaty with them!
There are fundamental treaties that establish weights and measures, money exchange rates, time zones and date lines, radio and television frequencies, national borders, and many other matters over which there is no disagreement. Treaties make the world civilized.
DONALD L. WHITE
Louisville, Ky.
The joy and soul of Dixieland
Thanks to J. I. Packer for his little gem, "All That Jazz" [Dec. 12]. The joy and soul of Dixieland was a triumph of the spirit over oppression, and Mr. Packer's spirit finally won over the niggling legalists who could not understand this glorious and truly original American art form and didn't want anyone else to. Three cheers for Packer's touching disclosure, the sweet spirit of Dixieland, and for Christian freedom to listen to our own hearts.
MARILYN KANICH
Munster, Ind.
I have the impression there are a significant number of Christians out there who tend to view art in a certain way. Packer's article reflects that "certain way," reinforcing the stereotype of Christians who have little or no affinity for art if it doesn't have certain "Christian" values, attitudes, forms, etc.
Dixieland jazz expresses a certain style that he obviously enjoys. (I enjoy it, too.) Good jazz, for him, exists as a dated form of music. The rest of jazz is written off as, might I say, "unchristian." There is an element of truth to his comments on "modern jazz." But his aversion to anything that might "mirror life's endless tensions" in favor of that which "energizes you and relaxes you," suggests a Christian interpretation of jazz laden with value judgments. The article is a sad commentary on what this art form, at least, means to a certain and significant segment of Christendom.
JOHN SYMINGTON EPHLAND
Oak Park, Ill.
J. I. Packer on jazz! WOW! I really liked it. I'd like to see a full-blown article on modern jazz.
DON CASWELL
Goleta, Calif.
A prayer answered
Your recent article highlighting the situation in Oradea, Romania, was an answer to prayer ["The Largest Baptist Church in Europe: A Case in Point," Dec. 12]. For the past year and a half, our church has participated in a fund-raising drive to help with the expenses of erecting a new building for this vibrant Baptist church. During November we held ten days of prayer meetings concerning the Romanian government's decision to retract their earlier promise to let the church build an adequately large sanctuary to meet their needs. We were thrilled to read the article a month later in your magazine. Thank you for informing Christians all over the world about this situation.
REV. LARENCE CHEWNING
REV. DON WHITESEL
Marlboro Christian Fellowship
Marlboro, Mass.
Strange Propositions
Last month, I attended my first pornography conference. Frankly, I was confused. I've been to seminars on alcoholism, and we didn't sample any liquor. I've been to conferences on child abuse, and we didn't beat children. But at the porn conference, we felt curiously obligated to experience what we were protesting, to see what we say people shouldn't see.
Conference organizers supplied some triple-X literature. Every ten seconds or so, almost in unison, we would all glance at one another, shake our heads mechanically, and mumble, "This is sick."
But we kept looking. Sometimes from several angles. (I guess we wanted to be thorough to make sure it was sick.)
Some believe everyone should attend at least one of these things for the shock value. But I'm not so sure. Frankly, I came away thinking that pornography conferences are strange propositions. Other people, to the contrary, claimed all that skin had little if any ill effect on them. And certainly not enough to have them avoid temptation by canceling their reservations for the next porn conference. Or even the one after that.
As for me, one was enough. I think.
EUTYCHUS
Defining Mary
I really appreciated the fine article by Kenneth Kantzer, "A Most Misunderstood Woman" [Dec. 12]. Kantzer rightly observed that the phrase "Mother of God" is especially objectionable to many Protestants. It helps a little to know that the "early references to Mary as the Mother of God were intended only to glorify Christ." The problem comes, however, with the implications of the phrase. It suggests (1) precedence, as a mother precedes the child, and (2) preeminence, as a mother is preeminent over the child. The phrase that avoids these problems and yet maintains the scriptural teaching of the deity of Christ is "Mother of the God-Man."
DOUGLAS A. BUTLER
San Francisco, Calif.
Another reason I believe we have abandoned Mary to an evangelical limbo is because she is a woman, and most evangelical articles are written by males. The males ignore, by and large, the women of Scripture. My woman's heart yearns for expositional studies on these women. I applaud you for publishing Luci Shaw's article ["Yes to Shame and Glory"], for she is a woman of extraordinary gifts and insights. Please give us more articles by godly women.
DEE BRESTIN
Kearney, Neb.
Kenneth Kantzer's article shows serious misunderstandings of Catholic teachings. Obviously Saint Alphonsus intended the devotional passages Kantzer quotes to be understood in the context of, and in a manner consistent with, other statements that clearly and unambiguously affirm the absolute supremacy of God and of the God-Man Jesus Christ.
In denying the perpetual virginity of Mary, Kantzer says the Greek word translated "until" in Matthew 1:25 indicated the end of a period of time. However, it does not always indicate a change in status at the end of that period. The same Greek word is used in Matthew 22:44: "The Lord said unto my Lord, Sit thou on my right hand, till I make thine enemies thy footstool." Surely no one would claim that when Christ's enemies have been made his footstool he will be ejected from his place at the right hand of the Father.
MARTIN W. HELGESEN
Malverne, N.Y.
Mary is just one area of disagreement between Protestants and Catholics. As a former Protestant fundamentalist, now Roman Catholic, I've seen enough of both sides of these arguments to make the following observation: In general, Catholics don't care what Protestants think or say about their practices.
PATRICK CASEY
West Point, N.Y.
A deeper appreciation for the traditions of the Eastern church, which have remained foreign to the influences of scholasticism, reformation, and sixteenth to eighteenth-century rationalism, can give us Western Christians, both Roman Catholic and Protestant, a greater insight into the development of our theological traditions. Instead of dwelling on the "infidelities" of our spiritual fathers, perhaps we should praise God that the Western church survived as well as she did—the church did not fare nearly so well in India and Northern Africa. Hopefully, our descendants will not judge our response to the challenges of secularism and a renewed Islam too harshly.
CAROL A. DWROKOWSKI
Annapolis, Md.
About Mary, the mother and disciple of Jesus, let us also consider the following facts and observations: The Protestant Reformers Luther, Calvin, and Zwingli all affirmed their belief in Mary's perpetual virginity. (They obviously concurred with the interpretation of "brothers and sisters" to be spiritual ones or cousins. Your article clearly stated that all conservative Protestants deny this doctrine.)
Luther's writings are replete with Mary's honor. Here's one of his statements: "After Christ, she [Mary] is the fairest gem in all Christendom." Although this is not a solely "Catholic" doctrine, neither is it a recent one as you implied. The Second Council of Constantinople (A.D. 553–54) twice referred to Mary as "ever-virgin."
JANE TERWILLIGER
Ypsilanti, Mich.
Have something to add about this? See something we missed? Share your feedback here.
Our digital archives are a work in progress. Let us know if corrections need to be made.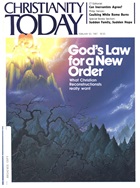 This article is from the February 20 1987 issue.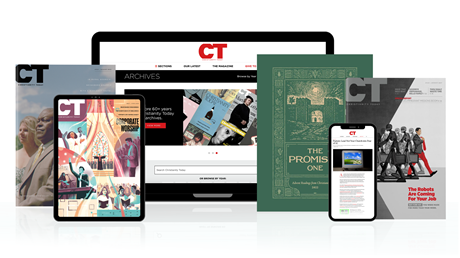 Annual & Monthly subscriptions available.
Print & Digital Issues of CT magazine
Complete access to every article on ChristianityToday.com
Unlimited access to 65+ years of CT's online archives
Member-only special issues
Subscribe
Read These Next
Trending

American Christians Should Stand with Israel under Attack

While we pray for peace, we need moral clarity about this war.

From the Magazine

The Unusual Epistle that Helps Me Counsel on Sexuality

Jude has strong words for immorality in the church. Yet he advocates for mercy for those who doubt.

Editor's Pick

Don't Miss These African Christmas Hits

Jam out this season to highlife, Afrobeats, jazz, a cappella, R & B, rap, dance, and hip-hop artists from Nigeria, South Africa, and more.
Letters
Letters