America's war against drugs waxes and wanes, depending on how many other social problems are vying for the nation's attention. But in Chattanooga, Tennessee, a group of Christians is waging a long-term battle against drug and alcohol abuse. And so far, they seem to be winning.
The effort, known as Project 714, uses "positive peer pressure" to battle drug abuse. Now in its sixth year, the drug prevention and intervention program involves at least 11,000 teenagers from Chattanooga, Nashville, and north Georgia. In the Hamilton County school system, located just outside Chattanooga, 64 percent of all high-school students have chosen a drug-and alcohol-free lifestyle. Many administrators say Project 714 is responsible for declines in drug and alcohol use both on and off the campuses of their schools.
The program's success has much to do with a well-thought-out focus, said Jimmy Lee, who founded Project 714 in 1981. "An effective program requires more than just giving out bumper stickers and buttons," Lee said. "There has to be somebody in there working with kids on a day-to-day basis."
Stressing Prevention
After he started Teen Challenge programs in Chattanooga and Nashville, Lee launched Project 714 because he believed that rehabilitation, while important, was reaching youth too late. He wanted to offer a program that would give teenagers the incentive and peer support to lead drug-and alcohol-free lives.
Lee discussed his plan with Joel Hardison, then guidance counselor at Chattanooga's Lookout Valley High School and now Project 714's vice-president of programming. After Hardison and Lee established a successful program at Lookout Valley, the Hamilton County school superintendent decided Project 714 would be incorporated into all of the county's junior and senior high schools. That has since taken place, with financial support from local Christian businessmen. And Project 714 has expanded to other cities, with pilot programs as far away as Hawaii and Alaska.
In founding the program, Lee did not ignore drug-abuse prevention. But it was just one part of a multi-faceted plan to help teenagers at different levels of need. For many, the program's most significant aspect is Students Staying Straight, or Triple S Club—a student-run and largely student-developed activity. "Even the name, 'students Staying Straight,' was developed by the students in that early program," said Anthony Otey, Project 714's regional director for Chattanooga-area schools.
"The reason this program was so attractive was that many young people wanted to be identified in a positive way for their views on drugs and alcohol," Otey said. "What they wanted to do was start a group where kids were committed to staying straight—where it's cool not to use drugs."
The students drew up specific club guidelines, and they discussed the importance of a contract to be signed by all club members, declaring abstinence from drugs and alcohol. They decided to hold regular meetings where speakers would discuss drug and alcohol abuse. The students also talked about the importance of drug-free activities open to the entire school. All of those aspects were incorporated into the program, along with membership cards and Students Staying Straight T-shirts.
Today, most schools involved in Project 714 have their own Triple S bulletin boards. In many cases, a roster is posted on the board listing the names of all Triple S members. Such a roster makes it easy for the students, both in and out of the club, to monitor each other's activities—creating a positive form of peer pressure.
Role Modeling
Project 714 has sought to attract teachers—the people most familiar with the day-to-day problems and needs of students—to its staff. Otey, himself a former art teacher, works with a full-time, paid staff consisting of six school teachers on loan from Chattanooga-area schools. Many other teachers work with the program as volunteers.
Otey stressed that the involvement of compassionate and responsible role models is essential. "We ask that anyone taking leadership in the program abstain from both drugs and alcohol," he said. "What we don't need is someone trying to defend his own use, even occasional use, of alcohol. If you want to prove that a stick is crooked, you lay a straight stick beside it."
The Project 714 staff believes young people involved in rehabilitation need to know that someone is genuinely interested in the personal problems that led to their drug abuse.
"Everyone talks about drug problems," Otey said. "Drugs don't have problems; people have problems. In our country, we've used a lot of methods: drug education, scare tactics, and moral or value clarification. Some kids can be educated, some kids can be scared out of use, some can be moralized. But none of those is going to work by itself. No one way works, except love."
Unlike many programs, Project 714 combats alcohol abuse along with other drugs. "One of the great messages on television to kids is, 'Don't drink and drive,' " said Lee. "Well, that's a hidden message. What that says to kids is it's okay to drink as long as you don't drive. We don't say that; we say don't drink at all. See, we're not working with the symptom. We're going to the root problem."
What's Behind The Name?
Project 714 came into being when a group of Christians responded to a specific social need in their community. The name itself reflects Christian concern. The "714" has its roots in 2 Chronicles 7:14: "If my people who are called by my name humble themselves, and pray and seek my face, and turn from their wicked ways, then will I hear from heaven, and will forgive their sin and heal their land."
"It may sound ambitious, but we'd like to see the whole nation turned around," said Lee. "We believe we are following the banner of 2 Chronicles 7:14. And to do this there has to be strong organization and strong commitment. We are thankful to the Lord that Project 714 has proven itself."
"We believe our results are always going to come from God," said Rodger Piersant, Project 714's executive vice-president of operations.
Although the organization does not promote its religious perspectives on school grounds, there is much emphasis on prayer and commitment to Christian values on the part of the staff. "Our staff meets every Monday morning, and we pray for our city, our leaders, the teachers and principals, and the kids we work with," said Otey. "That starts our week off. Then every Friday, the staff gets together and we have devotions. During that time we share each other's burdens; we pray for each other, and for the work that we are trying to do."
The board of Project 714 reflects this concern for moral input from the Christian community. Along with some local and national directors from the Christian-oriented Teen Challenge, the board also includes popular Christian singer Amy Grant and her singer-musician husband, Gary Chapman. Grant and Chapman have spoken at schools and have held free concerts in support of Project 714 and a drug-and alcohol-free lifestyle.
Community Involvement
Project 714 has gained wide acceptance from school administrators, teachers, parents, and local businesses. "Project 714 brings all these people together and says, 'The kids need our help,' " Otey said. "So when we have a drug-free activity, the local skating rink may open up its facility to us free of charge. Parents don't just drop their kids off, but take time to cook hot dogs with them. It gets the community involved in the process."
Last spring, before Chattanooga-area schools held their proms, Project 714 and other community groups featured a slogan contest. The winner received a "prom package" consisting of a complimentary dinner for two, a carriage ride in downtown Chattanooga, a $50 gift certificate toward the purchase of a dress, and a free tuxedo rental. All the items were donated by local businesses. The winning slogan, "Impress Your Date—Drive Straight," along with a photograph of the winner, was featured on eight Chattanooga billboards.
Looking to the future, leaders of Project 714 are discussing plans to expand their program to the church. "A lot of the things that Teen Challenge and Project 714 are doing can be done by the church," said Lee. "The problem is that the church has not been trained to handle this problem. And there is denial. A pastor will say, 'I don't have this in my congregation. This isn't a problem in my church.' But that's not true, because drug and alcohol abuse is a societal problem. And it's a problem not just with kids, but also with adults. We need to reach both."
The program's high school focus has already made important inroads into the problems of drug and alcohol abuse. "Our mission is to clear the eyes and minds of our youth so that they can make the right decisions in life," said Piersant. "They are our future.… The only way to defeat the drug problem is to mobilize the kids against it."
By Chris Lutes in Chattanooga, Tennessee.
Have something to add about this? See something we missed? Share your feedback here.
Our digital archives are a work in progress. Let us know if corrections need to be made.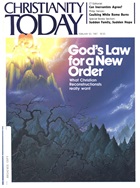 This article is from the February 20 1987 issue.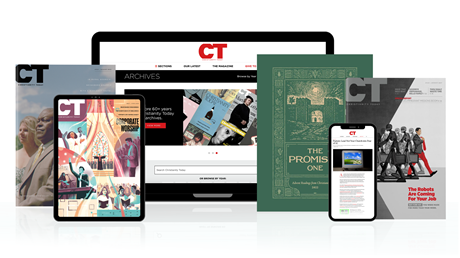 Subscribe to Christianity Today and get access to this article plus 65+ years of archives.
Home delivery of CT magazine
Complete access to articles on ChristianityToday.com
Over 120 years of magazine archives plus full access to all of CT's online archives
Subscribe Now
Positive Peer Pressure: A New Weapon against Drugs
Positive Peer Pressure: A New Weapon against Drugs