In 1982, the circus came to Calvin College and tethered its performing elephant to a large steel stake—which had been inadvertently driven through underground wiring. A powerful electrical current surged through the stake and into the 4,000-pound pachyderm; he shook, jerked his trunk, and tumbled to the ground, dead.
Calvin College shook as well—particularly when the circus sued it and its electrical contractor. Some months ago Calvin resolved the case with a large cash settlement.
I write of this bizarre event not only that we might commiserate—it is not every day that a two-ton elephant meets such a grisly end on campus—but because the case is symptomatic of a growing crisis in America.
The crisis involves liability insurance, the kind designed to provide protection from people who want to sue you—over electrocuted elephants, malpractice, faulty products—whatever.
The number of product-liability cases filed in federal courts rose from 1,579 in 1975 to 10,745 in 1984. Although most cases are settled before trial, the volume of jury awards in such suits roughly tripled during the same period.
As a result, insurance rates are skyrocketing. A Long Island obstetrician, living in one of the most litigious regions in the nation, pays $100,000 a year for insurance.
Doctors are not alone. Skating rink owners find it next to impossible to buy insurance. City governments are sued if anything untoward occurs within city limits; according to an article in The Economist, some coastal cities closed their public beaches after parents successfully sued San Francisco for $1 million "for allowing their son to jump into a watery death from the Golden Gate bridge."
Last year Americans paid $9.1 billion in liability insurance premiums, 60 percent more than in 1983—about the same amount as the combined budgets of NASA and the CIA. And everybody pays—if not directly, then indirectly in higher prices or in reduced (or even cancelled) services.
The insurance companies blame the lawyers; consumer advocates blame the insurance companies; the public blames the politicians, who blame everyone else—except themselves.
Perhaps everyone shares responsibility. But the deeper cause is a widespread attitude: Americans have come to assume that with the right to life, liberty, and the pursuit of happiness comes the right to live devoid of suffering, inconvenience, and risk. As Chief Justice William Rehnquist observes, "There has been a growing reliance on law as the miracle drug for societal problems—the remedy that cures all ills."
In his landmark book, The Litigious Society, legal professor Jethro Lieberman argues that a habitual propensity to sue somebody is becoming an American plague. "We reject harm and ill-being as the natural state of the species.… they are viewed as anomalies … obstacles that need quick removal to restore the norm."
This false utopianism springs from a world view dependent on faith in science and government rather than a humble faith in God. It reflects as well a subtle rejection of the way God is running our world. There are no longer "acts of God"; instead, there must be somebody to blame, and he should have the pants sued off of him.
Certainly, legitimate liability suits are a way of holding individuals and institutions responsible for misdeeds. But today's epidemic shows less evidence of a noble concern for justice than of a base concern for getting what one can. There is profound social cost in a nation whose citizens are always on the lookout for someone to sue. Economist Robert Samuelson warns of becoming a "precautionary society," in which risk is deliberately avoided for fear of litigation.
Many doctors, for example, are now refusing to treat high-risk patients or use high-risk procedures; others are practicing "defensive medicine," prescribing many additional (and expensive) tests to protect themselves if they are sued.
Litigiousness particularly hurts the poor, who usually have legitimate claims but little access to lawyers; legal resources that might otherwise be helping those really in need are meanwhile wasted in prolonged legal battles. Thus, social cohesion deteriorates. When every fellow citizen becomes a potential adversary in court, civic selflessness is undermined.
Alexander Solzhenitsyn has warned, "The defense of individual rights has reached such extremes as to make society … defenseless against certain individuals." Can society long survive when everyone insists on using the law as a vehicle for his or her own selfish gain?
The litigious society poses a special challenge to the church. Wanton selfishness spells national doom; but we are the ones, as salt and light, who can lead others to a better way. Loving one's neighbor is not an empty cliché; it means putting the good of others ahead of self. Christians should be the first to understand that citizenship not only confers rights, it demands responsibilities.
Second, we should lobby for legislation cracking down on the glut of litigation. Three cheers for the first step—laws passed in more than 40 states in 1986 seeking to regulate the out-of-control liability situations.
Third, we should offer models of arbitration. The Christian Legal Society, for example, has been singularly successful in settling disputes out of court—and reconciling the parties as well.
However, a church caught up in the prosperity gospel—the idea that God blesses by shielding us from all pain and supplying all our wants and needs—offers nothing to society but a religious adaptation of its own false utopian values.
A church that hawks a religious version of the predominant "look-out-for-number-one" attitude of our culture can only reinforce, rather than challenge, the world's focus on self, acquisition, and financial security. That is a far cry from our Bible's demands for compassion, sacrificial service, and trust in the mercy of the sovereign God.
The church is called to conform not to the culture, but to the character of Christ. And what today's litigious society needs is that dose of true Christian selflessness. If we don't administer it, who will?
Have something to add about this? See something we missed? Share your feedback here.
Our digital archives are a work in progress. Let us know if corrections need to be made.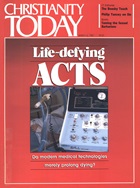 This article is from the March 6 1987 issue.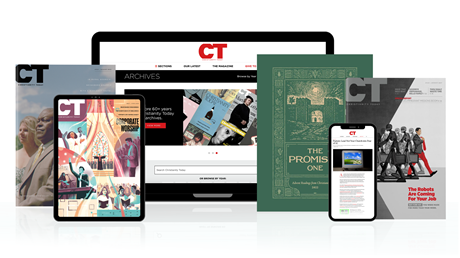 Subscribe to Christianity Today and get access to this article plus 65+ years of archives.
Home delivery of CT magazine
Complete access to articles on ChristianityToday.com
Over 120 years of magazine archives plus full access to all of CT's online archives
Subscribe Now
Lawsuits: The Great American Plague
Lawsuits: The Great American Plague