After a decade of study and discussion, the International Council on Biblical Inerrancy (ICBI) has gone out of existence—according to plan.
A group of conservative Christian leaders launched the organization in 1977 to strengthen and modernize arguments supporting the authority of the Bible. The ten-year effort culminated in late September with the Congress on the Bible II, which brought 3,000 laymen to Washington, D.C., to discuss the application of Scripture to current political issues and daily life.
According to ICBI chairman James Montgomery Boice, the council's original purpose was to "explain and defend the doctrine of inerrancy as a necessary part of any valid doctrine of Scripture and a necessity for the health of the church." The organization's first major summit in 1978 produced a 19-point statement on the doctrine of inerrancy, which was signed by 300 conservative Christian leaders.
The second step was biblical interpretation. "You can say we have an inerrant Bible," Boice said, "but if you handle it wrongly, we've still lost the battle." A 1982 summit produced a 25-point guideline for interpreting Scripture. Also in 1982, the first Congress on the Bible educated laypeople about the work of the council's first two summits. In 1986, a final summit produced a 170-point document on the application of Scripture to life.
Biblical Application
This year's Congress on the Bible II completed the council's work. Plenary sessions and workshops focused on practical aspects of the Bible. Seminars covered topics such as education, business, welfare, foreign policy, marriage and the family, hunger and poverty issues, AIDS, the law, and public policy. Said Charles Colson, chairman of the congress and founder of Prison Fellowship: "If Christ is king, he is king over all.… How then shall we serve? Not triumphalistically, not arrogantly, but humbly seeking to hear God's voice … in every aspect of life."
The ICBI congress cosponsored a community work project with Prison Fellowship. Furloughed inmates from Virginia's Lorton Prison joined congress volunteers to do repairs on a women's shelter run by a local church. Colson said the project was a vital part of the witness of the congress. "In the shadow of the U.S. Capitol, where they're debating how to spend hundreds of billions of dollars to solve America's ills, there are a group of convicts … and a whole lot of Christian volunteers who are out renovating the homes of some poor people …," he said. "That's Christians living in biblical faithfulness and biblical obedience."
Many of the conference speakers encouraged Christians to become a more significant force in society. British writer Os Guiness warned of the dangers of falling into an "easy-care evangelicalism" that lacks the "decisive link between believing and behaving."
Colson urged his audience to "live in obedient discipleship to challenge prevailing cultural values." He said the church is in a "crisis hour," because "despite the pockets of revival and evangelical resurgence going on in various continents, … Christianity as a cultural force has less influence today than in perhaps the last 1,500 years."
Political Overtones?
Prior to the congress, there had been some concern that the Washington atmosphere, along with addresses by several politicians, would politicize the ICBI event. But theologian J. I. Packer, a charter member of the council, said the congress "rose above narrow party-line political concerns" and did not fall in line behind "any particular ideology." Nonetheless, political topics were addressed.
A preconference briefing treated some 200 Christian leaders to a taste of the Washington political scene with addresses from former Secretary of Transportation Elizabeth Dole and several members of Congress; a luncheon on Capitol Hill; and a trip to the White House complex for a meeting with representatives of the Reagan administration. Speakers addressed AIDS, government deception, pornography, Central America, and Reagan's nomination of Robert Bork to the U.S. Supreme Court.
During the congress itself, participants heard from Attorney General Edwin Meese; conservative political writer William F. Buckley; and U.S. Sen. William Armstrong (R-Colo.). Boice acknowledged in an interview that there "probably was somewhat of a conservative Republican tone" to the meeting, but said it was not something the council planned.
"We were trying to be as unpolitical as possible," he said. "Our whole point from the beginning was … you don't bring in the kingdom of God by political means. As a citizen of a democracy, you have a duty … to take part in it, but what really makes a difference is citizenry whose hearts have changed because they have come into contact with God."
U.S. Rep. Paul Henry (R-Mich.), reminded the preconference briefing, "The Bible is simply not a political handbook out of which a 'litmus test' on political specifics can be drawn. As you struggle to seek to apply the authoritative norms of sacred Scripture to perplexing and complex issues of the moment, I urge you to avoid the temptation to claim inerrancy for the human applications drawn from it."
Over its ten-year life span, Boice said, ICBI achieved what it set out to do. "A battle like this [over biblical inerrancy] is unending—every generation has to fight it in one form or another. But we feel … that we've done what we can do."
Other original council members, including Packer and Kenneth Kantzer, professor of biblical and systematic theology at Trinity Evangelical Divinity School, agreed that ICBI had accomplished its goals. Said Packer: "I think … we can lay ourselves to rest honorably and thankfully."
At the conclusion of the congress, ICBI passed on to the National Association of Evangelicals (NAE) the responsibility to uphold the authority of Scripture and its application to daily life. Robert Dugan, director of the NAE'S Washington Office on Public Affairs, said this is "a symbolic passing of the torch" and will not mean any new assignments for NAE. Rather, he said, ICBI believed NAE was "the most broadly representative group" that could continue urging Christians to apply "a high view of Scripture to national life."
Have something to add about this? See something we missed? Share your feedback here.
Our digital archives are a work in progress. Let us know if corrections need to be made.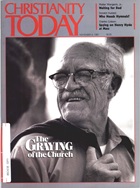 This article is from the November 6 1987 issue.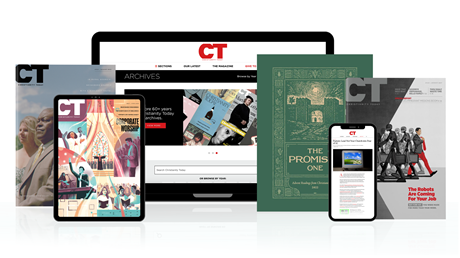 Subscribe to Christianity Today and get access to this article plus 65+ years of archives.
Home delivery of CT magazine
Complete access to articles on ChristianityToday.com
Over 120 years of magazine archives plus full access to all of CT's online archives
Subscribe Now
Christian Organization Runs Its Course, according to Plan
Christian Organization Runs Its Course, according to Plan