After dark, the white lights that line Pittsburgh's Station Square bounce alluringly off the sluggish waters of the Monongehela River. Here is where the city's young corporate culture finds first-class cuisine and vibrant entertainment.
But on Thursday evenings, if they happen by Mr. C's Lounge at the Station Square Sheraton Hotel, they will find an Episcopalian pastor delivering a sermon. It is part of a weekly event, music included, called "The Alternative Happy Hour."
The program has everything anyone ever wanted in a happy hour, except alcohol. The pastor, Stuart Boehmig, assistant rector of Saint Stephen's Episcopal Church in suburban Sewickley, is part of the band he assembled, which performs weekly.
The band calls itself 101, as in Christianity 101, a basic course. Its immediate goal is to entertain; its ultimate goal is to make believers out of onlookers. The result is an evening that smacks of both night club and church.
In the late afternoon, the youthful crowd begins to arrive. It is met by "greeters," shaking hands and handing out leaflets describing coming events sponsored by various local Christian groups.
The band begins, playing music easily recognizable by any yuppie worth his salt: Huey Lewis, Steve Winwood, the Doobie Brothers. The band intermingles Top 40 with contemporary Christian music. The sound is just as loud; the message is louder.
Twenty-five young men and women, many of them from Boehmig's church, mingle among the crowd of some 200, getting to know the guests, looking for opportunities to invite them to area churches. Waitresses in uniform weave their ways around the small, round, wood-top tables, delivering rumless daiquiris and piña coladas that look like the real thing.
The low ceiling and dim lights afford a feeling of coziness. Smoke from a few cigarettes begins to cloud the room. Their smell competes with Ralph Lauren and Obsession. The music's sound increases, making it easier for people to hide than to converse. Bright lights flash methodically on the performers, whose gyrations and smiles convey jubilance. They urge listeners to fill the dance floor.
More than a few have wondered aloud to Boehmig whether a Christian, let alone a pastor, should approve of, let alone encourage, dancing. "Maybe it's borderline," he concedes. "But every Thursday night we proclaim the gospel very clearly. I won't compromise my message. But I'm willing to modify my methodology."
Boehmig's idea for a band came in an instant. "I was preparing a Bible study," Boehmig says, "and it dawned on me that Jesus hardly spent any of his time in church. I belong to a generation of people who left church and never came back. If you want to reach those people, you've got to go where they are."
Boehmig's first step was not to find a band, but to secure space in Station Square. "We had to have a place that would capture people's imaginations, or nobody would be interested." So Boehmig approached John Connelly, owner of the Station Square Sheraton, with his idea. Mr. C's Lounge normally rents for $1,000 a night. Connelly allowed Boehmig's group to use it rent free.
After countless phone calls and interviews, Boehmig assembled his band: a drummer, lead vocalist, bass and lead guitarists, and a keyboard artist, all accomplished musicians, all committed to Boehmig's cause.
As this night wears on, the crowd grows. "After this next tune, we're gonna take a look at what the Bible has to say," announces Boehmig, casually, as if delivering a weather report.
True to his promise, the song ends, the dance floor clears, and suddenly Boehmig is alone in the spotlight, without a pulpit to stand behind, only a Bible in his hand. The chattering dies down. The waitress behind the square bar in the back of the room delays her glass-cleaning duties.
A humorous anecdote eases the transition. Then Boehmig reads from the Gospel of Matthew, taking his captive audience back in time. He supplements his exposition with creative imaginings as he tells the story of Jesus and the disciples on the Sea of Galilee. After a busy day, the Lord falls asleep on the boat. A storm rises up. The night clouds hide the moonlight and vicious winds overcome the disciples' outmatched lanterns. Jesus' helpless followers are about to perish. In desperation and fear, they finally wake up Jesus.
"We can all identify with being on a boat that's ready to sink," says Boehmig. "Some of us here come from broken homes, broken marriages. We struggle with drugs and alcohol. Some might be facing a failing career. Others might be filled inside with guilt, sinking, in danger of perishing."
In the audience is a man, probably in his early thirties, neatly groomed. He's wearing a white shirt and pink tie, flawlessly assembled. He lightens the darkness around him, momentarily, as he brings a cigarette to life. He looks down at the table, resting his chin on his hand.
"Sooner or later," says Boehmig "everyone has to go and wake up Jesus." The man looks up, takes another puff. And listens.
By Randall L. Frame. (Since this column was researched, "The Alternative Happy Hour" has relocated to the Graffiti Lounge and its heavier traffic, just outside Pittsburgh, and received a $12,000 grant from the Episcopal Diocese of Pittsburgh.)
Have something to add about this? See something we missed? Share your feedback here.
Our digital archives are a work in progress. Let us know if corrections need to be made.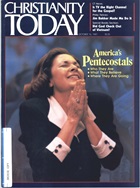 This article is from the October 16 1987 issue.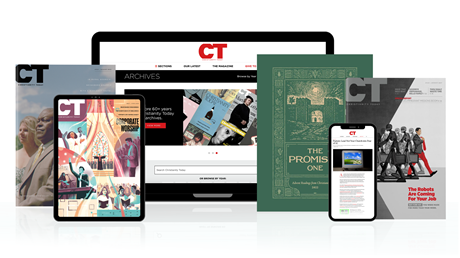 Subscribe to Christianity Today and get access to this article plus 65+ years of archives.
Home delivery of CT magazine
Complete access to articles on ChristianityToday.com
Over 120 years of magazine archives plus full access to all of CT's online archives
Subscribe Now
Happy Hour at Mr. C's
Happy Hour at Mr. C's