After six-and-a-half years of forced treatment in a Siberian psychiatric hospital, a Soviet Baptist evangelist is now living in the United States. Vladimir Khailo emigrated last month along with his wife, Maria, and 18 family members, including children, grandchildren, and sons and daughters-in-law. They are settling in the Chicago suburbs, assisted by a Ukrainian Baptist church in Berwyn, Illinois.
As Khailo, who was released from the hospital last March, announced his decision to come to the United States, the Soviets announced a new law prohibiting the commitment of "patently healthy" people to psychiatric hospitals. (see sidebar, p. 41) Steven Snyder, president of Christian Solidarity International (CSI—formerly Christian Response International), in suburban Washington, D.C., called the connection between the two announcements "ironic."
CSI, along with U.S. Rep. Frank Wolf (R-Va.), has been working for years to obtain Khailo's freedom. Efforts have included petition and letter-writing drives by U.S. churchgoers, prayer campaigns, and diplomatic connections through a prominent businessman in the Netherlands.
A "Religious Schizophrenic"
Khailo was arrested in January 1980 and diagnosed as a "religious schizophrenic." He had worked as a shoemaker in Krasny Lootch, a small coal-mining town in the Ukraine. A devout Christian, Khailo participated in evangelistic efforts and played an active role in the unregistered Baptist churches. "I wrote an open letter to the government explaining my beliefs, and in the letter I showed the methods that atheists are using to try to destroy the church," Khailo told CHRISTIANITY TODAY. "From that time, terrible persecution started against me and my large family."
Prior to his arrest, he was frequently called into KGB offices, forbidden to distribute religious books or hold worship services in his home, and urged to denounce his faith. His children were harassed at school. One of his daughters was attacked, and three of his sons were imprisoned. "This is a long and very sad story … not only my own experience, but the experience of many behind the Iron Curtain," Khailo said.
During his six-and-a-half years in the psychiatric institution, Khailo said he underwent drug treatments that caused health problems. "While they were doing this, they demanded I go on television and deny God and what I was saying about the conditions in the Soviet Union," he said. "I did not compromise."
Help From The West
Meanwhile, Khailo's story had filtered out to the West. CSI and other human-rights groups began spotlighting Khailo at rallies and in letter-writing campaigns. Representative Wolf, who is on the Congressional Human Rights Caucus executive committee, "adopted" Khailo and worked on his behalf both through Congress and in contacts with Soviet officials. It was Wolf who approached a Dutch businessman with influential ties in the USSR and elicited his help in the negotiations.
Khailo credited these combined efforts for his release from the psychiatric hospital in March 1987. "Prayer was number one, then action and intervention from people in the West and the Soviet Union," he said.
After Khailo's release, negotiations continued for the emigration of the family. In August, 13 members of the Khailo family went to Holland, where 7 others were later allowed to join them. The family, aided by CSI and Open Doors Ministry, stayed in the Netherlands and avoided press attention, hoping the rest of the family would soon be released. Last month, they decided to come to the U.S. and work for the others' exit visas from here.
Nine Khailos remain in the Soviet Union, including two sons in prison, one in the army, and a son, a daughter-in-law, and grandchildren. CSI'S Snyder said the Soviets had indicated in negotiations that the entire family, including those in prison, would be allowed to leave. He said he is hoping the Soviets intend to keep that promise.
After a dramatic arrival at Chicago's O'Hare International Airport, the family prayed and sang hymns of thanks for their safe arrival in the United States. Berwyn's Ukrainian Baptist Church, as one of the family's cosponsors, is helping the Khailos make a new start. The church has provided two furnished apartments for the family and has asked the community to help with food, clothing, and other necessities. Church members are helping the Khailos learn English and find employment.
Pastor Olexa Harbuziuk said about half his congregation emigrated from the Ukraine and "know the condition behind the Iron Curtain." Said Harbuziuk, "They felt it was their Christian obligation, not only to pray for them, but to help them practically. This is the way they can show their Christian love for those who suffer for the cause of faith."
Khailo told reporters that during his time in the psychiatric institution, he never would have guessed he would one day be a "free man." He said his plans are simple: "The most important thing for me is to be a good Christian and follower of the Lord Jesus Christ and to be a loyal citizen of my new country, the United States of America."
By Kim A. Lawton in Chicago.
The Dissidents Are Coming
The psychiatric incarceration of political and religious dissidents like Vladimir Khailo has long been a sore point for the Soviets. CSI'S Steven Snyder said an estimated 20,000–50,000 people remain under detention in Soviet psychiatric clinics and many are reported to be dissidents. Khailo said, "Half of those people in the institutions are completely healthy people."
Until recently, the Soviets denied any problems with psychiatric abuse, despite repeated charges from human-rights activists and Western psychiatrists. However, last summer some Soviet publications began speaking about the problem, and some signs of easing have occurred.
In December, one week prior to the Reagan-Gorbachev summit in Washington, Soviet Baptist Anna Chertkova was released from the psychiatric hospital where she had been kept for 14 years. Chertkova was diagnosed as being "criminally insane" and sentenced in 1974 to an indefinite term in the hospital for "deliberately disseminating wrong and libelous information about the Soviet State and its social order." She had distributed Bibles and other religious materials.
And last month, the official news agency Tass announced the adoption of a new law to curb abuses. According to Tass, the criminal code now makes the "illegal commitment of a patently healthy person to a mental hospital a criminal offense." Also, Tass said new "legal guarantees against possible mistakes" have been established so that relatives may appeal doctors' decisions.
Western observers are viewing the new law with caution. Rep. Frank Wolf (R-Va.) said he is "skeptical, but hopeful. If what they [the Soviets] say about glasnost [openness] carries any weight and is true," Wolf said, "they're going to be obligated to improve with regard to human rights."
Snyder said that if the law is indeed enforced, the church in the West could be confronted with a situation it is not prepared to handle. He said a massive release of religious dissidents could lead to a mass exodus of Christians from the Soviet Union who have no place to go in the West.
Now that Khailo has come to the U.S., CSI will be marshaling Christian efforts for another prisoner of conscience, Nikolai Bioko. Bioko, also a Ukrainian Baptist, was first sentenced to ten years in prison in 1968. Released in 1977, Bioko was arrested again in 1980 and remains in a labor camp. He is said to be in very poor health.
Vladimir Khailo said he will be joining the effort from his new home. "My desire is that the Christians in the United States be alert and support those who are suffering and fighting for their faith—for all believers, not only in the Ukraine and in the Soviet Union, but all over the world."
Have something to add about this? See something we missed? Share your feedback here.
Our digital archives are a work in progress. Let us know if corrections need to be made.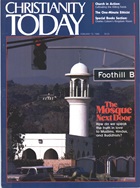 This article is from the February 19 1988 issue.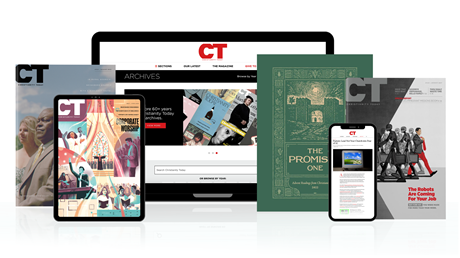 Annual & Monthly subscriptions available.
Print & Digital Issues of CT magazine
Complete access to every article on ChristianityToday.com
Unlimited access to 65+ years of CT's online archives
Member-only special issues
Subscribe
"I Did Not Compromise," Says Released Evangelist
"I Did Not Compromise," Says Released Evangelist