An ear-splitting form of rock music known as "heavy metal" has careened its way into the hearts of millions of teenagers, but some parents say it's time to muffle the music's menacing message. Two recent events have cast a pall over the controversy:
This past January, Thomas Sullivan, Jr., a 14-year-old boy from Jefferson Township, New Jersey, murdered his mother and then took his own life. Prior to the tragedy, reported the Chicago Tribune, the youth had spent several weeks studying the occult and listening to heavy-metal music.
Two parents from Spark, Nevada, have filed suit against the metal-style band Judas Priest and CBS Records, the company that has produced the band's music. The coming trial, scheduled for May, stems from a "suicide pact" two young adults made upon listening to Judas Priest's Stained Glass album. As a result of the pact, one 18-year-old boy killed himself and a 20-year-old man was left badly disfigured.
Reno's Gazette-Journal reported that the mothers of both young adults claim "the heavy-metal music mesmerized the youths, convincing them" to attempt suicide. While other similar suits have been filed, this is the first time such a case has been granted a trial date.
Metal Madness?
James Richardson, professor of social psychology at the University of Nevada-Reno, has been paying close attention to the Judas Priest case. One of his concerns revolves around First Amendment rights. "Once you strike a blow against heavy metal, where do you stop?" said Richardson.
Richardson is also skeptical over attempts to link a style of music to behavior. "To say that a record from Judas Priest controls a young person's actions is to say that the music or lyrics have some magical or mystical quality. I have serious reservations about that." Richardson has written extensively about religion, cults, and brainwashing, and may be called to testify during the May trial.
Others agree that metal music might not actually cause suicide, yet firmly believe certain styles of music belie a youth culture in crisis. "It would be naïve to say that if you take the music away, you eliminate problems like suicide and drugs," noted Dave Hart, research analyst for Menconi Ministries, an organization that offers Christian perspectives on the entertainment media. "But it's just as naïve to say the music does nothing but entertain. It's a symptom of a greater concern."
Hart calls metal music part of "a whole identity scheme" for a rapidly growing youth subculture. The music of this subculture, said Hart, reflects nihilism and a propensity toward violence, sexual promiscuity, and drugs.
Hart's concern for the heavy-metal subculture has led him to become involved in a ministry to "head bangers" (a name used to describe kids deeply involved in metal music). There are currently around a half-dozen "churches" throughout California for head bangers (Hart pastors one of them).
Satan's Music Or Positive Force?
One of the more troublesome aspects of heavy-metal music is its identification with pentagrams and other satanic symbols. Proponents claim that satanic symbolism is simply a fad and a trademark for some metal groups, but Chicago-area disc jockey Scott Loftus worries about such negative aspects of metal music. He refuses to play songs that reflect the "Antichrist in their lyrics."
Yet Loftus is equally concerned about gross generalizations and stereotypes. "It's wrong to lump all music under the same label," said Loftus. He believes a lot of metal music offers many teenagers a means to express normal, positive adolescent feelings. "Music has always been the teenager's friend," said Loftus. "It gives him a place to belong." Loftus also cites Christian metal bands such as Stryper and Bloodgood as examples of the positive lyrical force represented in metal music.
"I'm from the school of thought that [believes] if you don't like something, get in and change it," said Michael Bloodgood, founder of the Christian metal band bearing his last name. "Sex and drugs don't have to go with rock n roll. We want to point our audience to Jesus Christ."
What Can Parents Do?
Concerned parents have been looking to a variety of ways to curb metal's negative influence, including album ratings (similar to movie ratings) and even censorship. And, like the parents who are suing Judas Priest and their record company, legal means represent a possible solution. But most observers of the metal music scene say parents can help by taking the time to discuss lyrics with their children.
"Parents need to stop overreacting," cautioned Hart. "They need to stop saying that the music is turning their kids into zombies. They need to do a lot more talking with their kids about everything—including music."
By Chris Lutes.
Have something to add about this? See something we missed? Share your feedback here.
Our digital archives are a work in progress. Let us know if corrections need to be made.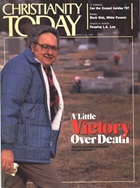 This article is from the March 18 1988 issue.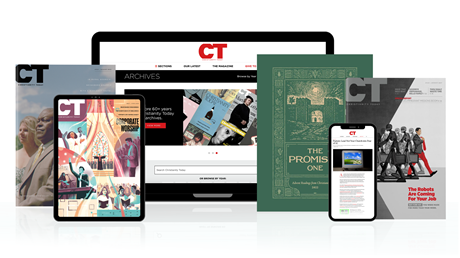 Subscribe to Christianity Today and get access to this article plus 65+ years of archives.
Home delivery of CT magazine
Complete access to articles on ChristianityToday.com
Over 120 years of magazine archives plus full access to all of CT's online archives
Subscribe Now
Suicides Blamed on Music's Satanic Spell
Suicides Blamed on Music's Satanic Spell