As a painter, I have been intrigued by the relationship of Pablo Picasso and Georges Braque, one of the greatest friendships of twentieth-century art, and a friendship that has touched the lives of each of us. Their friendship produced Cubism, which changed the direction of fine art and significantly influenced us all by altering the design of objects we use every day.
Around the turn of the century, instead of trying to stake out "their" style, artists were looking for the one style that would definitively replace the art of the academies. Braque and Picasso were different in temperament, intellect, and pictorial gift. But they complemented each other. During the years between 1907 and 1914 they contributed to the realization of a common vision. "We were like mountain-climbers roped together," Braque recalled. "Almost every evening," said Picasso, "either I went to Braque's studio or Braque came to mine. Each of us had to see what the other had done during the day."
I, too, have longed for such creative friendship. And the exhibition Picasso and Braque: Pioneering Cubism, held last fall at the Museum of Modern Art in New York, recalled for me some youthful dreams and disappointments.
I once dreamed that it would be given to my generation of believers to create an art of power, beauty, and enduring worth. I have dreamed that Christians could make art that could capture the imagination of our society and stir our neighbors' hearts for Christ. I have dreamed that God would establish two or three of us, or even a small group, that would raise a Christian standard of excellence in the visual arts that succeeding generations, no matter how pagan, would have to contend with and be confronted with the claims of Christ.
In my formative years, art was a compulsive need that had to come under complete submission to Christ. Unfortunately, little could be found within the Christian community to set the course of such a life. Being a child of modernity, I was forced to look to the secular art world for models—indeed, to legends such as Picasso and Braque.
It was from such models that my early mentor Leon Vetrano drew his insistence that art is an all-demanding calling for those talented enough to pursue it. Vic, an artist buddy of mine, understood it that way, too. Together we dreamed of forming a school of painting, something like Cubism had been. We weren't even out of high school, and yet we felt the intoxication of art, not only as a cultural force, but as a religion. Even then art was understood to be a rival to my Christianity. If I were to take my faith seriously, Vic and I could not hope to realize our dream.
Of course, artists and nonartists alike need friends. Visual artists are not alone, even among the creative, in their longing for companionship. How many poets, composers, and writers have longed to bridge the curse of isolation from others who are forging an artistic vision in the fires of faith? Do not even poet-souled preachers have such yearnings?
A Beachhead On The Shores Of Modern Art
I have found that I am far from alone as an artist in my generation of believers. I have also found that I am not alone in wanting a friend who could stand with me shoulder to shoulder, working to establish Christ's presence in twentieth-century art. But it would also be necessary for us to stand back to back, protecting each other not only from the slings and arrows of a hostile art world, but also the incomprehension of the church.
There has been a dream in the Christian visual-arts community throughout this century that an enclave of colleagues, even friends, might form a beachhead on the shores of that island of arrogance called Modern Art. Among Roman Catholics, Maurice Denis and Albert Gleizes endeavored to establish groups of working artists in order to serve the church. But for me, as a young Christian, I was more drawn to the greater Georges Rouault—who was an artist whose Christianity allowed him to see the reality of the tragic in a violent century.
It has been the Roman Catholics who have led the way with the Sacred Art movement and other manifestations in modern and contemporary art and architecture. But at present, Protestant and Roman Catholic communities alike seem trapped in the artistic ghetto of baseless and ephemeral spirituality, instead of standing in the public square with a powerful, authoritative art for Christ. Might a community of talented, Christ-centered friends have made a difference?
Such a community was attempted, but nothing approaching the Piccaso-Braque model came from it. In the sixties, Patmos, a Christian artists' workshop, was formed in Toronto. Its very existence encouraged many of us young Christians in the arts, planting the seed that a culture-changing artistic force for our Lord might be formed in a workshop environment. But Patmos, a brave idea, was dissolved in the early seventies.
Whether to realize a truly Christian art, or to relieve the loneliness that is the natural ambiance of studio life, the need to find others who were respectable artists and also Christians did not die with Patmos. An anticipation for something important to happen, in the arts and within the Protestant community, was felt in the early seventies: A lectureship by H. R. Rookmakker (art historian from the Free University, Amsterdam, and part of Francis Schaeffer's L'Abri Fellowship), at Westminster Theological Seminary in Philadelphia, occasioned a conference with a capacity crowd from across the country.
Then Gene Johnson, an artist and professor at Bethel College in Saint Paul, Minnesota, traveled the states, visiting artists isolated from one another at Christian colleges. At the conference he called in 1977, instead of the 35 participants he thought would augur success, 250 showed up. A need had been tapped, and Christians in Visual Arts (CIVA) was formed. It is still a strong and growing organization after more than ten years. Many of us have found friends and gained support from CIVA.
There have been other gains. Evangelical churches now contemplate art for their building programs. And other institutions—notably the Graham Center Museum—are actively building major collections. Evangelical believers now think more often of buying original art for their homes. And a number of Christian artists have solid regional, even national, reputations.
But the heady dreams of the young Christians of the late sixties and the seventies who rode the wave of resurgent interests in the arts in America have not been realized. Although a number have "made it," how much of what is being created will be seen as Christian in 25 or 50 years? Has the success of a few made a difference? Can the present immorality in the art world be laid in part to their account for failing to create clear and compelling images of moral conviction? Or, because of the art establishment's prejudice against religious clarity, would they be where they are if they had?
The Curse Of Isolation
At one point I thought a common mind might be formed by a group of Christian artists traveling together for a summer to see artistic monuments, with the understanding that each in the group would come back and explore a common concern over the period of a year in his or her separate location.
Now I see that this probably would not serve the purpose for artists who already have established directions in their work. Isolation from constant exposure to each other's ideas and work is the problem. Young artists have flexibility (to move physically as well as in their thinking), but not spiritual and professional maturity. Older artists have maturity, but are tied economically to established locations and personal directions in their work, the absence of which would indicate a lack of artistic substance.
A painter who was a major force in the Patmos community is a dear friend nearly 20 years after I met him at a L'Abri conference. We are both working painters, and, like Picasso and Braque, are individuals with different pictorial gifts. Could we have shared a vision? Perhaps at one time, but we are now both well along different paths. How could it be otherwise, as we see each other at best once a year? Distance and the cult of the new—no matter how shallow—so cherished by the art establishment, have so far prevented the melding of vision that might establish the phenomenon in the Christian art community that was seen in the relationship of Picasso and Braque. But miracles still happen.
Were we arrogant to dream such dreams for God's kingdom, or must we someday face a more difficult realization—that our talent was inadequate to the dream? Worse, did we lack in fervent prayer and allow egos to cloud a common success? If so, we can only pray for forgiveness and start anew, remembering that we have been called not to success, but to the work at hand. The Lord must give the increase.
Yet, faced with Braque and Picasso, one cannot help wondering what vision we each lack for want of friends whose mettle can whet our wit; whose love can expand our hearts; whose companionship can cause that reflective pause in which true creativity takes place. One cannot help hoping that if only several of us were in one place, working long hours together, talking late into the night, pushing each other to the limits of our individual abilities—one cannot help dreaming that then it might happen: ingots of gold that will not only brighten this dark world for our Lord, but will also survive the flames into the next.
By Ed Knippers, a painter in Arlington, Virginia.
Have something to add about this? See something we missed? Share your feedback here.
Our digital archives are a work in progress. Let us know if corrections need to be made.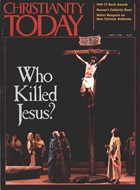 This article is from the April 9 1990 issue.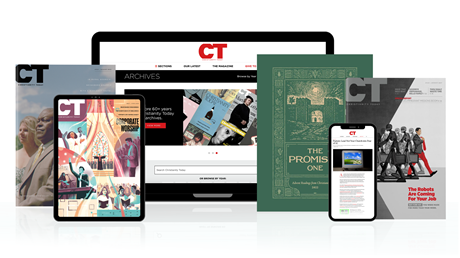 Subscribe to Christianity Today and get access to this article plus 65+ years of archives.
Home delivery of CT magazine
Complete access to articles on ChristianityToday.com
Over 120 years of magazine archives plus full access to all of CT's online archives
Subscribe Now
Exiled to the Lonely Arts Club
Exiled to the Lonely Arts Club