America is "in the midst of a monumental cultural war," according to sociology professor James Davison Hunter of the University of Virginia, a war being waged over "differing concepts of moral authority."
In his keynote address at the February 22–23 seminar "Evangelical Higher Education: The Coming Generation," held in Pittsburgh, Hunter identified the major combatants in the cultural war. Traditional orthodoxy, he said, holds a transcendent view of moral authority, as expressed in Scripture, the Roman Catholic magisterium, and the Torah. What Hunter called a "progressive" view of authority, based on Enlightenment thinking, is grounded in human, rational discourse.
Hunter contended that advocates of the new way of thinking are winning the war. While allowing that "evangelicalism is the most vibrant form of [American] religious expression," he said there is no evidence to support the oft-stated assertion that the evangelical faith is in the midst of revival. Instead, Hunter said, "[Evangelicals] are increasingly becoming strangers in a strange land theologically and sociologically."
Hunter lamented that so little money in the evangelical community is available for the development of serious, culturally relevant scholarship. He said evangelicals have helped put themselves in a cultural "ghetto" by giving in to the urge to popularize in an effort to sell more books.
Christian Education Considered
The seminar was jointly sponsored by the Pittsburgh-based Coalition for Christian Outreach, the Christian College Coalition, and the National Association of Evangelicals. Hunter was invited mainly because of his book Evangelicalism: The Coming Generation, which, though published in 1987, is still making the rounds among Christian higher educators.
Hunter argued in the book that contemporary evangelicalism is moving away from tenets of belief and practice long considered orthodox. There are some who say that the current conflict at Grace Theological Seminary exemplifies Hunter's observations (see article on p. 46).
Hunter based his conclusions largely on a survey of students at 16 evangelical colleges and seminaries, citing among these students a softening of the traditional views in such areas as the inerrancy of Scripture, women in ministry, Creation, and the eternal fate of those who die as unbelievers.
Over 50 percent of those surveyed, for example, said the Bible should not be taken literally in matters of science and history. Over 30 percent said that those who never had an opportunity to hear of Jesus Christ could nevertheless get to heaven.
Hunter suggested in his book that Christian higher education "weakens the tenacity" with which evangelicals cling to orthodoxy. He suggested also that it is the responsibility of Christian colleges to guard "the purity and integrity of [orthodox] theology."
Hunter said in an interview that some evangelical intellectuals "are not sure where they stand" with respect to the cultural war on moral authority, while others have, perhaps unwittingly, adopted some of the arguments and presuppositions of their supposed opponents.
Taking issue with Hunter, Messiah College religion professor David Parkyn suggested it is unjustified to conclude from Hunter's research that Christian colleges are to blame for the shift in thinking. He said such a conclusion ignores "students' family context or their church home."
Parkyn added that Christian colleges, according to what they say in their mission statements, do not view their mission in terms of preserving theology as it has been defined traditionally. Rather, Parkyn said, they view their primary mission as contributing to the students' spiritual development, including the development of Christian character.
Some at the seminar took issue with Parkyn, claiming that without sound theology there is no foundation for spiritual development. Without disagreeing, Parkyn countered that it is the primary responsibility of the church "to guard the purity and integrity of doctrine."
Jay Kesler, president of Taylor University, said he agreed with Hunter's observations of the changes taking place not only at Christian colleges and seminaries, but in the evangelical culture generally.
However, Kesler suggested the changes are not necessarily bad. He said, for example, that students' unwillingness merely to accept the view that God created the world in six 24-hour days is a sign of their willingness to deal with complexity. Said Kesler, "The core issue is not how [God] did it but that he did it. If that core starts to shift, then we'd better have a committee meeting."
Hunter was originally slated to interact with others at the conference, but schedule conflicts forced him to leave early. In a postseminar interview, he said the purpose of his book was not to issue judgment on any particular change in belief or attitude, but merely to state that a drift is occurring without adequate realization and reflection. He said, "There has not been any theologically serious attempt to understand the nature of the change, and whether it is good or bad."
Hunter continued, "My hunch is that some of the changes are much more serious than a different view of Creation." He added, "There is a very strong undercurrent of subjectivizing the gospel and the theological task."
By Randy Frame in Pittsburgh.
Have something to add about this? See something we missed? Share your feedback here.
Our digital archives are a work in progress. Let us know if corrections need to be made.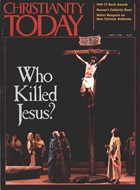 This article is from the April 9 1990 issue.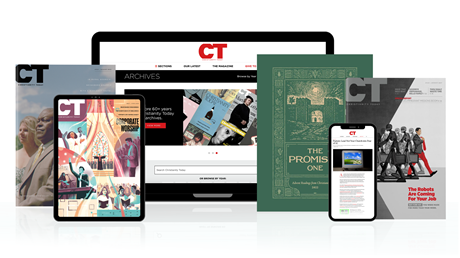 Subscribe to Christianity Today and get access to this article plus 65+ years of archives.
Home delivery of CT magazine
Complete access to articles on ChristianityToday.com
Over 120 years of magazine archives plus full access to all of CT's online archives
Subscribe Now
Theological Drift: Christian Higher Ed the Culprit?
Theological Drift: Christian Higher Ed the Culprit?