Despite concerns about a staunchly Catholic president, Protestant leaders are optimistic about freedom of religion.
Several months prior to this year's elections in Nicaragua, Ignacio Hernández, general director of the Nicaraguan Bible Society, dropped off some materials at the headquarters of Miguel Cardinal Obando y Bravo. Upon spotting Hernández, the highly influential Catholic cardinal invited him into his office, where they chatted for nearly an hour. To evangelicals who are somewhat anxious about what will happen when Violeta Chamorro takes over as president later this month, this represents an encouraging sign.
Regarding Nicaragua's president-elect, Protestant leaders have generally adopted an attitude that lies somewhere between optimism and wait-and-see. The 60-year-old Chamorro, whose National Opposition Union party (UNO) in February stunned observers around the world with a 55 to 41 percent victory over the ruling Sandinista party, has made no secret of her deep Roman Catholic convictions. Indeed, in comments prior to the election, she sounded almost mystical. The Miami Herald quoted Chamorro after her nomination for president as telling supporters, "I have asked the advice of Pedro Joaquín [her slain publisher husband] and of God whether I should serve as a link of love with all of you, and they said, 'Yes.' "
Without speculating on which candidate evangelicals favored, Protestant church leaders expressed universal pleasure—and relief—that the elections were bloodless and apparently clean. "As an evangelical, I am content our people made this decision in a free election," said Gilberto Aguirre, executive director of the church agency CEPAD.
Said Gustavo Sevilla, president of the National Council of Evangelical Pastors of Nicaragua (CNPEN), "We truly believe these elections were the answer to prayers of people here and around the world." He added, "I say that not because of who won, but because the elections were clean and without violence."
A Divided Community
It is unclear how Chamorro's victory—or, more to the point, the Sandinistas' defeat—will affect the often turbulent relationships between Nicaraguan evangelicals.
Tensions have particularly revolved around CEPAD, which began as a relief agency following the 1972 earthquake, and the CNPEN, which began as the pastoral arm of CEPAD and then split off because of doctrinal and other disagreements. CEPAD favored working with the Sandinista government, while the CNPEN generally stayed clear of the Sandinista government.
Asked whether polarization continues between CEPAD and CNPEN, Aguirre said leaders of the groups keep in contact. They met last December, and another meeting is pending, he said.
Regarding past tensions, Aguirre said, "There were some declarations from CNPEN members about CEPAD that weren't true, but some of those people have left … and live in the United States, where they are giving conferences on these themes."
Aguirre stressed that each group works in a different sphere—CEPAD with denominations, and the CNPEN with individual pastors. To emphasize this, CEPAD last year changed its name (but not its acronym) from the Evangelical Committee for Aid to Development to the Council of Evangelical Churches Pro-Denominational Alliance.
With about 51 member denominations (out of about 100 in Nicaragua), CEPAD is working to unite evangelicals, said Aguirre, a Baptist layman. "We don't seek uniformity, but unity."
Considering past disagreements, many CNPEN pastors would find it hard to accept CEPAD as their representative church body. Some conservative leaders have charged CEPAD with favoring liberation theology. The tensions have provoked church splits and denominational infighting.
Sevilla criticized a close identification of CEPAD-related leaders with Sandinista politics. During the mid-1980s, he said, Sandinistas harassed certain evangelical leaders: "[They] said we were linked to the CIA just because we attended a [church] congress in the United States."
According to Sevilla, the CNPEN has some 850 member pastors out of about 1,400 in Nicaragua. Up to 20 percent of all Nicaraguans are evangelical Christians, he said. (Other estimates put the figure closer to 15 percent.)
Taking Evangelicals Seriously
Perhaps in recognition of evangelicals' voting strength, the Sandinistas' attitude toward the CNPEN "completely changed" in the months prior to the election, Sevilla said.
Sandinista officials sought meetings with the CNPEN, and last December, after long bureaucratic delays, the government gave the group its long-sought-after legal status.
Neither did the opposition party ignore evangelicals. Chamorro's political advisers met with CNPEN pastors in January, promising "freedom of worship and thought," Sevilla said. The CNPEN board of directors continued the dialogue with Chamorro's religious-affairs adviser last month.
The Nicaraguan Bible Society's Hernández said Chamorro advisers met with leaders of 8 to 10 evangelical groups about two months before the election. Because of the close identification of certain evangelical leaders with the Sandinista government, some church leaders were worried a Chamorro government might take reprisals against evangelicals, Hernández said. However, he added, the leaders came away satisfied that freedom of worship for Protestants would be honored. Despite Chamorro's strong reverence toward the Virgin Mary and traditional Catholicism, Sevilla is also confident evangelical freedoms will be protected.
A Growing Church
More is reported on Nicaragua's conflicts than about its recent church growth, which borders on the spectacular. More than 20,000 people made first-time professions of faith in Christ last year during a nationwide outreach coordinated by the Nicaraguan Institute of Evangelism-in-Depth, according to its president, Donatilo Garache.
The spiritual openness is likely due, at least in part, to Nicaragua's widespread suffering and uncertain future. The Alabama-sized nation of 3.5 million has weathered one crisis after another. The 1972 earthquake destroyed downtown Managua (yet to be rebuilt), claimed 10,000 lives, and left 300,000 homeless. The 1978–79 Sandinista revolution resulted in thousands of casualties, as did the ensuing war between U.S.-backed rebel forces and the Sandinista army. And in 1988, Hurricane Joan devastated the nation's east coast.
Today, Nicaragua's biggest crisis is economic. Military spending, the U.S. trade embargo, mismanagement, and war have laid the Nicaraguan economy virtually to waste. Published reports put Nicaragua's average individual income even below that of Haiti—perennially the poorest nation in the Western hemisphere. The average school teacher or office worker makes less than $20 (U.S.) per month, and even the most basic food and toiletry items are too expensive for many Nicaraguans. Many believe the poverty, along with mandatory military service, contributed more than anything else to the Sandinistas' losses in the February 25 elections.
A Nicaraguan church leader's eyes became misty as he told of sending his teenage son to Miami, rather than allowing him to be drafted into the Sandinista army.
"Just look around the church," said one Baptist youth prior to the elections. "You don't see many young men. That's because their parents sent them to the U.S., Costa Rica, or Panama. Sometimes the entire family goes. They sell everything."
As many as 500,000 Nicaraguans have left the country in the last decade, including an estimated 40,000 professionals. Between 100,000 and 175,000 Nicaraguan exiles live in Greater Miami, Florida, alone. Many of them, no doubt, are waiting for a secure, peaceful homeland to which to return.
CEPAD's Aguirre asserted that La Prensa, the newspaper owned by the Chamorro family, has a long history of ignoring evangelicals or treating them disparagingly. Aguirre said, "Some Christian brothers have reservations, but I think you have to give the new government the benefit of the doubt until we see what happens."
Pursuing Unity
If the Sandinistas follow through on their pledge to turn over power on April 25, it will mark the first democratic transfer of power between opposing political parties in the nation's history.
Aguirre credited the Sandinista government for its programs to help the poor, its nationwide literacy and health campaigns, land reform, and "the respect they gave us evangelicals." "The previous government," he said, "treated us like second-class citizens."
Aguirre faulted the Sandinistas for not allowing conscientious objection to military service. He also cited "the way in 1981 the government handled the situation on the Atlantic coast with the Miskito Indians."
Said CNPEN's Sevilla, "It's been ten difficult years of poverty, of occasional repression, of divided families, of great exodus." He added, "Now it falls to us, as pilgrims on this earth and as citizens of this country, to work for the benefit of the people," adding that evangelicals need to seek new strategies for evangelization.
Many feel an important step toward national reconciliation took place when Daniel Ortega, at the urging of former U.S. President and elections monitor Jimmy Carter, went to congratulate Chamorro at her home in the wee morning hours following his defeat.
"Come here, my dear," the silver-haired Chamorro is reported as saying, opening her arms wide. "You know how much I appreciate you." Then she gave her political rival a warm hug.
It seemed an appropriate example for the nation's often-divided evangelical community. Said Aguirre, "Pray for peace in Nicaragua and Central America—and peace with justice. And pray for reconciliation. There are deep wounds among our people, and we evangelicals must be instruments of reconciliation in this suffering nation of ours."
By John Maust.
Have something to add about this? See something we missed? Share your feedback here.
Our digital archives are a work in progress. Let us know if corrections need to be made.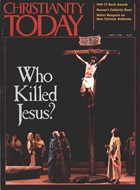 This article is from the April 9 1990 issue.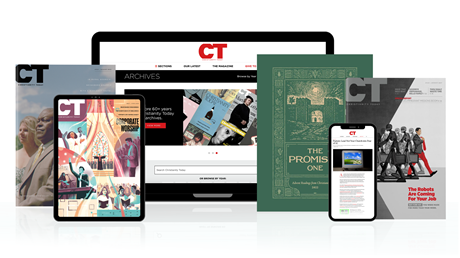 Subscribe to Christianity Today and get access to this article plus 65+ years of archives.
Home delivery of CT magazine
Complete access to articles on ChristianityToday.com
Over 120 years of magazine archives plus full access to all of CT's online archives
Subscribe Now
Nicaragua: The Honeymoon Begins
Nicaragua: The Honeymoon Begins