Amid harassment of some church workers, evangelicals are doing their best to steer clear of politics.
In a memo outlining the current crisis in El Salvador, Peter Clark, director of World Relief's work in that country, told of an incident in which the young daughter of the ministry's cleaning woman noticed the dead body of a rebel soldier in the street near their house. Rigor mortis had peeled the man's lip up, exposing his teeth. Unfamiliar with such a scene, the child asked her mother, "Why is that man smiling?"
Death and violence in El Salvador is an old story; some 70,000 have died in the last 10 years of civil war between Salvadorian government forces and rebel guerrillas. But until recently, the war was limited by and large to remote areas. With the rebels' latest military offensive, violence came to the city, giving a whole new sector of the country's population a chance to experience firsthand the fallout from that nation's political and military stalemate.
The violence, accompanied by an atmosphere of fear and suspicion, is taking its toll even among those not hit by bullets. According to Ana Cecilia de Santana, a surgeon and coordinator of the social service arm for Salvadorian Nazarenes, the greatest medical need—apart from blood and plasma for the wounded—is the tranquilizer Valium.
Harassment Of Church Workers
Tranquility is a rare commodity in El Salvador, as the believing community has discovered. In some cases, evangelicals have been caught in the crossfire. According to Clark, a woman who served as president of a church's missionary society was killed, and one Nazarene church took a direct hit from a bomb.
Some segments of the church—generally the more politically active Catholics and mainline Christians—have been targeted for harassment and death. Six Jesuit priests were murdered along with two women on November 16. They were shot repeatedly at close range. Even many of those inclined to support the current government have said the atrocities were committed by soldiers supposedly under the government's control.
Mainline church leaders have protested the government's crackdown on church workers. Last month three U.S. Episcopal Church bishops met with El Salvador's president, Alfredo Cristiani, on behalf of nine Episcopal church workers jailed for alleged subversive activities. In all, the top officials of nine U.S. mainline religious bodies have called for an end to the hostilities against the church and for the release of church leaders who are being held in detention.
World Relief's Clark said the church workers who are most at risk are those "who have an active political agenda as part of their work." But there is disagreement among Christians in El Salvador over where to draw the line between Christian ministry and political involvement.
Lutheran bishop Medardo Gomez reflects the view of mainline denominations in stating that it is part of the church's mission to speak out against injustice, even if this is interpreted as political opposition (see "A Salvadorian Bishop's View," p. 42). Clark said this view is not shared by evangelicals, who, he said, constitute a significant majority of the country's Protestant population.
Clark said evangelicals are commonly accused by Catholics and mainline Protestants of not being socially responsible, a charge he denied. "Evangelicals run schools, orphanages, development projects, and other ministries," he said, adding that they take great care to distance themselves from theological views that define salvation in terms of social justice as opposed to personal conversion to Christ. Nevertheless, Clark said, there was wide repudiation among evangelicals of the killing of the Jesuit priests, who stood neither with the government nor with the rebels.
A Woman Accused
Few would deny that in El Salvador some antigovernment activity is carried out—openly and discreetly—in the name of the church. But some, including Yvonne Dilling, Latin America representative for the Church of the Brethren, allege the government and military are inclined instinctively to crack down on their critics, whether or not they are rebel supporters.
Dilling was part of a four-member team that recently spent eight days in El Salvador on behalf of 28-year-old Jennifer Casolo, who was arrested in November and charged with storing arms and ammunition for the rebels. Casolo once worked in the Church of the Brethren's social-action ministry, and since 1985 has worked with Texas-based Christian Education Seminars, coordinating visits to El Salvador for U.S. church and political leaders.
A week after Dilling returned to the U.S., Casolo was released, despite Salvadorian President Alfredo Cristiani's statement that he is convinced of her guilt. (Casolo's release was attributed by some to pressure from U.S. officials.)
The Casolo case was widely interpreted as a test of whether the political leadership of El Salvador can be trusted, and thus whether the U.S. should continue its heavy financial support of the government. If Casolo is not guilty, one possibility is that she was unaware of the rebel weapons being stored near her residence. Her supporters are inclined to believe she was framed.
Dilling said Casolo sought merely to help inform those she escorted, adding that Casolo challenged those who came to the country with their viewpoints already formed. "Education is not valued by the death squads or the oligarchy," said Dilling. "To be well informed—even to be literate—is considered subversive." She added, "Of all the people they could have killed, they killed the Jesuits at the university. And of all the people they could have imprisoned, they chose someone who believes that the first step toward peace is a well-informed populace."
Amid all the issues over which believers in El Salvador disagree, there is consensus that the majority of Salvadorians are tired of violence and that the last thing they wanted to learn was that no place in the country could be considered safe.
But World Relief's Clark said evangelicals in El Salvador are skeptical that permanent peace can come to their country until enough individual hearts are changed. And it is with this in mind that they are attempting to view the current insecurity as an opportunity for ministry.
By Randy Frame.
INTERVIEW
A Salvadorian Bishop's View
Medardo Gomez is El Salvador's first and only Lutheran bishop. His work with the poor in El Salvador has led to charges that he is engaged in subversive activity. He has regularly received death threats; about a year ago his office was bombed. Gomez recently spoke with CHRISTIANITY TODAY through a translator about the situation in his country.
How do you explain the harassment you and your co-workers have received?
Of the six million inhabitants of El Salvador, five-and-a-half million lack the basic necessities for life. Sixty percent are illiterate and live in conditions that could be called subhuman. We denounce this injustice as sin, and help people understand that they don't need to maintain themselves in this situation of oppression. Those who are causing the poverty and injustice don't want this sin to be denounced. So we suffer.
Has the church done enough to distance itself from those who are advocating violent overthrow?
The communities that have suffered the most are the places where protest has surged forth most sharply. Some of these people seek help from the church. Often they are not those who are most active in the protests but are family members. Mostly it's old people, women, and children. We attend to them without conditions. And so we are accused of siding with those who take up arms. We are not part of the [rebel] FMLN [Farabundo Martí National Liberation Front]. We act in the name of God.
Miguel D'Escoto, the foreign minister of Nicaragua, recently called [El Salvador's president] Alfredo Cristiani a "decent fellow." Are there people within the government who are seeking the same reforms you seek?
Yes, but the question is whether it is possible for them to succeed. One could say that Cristiani is a person of good will, someone who might be converted.
This is what the Jesuits [priests who were murdered] were trying to do, to work with him. Other sectors of the government saw this as very dangerous, that these Jesuits might influence him against a more warlike policy.
The Jesuits who were killed stood neither with the government nor the FMLN. They advocated a third way. What is your view of the FMLN?
This movement is a natural reaction to great social injustice. It could not grow if conditions did not feed it. Unfortunately, it has taken a violent form; but in Latin America, there has never been an example of nonviolent struggle.
In an analytical piece, a reporter covering El Salvador for the New York Times observed that the people are tired of violence and suggested that the FMLN miscalculated in its recent offensive by thinking it could spark a popular uprising. Do you agree?
It was a crazy thing for the FMLN to undertake this kind of offensive. One cannot approve a situation in which many have died. But again, it's a product of sin and the result of a long series of attacks on the popular grassroots movement. It's true the people are tired of violence, and now they are completely without consolation because the dialogue has ended.
Have the peaceful revolutions of Eastern Europe lent credibility to the idea that change can occur in Central America without violence?
This is obviously the ideal of what could happen—that problems could be resolved in a civilized way. Christians have an important role to play. According to the biblical story, when the people of God came together with a united voice, the walls of Jericho fell. But Christians can fall into the trap of violence. One of our faults as Christians is that we have not taken an attitude that's deeply spiritual.
How can your country's problems be solved?
The guerrillas are not able to wipe out the armed forces. The armed forces receive a lot of international aid and are well organized. But to finish off the guerrillas you would have to kill off all Salvadorians—not because all of them are guerrillas, but because the guerrillas have so infiltrated all sectors of society.
The only answer is to renew the dialogue. That is what the Word of God would counsel us towards. Negotiations should include the government, the FMLN, the armed forces, the U.S., and the people of El Salvador. Other nations must put on pressure, must say to the government and to the FMLN that they must either take concrete steps in good will toward negotiations or they will lose credibility.
Have something to add about this? See something we missed? Share your feedback here.
Our digital archives are a work in progress. Let us know if corrections need to be made.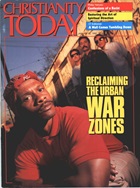 This article is from the January 15 1990 issue.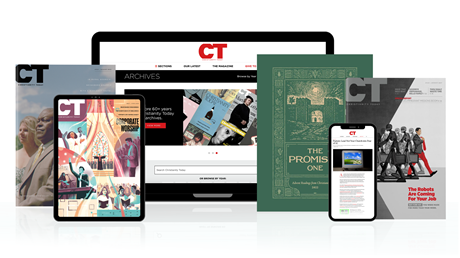 Subscribe to Christianity Today and get access to this article plus 65+ years of archives.
Home delivery of CT magazine
Complete access to articles on ChristianityToday.com
Over 120 years of magazine archives plus full access to all of CT's online archives
Subscribe Now
El Salvador: Violence Comes to the City
El Salvador: Violence Comes to the City