A Sense Of The Holy
I greatly enjoyed your articles about the Lutheran churches in the United States ["America's Lutherans: Here They Stand," Nov. 3]. They caused me to reflect on my personal reasons for finding more spiritual strength and power in mainstream churches than in any form of "evangelicalism."
First, the Lutherans, Reformed, Episcopalians, and Roman Catholics have something "evangelicals" have lost—or most likely never had: a sense of the holy. It seems to me that means the worshiper approaches God not as a pal or friendly grandpa, but as the wholly Other, the One we can never completely grasp with our minds or hearts. It is my perception that "evangelicals" have remade God in their own image.
Second, as a result of the loss of the sense of the holy, "evangelicalism" has sunk into the thing Charles Colson points out as the sign of the coming new dark age: radical individualism and selfish personal piety. The God of the evangelicals seems too small to be God. When the current "evangelical" fad has faded, the church of Jesus Christ—the body of Christ—will still be worshiping the Holy One.
Patricia Pabst
Del Norte, Colo.
I grew up in the Lutheran church, but then I met a Christian with the right theology. After reading your articles I have concluded Lutherans are ignorant of the truth. Acts 2:38 clearly teaches repentance comes before immersion. The Bible does not know a "proxy faith." Faith is always an individual and personal decision.
David Yost
Norfolk, Neb.
You mention the divisiveness that continues among the different denominations of the Lutheran church. I find it interesting that Richard Dishno (an instructor at the ELCA's Lutheran School of Theology in Chicago) mentions a "relatively small schism in the Missouri Synod over biblical inerrancy," while a few pages later Michael Maudlin, an Episcopalian, more objectively describes that schism by saying "the Missouri Synod went through a painful split, losing a scattering of churches with a hundred thousand members and almost a whole seminary." Though we are better for it, the pain lingers. It is hard for me to imagine any member of the Missouri Synod viewing such divisiveness as a "relatively small schism."
Rev. John W. Mitchell, Jr.
Zion Lutheran Church
Mitchell, S.D.
Regarding the Lutheran Church-Missouri Synod (LCMS) and the National Association of Evangelicals (NAE), it is not correct that "there has been no talk of the LCMS joining NAE." On March 6, 1989, the NAE Board of Administration voted unanimously "to extend an invitation to the LCMS to consider membership in NAE." That invitation has been referred by Ralph A. Bohlmann, LCMS president, to their Commission on Theology and Church Relations for counsel and advice.
Billy A. Melvin
National Association of Evangelicals
Carol Stream, Ill.
I was a Lutheran for 43 years, doing everything I could to get to know Jesus Christ and to know I was saved by grace. In 1976, kneeling with my daughter and asking Jesus into my heart, I became God's child. The new merger is an abomination to the Word, and yet you exalt it. It is not baptism or confirmation that saves, but by receiving Jesus as our Lord and Savior.
June Hunt
Edina, Minn.
Your series on American Lutherans is much appreciated by those of us who see the Lutheran evangelical message as urgent today as it was 470 years ago.
Fred P. Hall
Rancho Palos Verdes, Calif.
In Search of the Christian Lifestyle
My frustrated son-in-law recently shared with me the following excerpts from his diary:
Saturday, January 11
Slept in today, read paper. Wasted most of day lying around watching TV. Was listening to Christian radio tonight, though. Challenged by the message. The guy said the problem with the world is too many lazy Christians.
Sunday, January 12
After church I bade farewell to wife and kids. Spent afternoon collecting canned goods for soup kitchen in city. Met the family back at church just in time for evening service. Speaker talked about decline of the family. He said fathers just don't spend enough time with their children anymore.
Monday, January 13
Left work a little early. Took kids out to eat, then to movie. Great time. Back at home I was flippin' the channels on TV. Special on world hunger caught my eye. "You could support someone for an entire month," the announcer said, "for the cost of dinner and a movie."
Tuesday, January 14
Fasted all day, then went to men's fellowship meeting. We had a special speaker, who talked about physical fitness. Emphasizing that the body is the temple of the Holy Spirit, he said the key to being in shape is good nutrition and exercise. Ordered pizza.
Wednesday, January 15
Got up at 6 A.M. to jog. After work, shot some hoops with the kids. Driving back from basketball court, tuned in to another radio preacher. This one talked about burnout; said people are so busy with church, family activities, work, etc., they never have time for themselves.
Thursday, January 16
Slept in today, read paper. Wasted most of day lying around. Didn't bother to turn on radio.
EUTYCHUS
Ghost At The Feast?
I must note my amazement that you prefaced the articles on Lutheranism with the same small thematic logo, which, I assume, was meant to represent Martin Luther or a typical sixteenth-century Lutheran. But the profile head was clearly not Luther but one of my own spiritual forebears, Huldreich Zwingli of Zurich, one of the founders of the Reformed churches! Zwingli and Luther are well known for their inability to agree on the doctrine of the Lord's Supper, and their failed meeting at Marburg in 1529 has gone down as the keynote of the historic disunity between these two great branches of the Magisterial Reformation.
This is, of course, a minor matter substantively and does not detract from the excellent articles. Yet it is a scholarly faux pas to place Zwingli's profile over these essays as a kind of unintended ghost at the feast.
Grael Brian Gannon
Bismark, N.D.
Oops! Too many Reformation-era faces on the same page caused us to copy the wrong one. Our apologies!
—Eds.
Finally, An Adequate Hearing
I congratulate Kenneth Kantzer for his editorial "Here They Stand" [Nov. 3]. Some of us involved in the evangelical movement at least since the early 1960s have been in debt to evangelicals, especially in the area of biblical studies. If Lutherans have stood on the periphery of the evangelical movement, they have felt their position has not been given an adequate hearing among evangelicals. Kantzer supplied that in a kind and generous way.
David P. Scaer
Concordia Seminary
Fort Wayne, Ind.
Kantzer's overall tone was positive and his summary of Lutheran doctrine accurate except for one major point. He wrote of the Lutheran adherence to "the free offer of grace on condition of faith alone." Confessional Lutheranism maintains that God's grace is in no way conditional. Faith merely appropriates the unconditional promise of grace freely offered to all in Christ. We stand justified per fidem not propter fidem. That is confessional Lutheran doctrine.
Rev. Kristian L. Taves
First Evangelical Lutheran Church
Aurora, Neb.
Faulty Conclusions?
I am disappointed in Michael G. Maudlin's editorial "Last Rights" [Nov. 3]. It promotes simplistic and uncritical thinking on an important and complex moral issue in a discussion of the "right to die" cases of Nancy Cruzan and Larry McAfee. He argues that in both cases termination would be wrong. He lumps these two cases together as if they are similar, when in fact the two are in very different medical conditions. Cruzan, on the one hand, is in a persistent vegetative state; she retains physical life but not psychological life. McAfee, on the other hand, is severely handicapped; he retains both physical and psychological life. There is a clear line between consciousness and permanent unconsciousness; treatment decisions about individuals on different sides of that line must respect those differences. In equating dissimilar cases and drawing the same moral conclusion about both, Maudlin oversimplifies a complex issue and draws a faulty conclusion.
James B. Gould
McHenry County College
Crystal Lake, Ill.
We Need More Like Koop
Philip Yancey's interview of C. Everett Koop was an incredible piece of journalism. Thank you for introducing us so honestly to a courageous and wise Christian man. We need many more like him!
Diane Belcher
Chula Vista, Calif.
Yancey's interview with the former surgeon general should have been more aggressive and probing. The interview managed to put a positive spin on Koop's years in the Reagan administration and even got in a few pot shots at his conservative critics.
What the interview did not ask was why Koop pursued a policy of early childhood education and "safe sex" concerning AIDS instead of stating what he now states in the interview—that he realized all along only a moral, religious change in people will solve the AIDS problem. Why didn't he say that aloud and in public during his eight-year reign? Christians felt disappointed with a man who, when he became a public official, let his private convictions remain private.
Raymond Ide
Lancaster, Pa.
It is refreshing to hear of someone who knows the difference between law and morality, between state and church, between "surgeon general" and "chaplain general."
Merle E. Brubaker
Dillsburg, Pa.
I believe that I detect in Koop a strange characteristic I have seldom encountered in the conservative, evangelical and liberal Christian churches and their periodicals. Perhaps someone should do an in-depth investigative report on the subject to determine just how widespread this phenomenon might be in the churches. What I am alluding to is called "integrity."
Philip W. Gilman
Freehold, N.J.
Forgive Us Our Urs
When the New Yorker recently ran the "Moving-to-Ur" cartoon, I didn't write a letter, excusing it as a secular magazine. But when CT runs the same cartoon [Reflections, Nov. 3], I feel compelled to speak up. Obviously the cartoon caption refers to Abram answering the call of God to leave Haran and go to Canaan (Gen. 12:1–5). Nobody was moving to Ur. Oh, well, "to Ur" is human. I forgive you.
Kermon Thomasson
Church of the Brethren General Board
Elgin, Ill.
Patriarchy And Feminism
The review of Gretchen Gabelein Hull's and Faith Martin's books on patriarchy and the Scriptures is yet another disconcerting example of Christians wilting in the face of the feminist agenda [Books, Oct. 20]. Emotion-evoking phrases such as "subjection of women" and tired appeals to "biological destiny" and nontraditional "scholarship" are mere euphemisms for feminist presuppositions rooted in philosophical liberalism, sociology of knowledge, and a gnostic approach to male and female essence.
Christopher Noble
Franciscan University
Steubenville, Ohio
Have something to add about this? See something we missed? Share your feedback here.
Our digital archives are a work in progress. Let us know if corrections need to be made.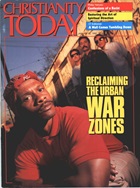 This article is from the January 15 1990 issue.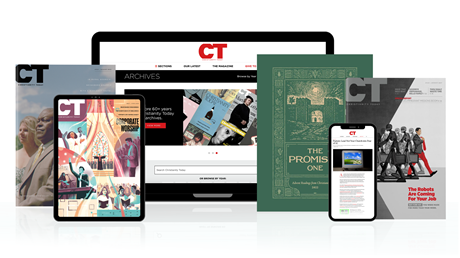 Subscribe to Christianity Today and get access to this article plus 65+ years of archives.
Home delivery of CT magazine
Complete access to articles on ChristianityToday.com
Over 120 years of magazine archives plus full access to all of CT's online archives
Subscribe Now
Letters
Letters