When I realized my prayer life needed more than resolve, I began to pray about praying.
When one of my sons was a toddler, recurring ear infections dulled his hearing and slowed his mastery of speech, despite his eagerness to learn. This made his part in our nightly prayer time a real trial. Micah had to take his turn after his talkative six-year-old brother, who managed to include in his prayers, it seemed, everyone he ever knew.
While Micah's command of language was limited to a few words, he so longed to participate in our bedside ritual that he bowed his head and "prayed" in what can only be described as an unrolling string of wordlike sounds, a long stream of unintelligible syllables with all the inflection and rhythm of real language. In the dark of the boys' room, the sound of his solemn, mumbling attempts left the rest of us alternating between stifled laughter and quiet awe.
To want to speak, but not know how, to want to pray, but not have the words, is a handicap that afflicts us long after childhood. It is painful to be speechless before God, to discover, as Dietrich Bonhoeffer writes, "that every call to [God] dies within itself." For all my adult facility with language, I am still much like Micah when it comes to prayer.
I suspect that our failed attempts to pray more often lie partly in this dread of not knowing what to say, in our ambivalence about sitting still in God's presence, unprotected by distraction, unhidden by the facile words that seem to get us by in everyday speech. Like the writer's proverbial blank page waiting to be filled with prose, the prospect of addressing God can intimidate us into silence. It is easier, some days, to avoid completely trying to piece together the words. Only the specter of not praying at all looms more agonizing and terrible. And so we keep trying.
In my searching for words, I have found that the longing to pray itself holds great promise. We learn how to pray better, I believe, by first paying attention to our desire to pray.
Linguists (and parents) will tell you that infants begin to pick up words without prodding or pushing, without vocabulary drills and other techniques of formal training. "Talking, like walking," says one childhood language specialist, "is built into our genes." The motivation to speak is instinctive. A child wants to squall out his or her need for milk, or giggle with affectionate phrases, or ask us endless questions to satisfy his or her innate curiosity.
On one level, prayer is, likewise, something we want to do, something for which longing and motivation seems "built in." One writer discovered this in a memorable way while traveling in the majesty and beauty of the Swiss Alps. Although she had rejected the faith, in a moment of insight and longing she wrote to a friend, "If only I could make some small sound of praise to someone—but whom?"
We grow in prayer by attending to just such stirrings. Prayer has less to do with charts and diagrams and lists of things we must do to achieve intimacy with God, and more to do with cultivating a relationship. "We approach God through love, not navigation," said Augustine. We learn to pray by praying, by attending to the natural longings the Creator has placed in his created. More than a class in techniques of praying, or a degree in the history of spirituality, we need to look at our desire for God, implanted within us by the God who has made us restless until we find our rest in him.
This means that deep prayer is often quite uncomplicated. The prayers of the great figures of the Bible, in fact, display a simplicity that belies the need for elaborate vocabulary. Moses, it should be remembered, stammered his way through the times he had to speak to the people of Israel. "O Lord," he complained, "I have never been eloquent, neither in the past nor since you have spoken to your servant. I am slow of speech and tongue" (Exod. 4:10; all Scripture references from the NIV). And yet, before God he conversed freely, "face to face" (Exod. 33:11).
"Often it is the simple, repetitious phrases of a little child," says seventh-century Byzantine John Climacus, "that our Father in heaven finds most irresistible. One phrase on the lips of the tax collector was enough to win God's mercy; one humble request made with faith was enough to save the good thief."
Indeed, prayer is rooted in God's listening, gracious invitation. Thus Jesus reminds us, "Your Father knows what you need before you ask him" (Matt. 6:8). What matters most is his ability to read our hearts, to understand our faltering words, to draw us to himself in a way that mutes our fears about what to say.
This became clear to me in a dramatic way recently. Long influenced by the brand of piety that emphasizes the indispensability of an hour of "quiet time" every morning, I nevertheless seemed to be unable to keep it up. I would read inspiring stories of saints who would let nothing stop them from their daily hour, and something within me would stand at attention; but my new resolve never carried me beyond a couple of weeks.
Recently I read again of a woman who simply decided one day to make such a commitment to pray, and my conscience was pricked. But I knew myself well enough to know that something other than resolve was called for. I began to pray about praying. I expressed to God my frustrated longings, my jaded sense of caution about trying again, my sense of failure over working at being more disciplined and regular.
I discovered something surprising happening from such simple praying: I was drawn into the presence of One who had, far more than I did, the power to keep me close. I found my focus subtly shifting away from my efforts to God's, from rigor to grace, from rigidity to relationship. I soon realized that this was happening regularly. I was praying much more. I became less worried about the mechanics and methods, and in turn I was more motivated.
And God so cares for us, I realized anew, that he himself helps us pray. When we "do not know what we ought to pray for … the Spirit himself intercedes for us with groans that words cannot express" (Rom. 8:26).
One finds in an authentic devotional life a growing awareness of this divine side of the praying proposition. We care less and less about articulating everything "just so" and more and more about opening ourselves to the one who first addressed us in Christ and continues to speak through the Spirit.
"The moment you wake up each morning," C. S. Lewis reminds us, "all your wishes and hopes for the day rush at you like wild animals. And the first job each morning consists in shoving it all back; in listening to that other voice, taking that other point of view, letting that other, larger, stronger, quieter life come flowing in."
It is reassuring to realize that prayer is ultimately a work of that "other, larger" life, that it is something we participate in, not manufacture. Says the Quaker Thomas Kelly, "The Living Christ within us is the initiator and we are the responders. God the Lover, the accuser, the revealer of light and darkness presses within us. 'Behold I stand at the door and knock.' And all our apparent initiative is already a response, a testimonial to His secret presence and working within us." And sometimes, unaccountably, we will find the Spirit helping in a way that surpasses all expectation, lifting our praying beyond words, carrying our hearts to a communion and undiminishable wonder that language cannot capture.
This is why the medieval spiritual writer likened God to lightning. "Whatever lightning strikes," he wrote, "be it a tree, an animal, or a man, it turns the object immediately towards it. If a man has his back to the lightning, he turns around in that moment to face it. If a tree has a thousand leaves, they all turn instantly toward the flash."
That the impulse to address God lies deep within does not call for passivity on our part, however. That we are made for relationship with God does not mean we do nothing to cultivate our desire to pray or to nurture this primal impulse. We deepen our fluency in praying not only through wanting, then, but also through learning.
That is why the disciples came to Jesus and said, "Teach us to pray." There are insights to be gained. Our stuttering words and awkward silences need to be schooled in and patterned after wisdom. They need instruction in the words God has already spoken to us in Jesus Christ and Scripture. Prayer is answering the God who has already addressed us, not striking up conversation with a distant deity.
This means, moreover, not simply learning what Scripture says about prayer, although that is vital, but also taking cues from its approach to and immersion in prayer. One of the most transforming insights for my devotional life came with the discovery that Scripture could not only be read, but also prayed. I began to approach the Bible as something more than a theology primer. Paul's words to the Ephesians, for example, about their having the "eyes of their hearts … enlightened, in order that [they] may know the hope to which [God] has called [them]," began to become the basis of my own prayers. I would take such passages and fill in the names of friends, or even use them in voicing prayers for myself. "Repeating God's words after him," writes Bonhoeffer, "we begin to pray to him," just as my son repeated, as best he could, the sounds of praying he heard from his father.
The psalter, called the "prayer book of the Bible," is an especially good place to begin "praying the Scriptures." In the church's history, in its worship and spirituality, the psalms stand out with striking singularity. Many psalms are, in fact, explicit prayers, and the whole book carries with it the inflections and rhythms of praise, worship, anguish, anger, hope, confession, and shame. It is, in other words, patently true to life.
Those who discover the rich joy of praying the psalms in an ordered way may find of earlier praying, as did Martin Luther, "Ah, there is not the juice, the strength, the passion, the fire which I find in the Psalter." And in the thick of day-to-day living, to be able to call to mind a snatch of Psalms—"[Your] steadfast love endures forever" or "Thou hast been our dwelling place in all generations"—may make all the difference in how we move through an anxious moment, when prayers may not roll off the tongue.
The memorizing of Scripture plays a role here, as well. We memorize not only to share it with others in "witnessing" encounters, but so that God's Word may soak the soil of our thinking, and thereby our praying. Waiting in line at a checkout counter, riding in a car, or taking an early morning walk can become opportunities for reflective recital of the promises of God. Such passages need not be lengthy; indeed, for a time, a friend of mine spent much of his formal and informal prayer time quietly, persistently repeating the phrase, The Lord is my shepherd.
That we learn to speak to God because God speaks first to us is especially true of the prayer Jesus gave his disciples. The Lord's Prayer can be far more than a hastily recited, distracted exercise, as illustrated in a story about a nineteenth-century spiritual director. Someone asked her about cultivating a deeper prayer life. "Say the Lord's Prayer," she told her charge, "but take an hour to say it."
The petitions of the Lord's Prayer, many find, can give our longings and prayers focus, helping us to think prayerfully through the issues and urgencies of our day. "Thy kingdom come" is a wonderfully suggestive request, for example, that can reorient the sometimes self-centered concerns of our little world.
Luther, to cite another example, tells of praying the first petition, "Hallowed be thy name": "[I] say, 'Yes, Lord God, dear Father, you do hallow your name in us and in all the world. Pull up and destroy the hatreds, the self-worshiping.' "
Luther went on to say that "to this day I am still nursing myself on the Lord's Prayer like a child and am still eating and drinking of it like an old man without getting bored with it."
The ways to give voice to our longing to converse with God, then, are really many; they far outnumber the few mentioned here. There are many outlets, and one may fit our needs at one time better than another. Experimentation with the myriad ways of praying found in Scripture and church tradition is eminently appropriate, just as is the "practice" of children learning to talk. For a period of some weeks, I found the Lord's Prayer the most helpful basis for praying, using it along with other kinds of praying, such as adoration and supplication. Other weeks I use a monthly cycle of psalms (such as found in the Episcopal Book of Common Prayer), or I read a chapter of Scripture a day, open not only to what it might teach me about God or the world, but also alert to how it may shape my prayers.
It must be said as well that our learning to pray is not a solitary exercise. Others not only have wisdom to share, but help us keep our desire for God, which can get crowded out of busy lives, fanned into flame. We need the reminder of Eugene Peterson that "the assumption that prayer is what we do when we are alone—the solitary soul before God—is an egregious, and distressingly persistent, error.… We are part of something before we are anything, and never more so than when we pray." Prayer begins in community. The weekly, flesh-and-blood mentoring and modeling that worshiping with others can give is indispensable.
It has been five years since my son graced our family's evening prayers with his mellifluous mumbling. He has learned to pray (and talk) like a typical eight-year-old, and now gives his older brother a run for the money during our family's nightly routine. He has learned some things about piecing together words to pray into the silence. But his mother and I still detect a frustration in him, at times, when he cannot think of the right words.
I do not concern myself with it anymore. His irritation is a sign that God has indeed placed within him a desire not only to speak, but to pray. He will learn—from his parents, from Scripture, from our church—greater proficiency. And for now, we know that even faltering, stammering words are both prompted by God and heard by him.
Have something to add about this? See something we missed? Share your feedback here.
Our digital archives are a work in progress. Let us know if corrections need to be made.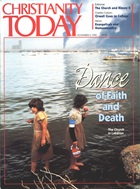 This article is from the November 5 1990 issue.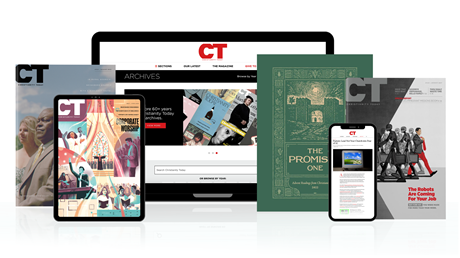 Subscribe to Christianity Today and get access to this article plus 65+ years of archives.
Home delivery of CT magazine
Complete access to articles on ChristianityToday.com
Over 120 years of magazine archives plus full access to all of CT's online archives
Subscribe Now
What Can I Say?
What Can I Say?