Divine Incoherence
If there is no God, then my existence as myself depends on my own mental agility. I make connections between things in the world and call those connections "ideas." But what if those "ideas," which after all are a construct of my mind, take on a life and reality of their own? This is what happens to Casaubon, the hero of Foucault's Pendulum (Ballantine, $6.95), a novel by Umberto Eco, the Italian author of The Name of the Rose.
Casaubon, Diotallevi, and Belbo, editors of a publishing house in Milan that specializes in occult literature, decide they could construct a story as plausible as the Rosicrucian, Templar, and cabalistic manuscript material that crosses their desks every day. Together, they search through manuscripts and books old and new, inventing spurious connections to form the plausible story of a centuries-old arcane plot to control the world. But having no genuine beliefs to hold onto, they fall under the spell of their own story, and perhaps one or more of them is killed by modern-day sorcerers and spiritists eager to believe themselves part of this group of world rulers.
Eco surveys more esoteric literature than most of us care to hear about, and leaves us wondering whether he has not himself invented some of it. But we begin to see a method in his madness when the heroine (who is said to embody sophia—wisdom) points out the irrationality of the project, "[People have] been told that God is mysterious, unfathomable, so to them incoherence is the closest thing to God."
By Barbara McClatchey, who teaches literature at Northern Illinois University.
It's Party Time!
When you think of hard-core partiers, images of Christians or the church probably don't come to mind. Tony Campolo thinks they should. In the latest work from this pied piper of the gospel, Campolo gives the whistle to his thesis in his title, The Kingdom of God Is a Party (Word, $12.99).
A party? Isn't the kingdom of God like the pearl of great price where we sacrifice all we have to possess it? Isn't the Christian life characterized by enmity with the world, denying ourselves, and taking up our cross? Yes and yes, says Campolo, but don't confuse means and ends. We sacrifice and endure because we want to be part of the best and biggest bash of them all, the marriage feast of the Lamb. We deny ourselves and bear our crosses because we want the joy of fellowship with God.
Campolo highlights, though poorly exegetes, a seldom-sermonized passage from the Old Testament, Deuteronomy 14:22–29, where Moses describes what Israel is to do with her tithe: a yearly party where "thou shalt bestow that money for whatsoever thy soul lusteth after, for oxen, or for sheep, or for wine, or for strong drink, or whatsoever thy soul desireth." From there we go on to discover that God's party/feast/festival/celebration is an important and consistent theme through Scripture.
And we don't have to wait until heaven before the good times begin. According to the author, the church should be "a dress rehearsal for the final party," an inclusive, loving, freeing celebration. And from the church, the party should spread to our families, jobs, and individual lives.
Of course, one can overwork a metaphor, but Campolo gives some qualifications, explaining the dangers of false parties and how suffering and sacrifice fit into his schema. The primary value of this book is that in the midst of our stressed-out, anxiety-ridden lives, it reminds us that what is most important is that God is throwing a party and that we are invited.
By Michael G. Maudlin.
Pulpit Moves
Let me put it bluntly: David Buttrick's Homiletic: Moves and Structures (Fortress, $15.95) is one of the most important books on preaching to appear this century. It deserves serious attention for both theoretical and practical reasons.
Buttrick ignores many of the usual subjects covered in volumes on preaching—you won't find anything here on the preacher's character or study habits or pulpit delivery, and very little on a theology of preaching—in order to focus on two questions: How do ideas form in communal consciousness? and, How should sermons consequently be structured? Buttrick seeks to build his homiletic on the discoveries of contemporary research in language and communication studies. In some ways, this "phenomenological" approach represents a return to classical rhetoric.
The author deliberately abandons the usual terminology about sermon points, believing it implies "a rational, at-a-distance pointing at things, some kind of objectification," and instead stresses the movement of language. "Sermons, no matter how intricately arranged, involved sequential talking, a series of language modules put together by some sort of logic."
How should these modules be constructed? Each "move" should have only one idea and contain no more (but certainly no less) than one image; the central idea must be stated at the beginning and restated at the end.
What logic governs the linking of the five or six moves of a sermon? The biblical text itself provides the structure. Buttrick wants to avoid the common divorce between hermeneutics and homiletics.
The tone of the book, almost polemical in its certainties, seems to invite argument. Few will agree with everything Buttrick says, but few will fail to be instructed and provoked by this significant book on preaching.
By Donald W. McCullough, pastor of Solana Beach (Calif.) Presbyterian Church, and the author of Finding Happiness in the Most Unlikely Places (IVP).
Everyday Morality
How morally errant were the 1980s? Enough so that lately there has been plenty of old-fashioned talk about "character" and even "virtue." Prof. Lewis Smedes knows his Aristotle, not to mention his Gustafson and Meilaender, but in A Pretty Good Person (HarperSanFrancisco, $14.95) he displays the virtue of humility and writes with simplicity. In short chapters punctuated with winsome stories, he helps us to understand how we can be grateful, courageous, whole, self-controlled, discerning, and loving.
More than to enlighten, Smedes wants to encourage. So he avoids guilt trips and strives to show how the life of character need not be burdensome—at least not always. Nor does he want us to think only the heroic can be good. To be sure, there are heroes here. What else can you call Els Ungvari, who smuggled Jewish children off trains headed for concentration camps?
But Smedes (and Els herself) reminds us that even heroes are ordinary people, if in extraordinary circumstances. And he exhibits "ordinary" courage by writing eloquently about his own weaknesses, failures, and small victories. Thus he shows that opportunities and challenges to be good come not only in Nazi-occupied Holland, but at summer camps and on the freeways.
We may wonder whether a seminary professor should have been more explicit about his faith. Is humility, for instance, not given an entire chapter because it is a particularly Christian virtue? And from a Christian perspective, how much can we really learn about love or gratitude from a book that never mentions Calvary?
But it seems clear enough that this wise and devout author means simply to talk to as many people as he can as gracefully as he can. If the gospel is not here in its fullness, it is here vibrantly in some of its parts. And to have achieved that, too, is no small virtue.
By Rodney Clapp.
The Big Picture
In Christianity and Western Thought: A History of Philosophers, Ideas, and Movements (InterVarsity Press, $21.95), Colin Brown expands upon his book Philosophy and the Christian Faith, first published in 1968. What was once a compact paperback has become a two-volume hardcover, with the second volume to be released within the year. (This first volume covers the "Ancient World to the Age of the Enlightenment.")
In his earlier work, Brown offered only passing remarks on the premedieval philosophical traditions. In Christianity and Western Thought, however, there are separate sections covering the pre-Socratics, Socrates, Plato, Aristotle, the Epicureans, Stoics, Skeptics, Cynics, Philo, several New Testament writers, the early church Fathers, Augustine, and expanded sections on medieval thinkers and the postmedieval period.
Particularly relevant to evangelicalism are Brown's new sections on Jonathan Edwards and Thomas Reid and the Common Sense tradition. The research from Miracles and the Critical Mind, a book published in the intervening years of Brown's scholarship, also finds its way into the current volume, especially in the entries on Locke and Hume.
Much of the passion and punch of the earlier work has given way to the more mature analysis of a seasoned Christian scholar. Still, Brown's story is not merely a careful recitation of abstract systems of thought. He offers relevant biographical notes that give life to the narrative. He skillfully weaves together threads of earlier and later philosophical thought displaying the tapestry of intellectual history in all its rich variety.
Intending the book for "the non-specialist student and general reader," Brown clearly accomplishes his purpose. This volume will be an excellent textbook for introductory courses in philosophy and theology. The general reader will also find the text immensely readable. We should all I look forward to its sequel.
By Robert K. Brown, project editor for books and Bibles at Tyndale House.
Have something to add about this? See something we missed? Share your feedback here.
Our digital archives are a work in progress. Let us know if corrections need to be made.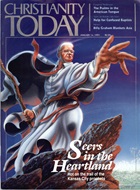 This article is from the January 14 1991 issue.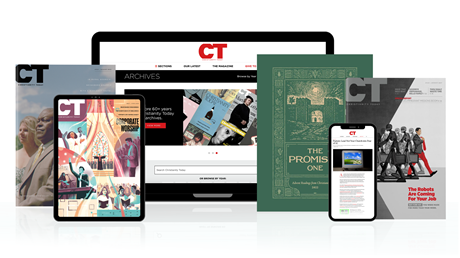 Subscribe to Christianity Today and get access to this article plus 65+ years of archives.
Home delivery of CT magazine
Complete access to articles on ChristianityToday.com
Over 120 years of magazine archives plus full access to all of CT's online archives
Subscribe Now
Book Briefs: January 14, 1991
Book Briefs: January 14, 1991