GERMANY
Embryo Protections Passed
Under the shadow of memories of Nazi eugenics, the German government has passed strict limitations on the use of embryos for scientific research. The law, debated for almost five years, restricts genetic research and specifically prohibits several procedures, such as producing human embryos for experimentation, cloning embryo cells, freezing eggs for future use, and using sperm from diseased donors. The new law also makes it illegal for a woman to carry a child of which she is not the genetic mother. Some violations, labeled criminal offenses, are punishable by prison terms of up to five years.
Geneticists have decried any connection of their work with the Nazis' World War II-era experiments. Opposition to genetic research has come from an unlikely coalition of Green party environmentalists, antiabortion groups, churches, and conservatives.
SINGAPORE
'Religious Harmony' Imposed
Despite opposition from religious leaders, the Singapore Parliament has passed a law for "Maintenance of Religious Harmony." The legislation discourages criticism of the government with fines of up to $5,000 (U.S.) and prison terms of two years without trial for those who heighten inter-religious tensions, incite others to defy or challenge government policies, or promote subversion.
A government white paper issued in support of the new law accuses all the major religious groups in Singapore of using religion as a "disguise" for promoting political unrest and spreading religious hatred.
All but one seat of the Parliament is held by the ruling party of Prime Minister Lee Kuan Yew. Three years ago, the Southeast Asia Council of Churches was expelled from the city-state for alleged political activity.
ISRAEL
Jewish Immigration Rises
In the face of rising anti-Semitism and economic hardship, record numbers of the Soviet Union's 1.8 million Jews continue to emigrate. The number of Soviet immigrants arriving in Israel topped 20,000 per month last October and continues to rise. Close to 180,000 Soviet Jews were expected to arrive by the end of last year; 400,000 are expected in 1991. The influx is creating critical shortages of housing and employment.
In the past 18 months, the former West Germany has admitted 470 Soviet Jews and the former East Germany has admitted 2,300. Thousands more have applied, and the German government has indicated it will accept "considerable" numbers more.
In Ethiopia, government officials announced last November that they will once again allow Ethiopian Jews to emigrate. A secret airlift in 1984 relocated 12,000 to Israel, but Ethiopia suspended the operation a year later. An estimated 15,000 Jews remain in the country, most living in slums in Addis Ababa, waiting to complete their journey to join family and friends in Israel.
PORTUGAL
Protestants Ask For Classes
Evangelicals will soon begin teaching religion in Portugal's public schools, following the change of a law that since 1926 had allowed only the Catholic church to conduct religion classes. Under the new law, which says any religion may be taught if 15 students request it, some 300 evangelical students petitioned for Protestant classes in 34 schools. The elective classes will be offered during normal school hours.
The Commission for Evangelical Education Action in Public Schools, a working group formed by the Portuguese Evangelical Alliance and the Portuguese Council of Christian Churches, has appointed teachers for all of the schools. Even before the law was passed, evangelical teachers had conducted a few experimental Bible studies, which some observers said helped pave the way for the new classes.
PEOPLE AND EVENTS
Briefly Noted
Resigned: Jerry Ballard, as executive director and chief executive officer of World Relief. During his 13-year tenure, the relief-and-development arm of the National Association of Evangelicals grew from a budget of $2 million per year to $20 million. Bob Landrebe, associate executive director, has been named acting CEO.
Celebrated: By Trans World Radio, 30 years of broadcasting from Monte Carlo, Monaco. Over 500 programs per week in 37 languages are aired today by the station, reaching nearly 40 countries in Europe, the Middle East, and North Africa.
Restructured and renamed: The Association of Evangelical Professors of Missions changed to the Evangelical Missiological Society. The new organization will include missionaries, administrators, and students of missions as well as professors. The executive director of the new society is David Hesselgrave of Trinity Evangelical Divinity School.
Deadlocked: A Church of England committee appointed five years ago to decide whether women should be appointed bishops in the church. In a 370-page report, the 11-member group, which included five bishops, four theologians, and two laypersons, said it could not arrive at any compromise or recommendation. The report does recommend that leaders of churches other than the Church of England be given seats in the House of Lords.
Discussed: the Caribbean's role as mission field or mission force, by 105 church leaders gathered at the Caribbean Consultation on Global Mission, held last November in Kingston, Jamaica.
Have something to add about this? See something we missed? Share your feedback here.
Our digital archives are a work in progress. Let us know if corrections need to be made.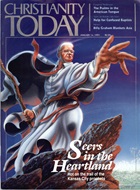 This article is from the January 14 1991 issue.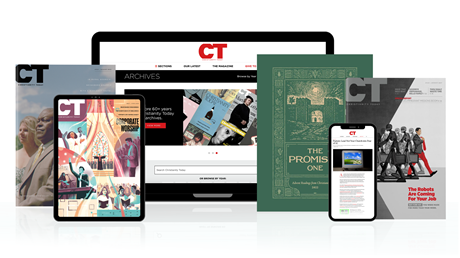 Subscribe to Christianity Today and get access to this article plus 65+ years of archives.
Home delivery of CT magazine
Complete access to articles on ChristianityToday.com
Over 120 years of magazine archives plus full access to all of CT's online archives
Subscribe Now
World Scene: January 14, 1991
World Scene: January 14, 1991