Spanish Grammar, Mexican Visas
I enjoyed your cover story, "¡Viva Los Evangélicos!" [Oct. 28]. It would add credibility to have used correct Spanish grammar in the title. Viva is singular. Vivan is the correct plural form. [Editor's note: Indeed, this was noted in "Inside CT" on p. 2 of the same issue.]
More important, you perpetuated the myth that it is somehow breaking the law to be a missionary in Mexico, repeating hearsay of one anonymous U.S. missionary in Mexico that "95 percent of missionaries in that country are there illegally because Mexico does not give visas to missionaries."
Like many other countries, Mexico daily grants missionaries student, retirement, tourist, and other types of visas. If we use the type of visa a government grants to determine whether missionary work is "legal" or "illegal," will we sow distrust about the work of tent-makers who enter countries under assorted visas and spend much of their time evangelizing and discipling?
In Mexico, the full nature of missionaries' ministries is widely known by federal authorities and the work they do is in no way illegal. The Constitution of Mexico guarantees complete freedom of worship and imposes no prohibitions on evangelizing, discipling, or teaching.
Scott J. Brenden
CAM International
Tucson, Ariz.
Apocalyptic Anxieties
Rodney Clapp's remedies for apocalyptic fever in his "Overdosing on the Apocalypse" [Oct. 28] were excellent. I would prescribe two of my own. First, all of us who seek to unravel Revelation's mysteries should ingest a healthy dose of humility. Too many modern-day Christians rush in where even Luther and Calvin feared to tread. Surely it is a symptom of our pride that we find New Testament prophecy so transparent, while Jesus' own disciples didn't have a clue, until after the fact, in what way Christ was fulfilling prophecy.
Second, we should remember that Revelation was written in the first century, to first-century Christians, about first-century problems. Why are we, in the twentieth century, so quick to grab our New York Times to help us interpret a book that begins by explicitly telling its original readers that it concerns "what must soon take place" (Rev. 1:1)? While Daniel was told to "conceal these words and seal up the book, until the end of time" (Dan. 12:4), John is commanded, "Do not seal up the words of the prophecy of this book, because the time is near" (Rev. 22:10).
Thus we should treat Revelation like any other book of the New Testament.
David J. Palm
Evanston, Ill.
As a preterist—a believer in realized eschatology—I much appreciated Clapp's article. One error was the familiar misquotation of Phil. 2:10. "Every knee shall bow" is used in the Living Bible paraphrase, but all translations render it correctly: "At the name of Jesus every knee should bow." The dictionary defines should as the "past tense of shall." Bowing to the lordship of Jesus is the present-tense obligation of every human being since God has exalted his Son. The verse is not eschatological.
Wanda Gehret Shirk
Ulysses, Pa.
What a helpful "dose" Clapp administers. While encouraging us to be watchful and ready for Jesus' second coming, he rightfully reminds us that through his death, Jesus has already ushered in a new age of hope and reconciliation.
In the meantime, we plant the tree and hoe the garden; for we await "a new heaven and a new earth." The apocalypse is a wonderful teaching that fills us with hope for the future and meaning for the present.
Edwin Heyne, Visitation Pastor
Ascension Lutheran Church
Milwaukee, Wis.
"Overdosing on the Apocalypse" properly scolds the current crop of speculative prophets for undermining Christian credibility. Is it not time to consider whether or not dispensational futurism is the root producing these embarrassing fiascos?
When we look past the puzzling symbols designed to divert enemies of the cross from the meaning of [Revelation], we discover Christ to be the topic, and the church he established its object. Let not men-pleasing speculations rob Christ's church of Revelation's authentic message for today.
Norman L. Meager
Sonora, Calif.
New Testament Denominations
In Speaking Out ["Don't Write Off Denominations," Oct. 28], Galen Meyer writes, "The New Testament knows nothing of denominations." Not so. Saint Paul wrote, "There are quarrels among you: one of you says, 'I follow Paul'; another, 'I follow Apollos'; another, 'I follow Cephas'; still another, 'I follow Christ.' " Meyer writes, "I would like to see denominationalism survive"; but what would God like to see? Saint Paul wrote, "I planted the seed, Apollos watered it, but God makes it grow; so neither he who plants nor he who waters is anything, but only God, who makes things grow."
Meyer's slant is askew. Denominationalism must perish; but until that day, Saint Paul's words are still true: "There are divisions: No doubt there have to be differences among you to show which of you have God's approval."
Dave Porta
Sacramento, Calif.
Meyer's article seems to reveal a disturbing presupposition concerning the church of the twentieth century. He seems to feel that the church today "can't get along without them." This is disturbing for a couple of reasons. First of all, it says the church that was established through Christ's resurrection and begun on the day of Pentecost is not enough 2,000 years later. Instead, to be the most effective, we need to have a denominational structure to fulfill the Great Commission. While mission boards, colleges, and relief agencies are positive aspects of denominations, they can and are surviving without denominations, and, therefore, that is not reason enough to support his conclusion.
Also, one of Jesus' primary concerns for the church, as seen through his prayer in the garden, was unity. However, throughout the past three centuries, during which time denominations have come on the scene, what we have experienced is more division than unity. Denominations foster this disunity because they cannot agree to just the essentials and just to be called Christians as they were in the first century.
Finally, Meyer says we accomplish little when we go our own way, but much when we work together. I agree, but I do not believe denominations are a necessity for this cooperation. The church established in the New Testament is enough for me; there has been no greater time in history where the gospel spread so effectively. Instead of denominations, let's band together to reach the world for Christ.
Patrick F. Ridpath
Omaha, Nebr.
Overstated Case
I read with astonishment Donald McCullough's review of Susan Howatch's books [Oct. 28]. I am a member of a reading group that recently read Glittering Images, the first in Howatch's series. While delighted at the prospect of a "novel" set in the English church, I was horribly disappointed at the quality of the writing. To pass off the deficiencies of her prose in one short paragraph—"serviceable language that neither ascends the heights of great prose nor descends into the pits of poor usage," or to say that "occasionally her dialogue is strained"—is the understatement of the year, if not the decade.
I understand that as Christians we must grasp at straws to find decent "Christian" fiction, but let's call a spade a spade. This was awful stuff, and to lead readers to believe Howatch's books belong anywhere other than in the romance section of your local book store is to seriously overstate the case.
Bill Svelmoe
Whittier, Calif.
Unapologetic Patriarchy
I would like to note the unapologetic patriarchy permeating the views of supporters of Clarence Thomas, as reported in your news article, "Despite Unanswered Questions, Evangelical Groups Back Thomas" [Oct. 28].
African-American pastor Keith Butler (also Detroit City Council member) cites Thomas as a representative of the values of "our fathers and our father's fathers." ORU law school dean Charles Kothe calls Prof. Anita Hill's charges "not only unbelievable but preposterous." In other words, he simply cannot fathom the possibility that such a charge could be true.
In this fallen world, many unbelievable and preposterous sins are in fact committed, by political and religious leaders of the highest stature. We evangelicals cannot see what we will not see. Sexual harassment is clearly one of the things we will not see.
Henry Wiens
Minneapolis, Minn.
During the late-night televising of judiciary committee hearings, I wonder how many watched Sen. Alan Simpson (R-Wy.) and Sen. Hank Brown (R-Colo.) joking about watching pornographic movies while in law school, putting Playboy centerfolds in their torts, and thereby getting A grades? Regrettably, no other senator of either party considered it worthwhile to point out the relevance of just such badinage to the issues being discussed.
The "argument from silence" of Thomas's admirers and colleagues, male and female, proves nothing. I believe Anita Hill.
Virginia Hearn
Berkeley, Calif.
Getting Real With Resolutions
Take heart, frustrated Christians who take New Year's resolutions seriously. I have found the secret to keeping those self-mortifying promises. The answer is not discipline, not resolve, not courage, not grit, not anything else that requires Francis of Assisi-like character. The key is the resolutions themselves.
Specifically, in making your New Year's resolutions, don't be ambitious. Be realistic. If you aim too high, you'll fall miserably by ground-hog day, lose heart, get discouraged, get into a rut, and quit trying. By August, who knows? You might be in jail.
Maybe my 1991 New Year's resolutions will give you some ideas of your own:
1. I will not go bungee-cord jumping on the Sabbath.
2. I will not gain more than 38 pounds.
3. I will not shout heretical statements from atop Mount Rushmore.
4. I will pray and study the Bible each morning for at least one day in 1991.
5. I will fast every Ash Wednesday between meals.
6. I will give 50 percent of my time and money to causes benefiting the poor.
Now, I admit I probably won't be able to keep all these resolutions. After all, I've got to be realistic. And I have this feeling that, 'round about August, some lazy Sunday afternoon, I'm going to succumb to temptation and head for the nearest cliff with bungee cord in hand.
EUTYCHUS
Have something to add about this? See something we missed? Share your feedback here.
Our digital archives are a work in progress. Let us know if corrections need to be made.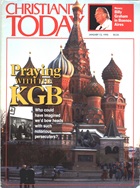 This article is from the January 13 1992 issue.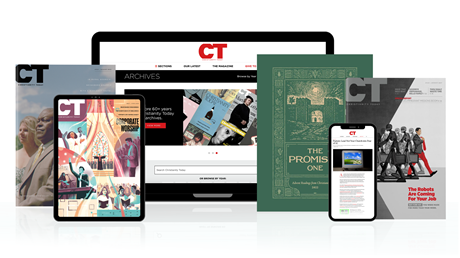 Subscribe to Christianity Today and get access to this article plus 65+ years of archives.
Home delivery of CT magazine
Complete access to articles on ChristianityToday.com
Over 120 years of magazine archives plus full access to all of CT's online archives
Subscribe Now
Letters
Letters