Classic and contemporary excerpts.
No joke
Flippancy is the best [kind of joke] of all: In the first place it is very economical. Only a clever human can make a real Joke about virtue, or indeed about anything else; any of them can be trained to talk as if virtue were funny.… If prolonged, the habit of flippancy builds up around a man the finest armourplating against the Enemy [God] that I know, and it is quite free from the dangers inherent in the other sources of laughter. It is a thousand miles away from joy: it deadens, instead of sharpening, the intellect; and it excites no affection between those who practice it.
Your affectionate uncle SCREWTAPE
—C. S. Lewis in The Screwtape Letters
Sinners all
Journalists miss the point when they keep asking, after each new church scandal, if a preacher's fall has shaken the believers' faith. Sin rather confirms than challenges a faith that proclaims human corruption. The drama of salvation is played out against the constant backdrop of original sin.
—Garry Wills in Under God
Imitating the real thing
It should always be noted that the more excellent something is the more likely it will be imitated. There are many false diamonds and rubies, but who goes about making counterfeit pebbles? However, the more excellent things are the more difficult it is to imitate them in their essential character and intrinsic virtues. Yet the more variable the imitations be, the more skill and subtlety will be used in making them an exact imitation. So it is with Christian virtues and graces. The devil and men's own deceitful hearts tend to imitate those things that have the highest value. So no graces are more counterfeited than love and humility. For these are the virtues where the beauty of a true Christian is seen most clearly.
—Jonathan Edwards in Religious Affections
No blight on nature
Christians can have no truck with some of the more extreme deep ecologists, or dark Greens, to be found in the United States and very occasionally in Britain, who see humans as a blight on our planet and who worship wild nature. For Christians respect for nature comes as an adjunct to rather than a substitute for respect for humans.
—Ian Bradley in God Is Green:
Ecology for Christians
Take up your gas chamber
When Jesus said, "If you are going to follow me, you have to take up a cross," it was the same as saying, "Come and bring your electric chair with you. Take up the gas chamber and follow me." He did not have a beautiful gold cross in mind—the cross on a church steeple or on the front of your Bible. Jesus had in mind a place of execution.
—Billy Graham in "The Offense of the Cross" (from Great Sermons on Christ, Wilbur M. Smith, ed.)
Lone climbers against the gale
The richer a man's personality, the more there is of him to be tempted. We need not be surprised—as occasionally we are—at the collapse of some outstanding figure.
The wonder is that such occurrences are as rare as they are. The lone climber on the exposed mountain ridge feels the fury of the gale of which the pedestrian, content to plod placidly along in the valley below, is ignorant.
—Frederick Coutts in In Good Company
The wrong tools
God is not discoverable or demonstrable by purely scientific means, unfortunately for the scientifically-minded.
But that really proves nothing.
It simply means that the wrong instruments are being used for the job.
—J. B. Phillips in For This Day
The God who is there
We can never talk about God behind his back. We cannot speak of God in His absence.… The God who is being discussed is also there. The attitude people take to Him can never be merely theoretical. To deny Him is to spite Him to His face.
—A. Skevington Wood in Evangelism: Its Theology and Practice
Have something to add about this? See something we missed? Share your feedback here.
Our digital archives are a work in progress. Let us know if corrections need to be made.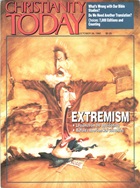 This article is from the October 26 1992 issue.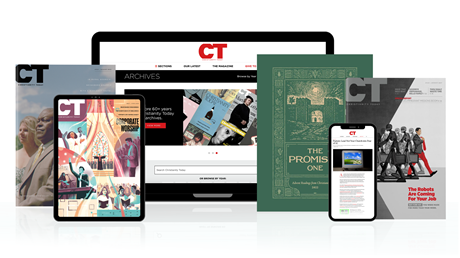 Subscribe to Christianity Today and get access to this article plus 65+ years of archives.
Home delivery of CT magazine
Complete access to articles on ChristianityToday.com
Over 120 years of magazine archives plus full access to all of CT's online archives
Subscribe Now
Classic & Contemporary Excerpts from October 26, 1992
Classic & Contemporary Excerpts from October 26, 1992