WHEN WE TALKED TO THEOLOGIAN DAVID WELLS, HE CAME UP WITH THE FOLLOWING QUESTION AND ANALYSIS: "WHAT KIND OF CHRISTIAN FAITH WILL YOU PRESENT OR BE LEFT WITH IF YOU ARE OBSEQUIOUSLY PROSTRATING YOURSELF BEFORE BABY BOOMERS—A GENERALLY SELF-CENTERED, RELATIVISTIC, UNLOYAL GENERATION? YOU'RE GIVING THEM A CHRIST-CULTURE THEME THAT THEY CANNOT POSSIBLY UNDERSTAND, GIVEN THEIR INHERENT NATURE. WILLOW CREEK AND ITS CLONES VIEW ALL OF CULTURE AS HARMLESS AND NEUTRAL; THEREFORE, WHY NOT ADAPT THE CHRISTIAN FAITH TO IT? THE PROBLEM IS THAT CULTURE IS LADEN WITH VALUES THAT INEVITABLY GO AGAINST THE THRUST OF THE GOSPEL MESSAGE." HOW WOULD YOU RESPOND?
I think the values of our society are blatantly opposed to the values of Christ. But what we try to do at Willow Creek is say, "Come as you are. Come with your BMW and your Rolex, because even though you have caved in to the values of this sick culture, you still matter to God." And when they confess their sins and see what Christ did for them at the Cross, we begin a very aggressive value-transformation program that will not stop until they go to their graves.
HOW DO YOU MOVE A PERSON FROM A CONSUMER ORIENTATION OF FULFILLING FELT NEEDS TO A CHRISTIAN FOCUS ON SELF-DENIAL?
Through teaching, prayer, fellowship, service, discipleship, mentoring, discipline. Through all the means of grace that people have been using for 2,000 years. This isn't the first culture that's been sick. What has the church been doing for 2,000 years? It's been taking people out of a sick culture, leading them to Jesus, and then trying to inculcate his values in them.
John Seel, the author of "Evangelical Forfeit," presented us with this concern: "If you convert a person under the seeker-sensitive philosophy, how does that affect their spiritual maturity and the nature of their discipleship?" In other words, does the seeker-sensitive church's brand of discipleship inhibit the spiritual development of its members?
I don't think Willow Creek is cranking out believers who aren't maturing in their Faith. I would stack the committed core of Willow Creek against that of any church, because they not only have a growing understanding of the facts of the faith, but they also have hearts that are hurting for the lost and the poor and suffering.
We have a bench out in our lobby called the fool's bench. It got its name because sometimes when our people invite their friends to a service, they stand out in the lobby waiting for them to come. Sometimes they are still standing out there 15 minutes into the service. And their friends don't show up. They're heartbroken because they've been praying for their boss, and he said he was going to come, but he didn't show. This goes on every week at this church. That's the stuff that doesn't get attention.
We get press about our buildings, about our budgets, about our drama—but what the spotlight ought to be on is the fact that we gave away 85 vehicles to single moms last year; that we feed 350 people a month with our food pantry; that we just gave a quarter of a million dollars to our local benevolence ministries These are the real signs that Christ is being honored in the church, and the spotlight has not been on them.
MANY CRITICS HAVE OBSERVED THAT YOUR CHURCH IS MADE UP OF WHITE, AFFLUENT SUBURBANITES—A HOMOGENEOUS PEOPLE GROUP. HOW IMPORTANT IS IT FOR THE CHURCH'S SUCCESS FOR IT TO BE HOMOGENEOUS?
Willow Creek is almost an exact representation of our community's demography, so we are not intentionally homogeneous. It's a function of where we are. We want to be as inclusive and as integrated as we can possibly be.
DO YOU ENDORSE THE IDEA CALLED THE "HOMOGENEOUS-UNIT PRINCIPLE" IN CHURCH-GROWTH CIRCLES?
I never have. I think a church ought to reflect its neighborhood. If the neighborhood is diverse, I hope the church would be. If the neighborhood is not diverse, it's pretty hard for a church to be.
JOHN PERKINS AND OTHER LEADERS OF THE CHURCH'S RACIAL-RECONCILIATION MOVEMENT SAY THAT BECAUSE OF LONG-STANDING RACIAL BARRIERS IN OUR SOCIETY, ONE OF THE MARKS OF TRUE FAITH TODAY WOULD BE TO GO BEYOND LOCAL DEMOGRAPHICS AND TO BE INTENTIONAL ABOUT RACIAL DIVERSITY.
Periodically we meet with some of the minority groups from our church, and we say, "How do you feel? Are we doing enough? Can you help us understand how we can be a more racially and ethnically diverse congregation?" But we have not come up with initiatives that we think would be effective. So, we're interested, but we're frustrated with our ineffectiveness.
IN HIS BOOK "SELLING JESUS," DOUG WEBSTER QUOTES YOU AS SAYING, "GENERALLY A PASTOR CAN DEFINE HIS APPROPRIATE TARGET AUDIENCE BY DETERMINING WITH WHOM HE WOULD LIKE TO SPEND A VACATION OR AN AFTERNOON OF RECREATION." THAT PHILOSOPHY SOUNDS LIKE IT WOULD LEAVE A LOT OF PEOPLE OUT.
What I was trying to say was that, beyond our broad calling, it's fairly common for people to have a passion for a particular people group. The example I always turn to is the apostle Paul, who had a passion for planting churches among the Gentiles. Similarly, there are some who feel called to Generation X or to inner-city crowds or to the international student population.
ISN'T IT A PROBLEM, THOUGH, THAT A LOT OF PEOPLE ARE COMING UP WITH THE SAME CALLING: TO WHITE, AFFLUENT, SUBURBAN BABY BOOMERS?
So are you saying that pastors are deceived—that they're not really authentically seeking God—or are you blaming God for the way God is leading those people?
IT SEEMS THAT NUMBERS PLAY A SIGNIFICANT ROLE IN THE SEEKER-SENSITIVE MOVEMENT. CAN A SMALL CHURCH OF 100 BE SEEKER-SENSITIVE?
Absolutely.
DO YOU MEASURE YOUR EFFECTIVENESS IN PART BY NUMERICAL GROWTH?
It would be one aspect, but certainly not the most important. What we're about as a church is biblical values. We're always monitoring the values.
LET'S SAY YOU DECIDE TO DO A SERIES OF MESSAGES THAT PRESENT THE TRUTH OF THE GOSPEL WITH A STERN, NO-NONSENSE APPROACH. YOU FEEL GOOD ABOUT THE MESSAGES AND PLAN TO DO THEM FOR SEVERAL MONTHS, BUT A COUPLE OF MONTHS INTO THEM YOU REALIZE ATTENDANCE IS GOING DOWN ON A REGULAR BASIS. WHAT DO YOU DO?
Easy answer: We keep going. We've done it in the past. If the values are right, we believe in the long run God will honor what we're doing.
MANY PASTORS RAISE THE CONCERN THAT THE SEEKER-SENSITIVE AND MEGACHURCH MOVEMENT CREATES A JOB FEW CAN DO SUCCESSFULLY—THAT IT WILL INEVITABLY BURN YOU OUT.
It is demanding. It necessitates the move toward team ministry, which flies in the face of entrepreneurial, autocratic, one-man-show types. The kind of person who likes the challenge of planting a church like Willow Creek tends to be a self-starter, a freethinking, risk-taking individual. That person can get one up and going, but keeping it going is almost sure to ruin him; there's too much to pay attention to.
ARE YOU SPEAKING AUTOBIOGRAPHICALLY?
It's been well-documented that in 1989 I almost became unglued emotionally because of the stresses associated with leading this ministry. I was 38 years old and had been an evangelical Christian most of my life and had never heard of the term that's now known worldwide— team teaching
That was a novel idea to me, so I went to a bunch of people and asked them about it. They said it would destroy my church. One guy said to me, "Bill, you've almost killed yourself for 15 years building this great church. If you move to team teaching, you'll watch it disintegrate right in front of your eyes." And I said, "I'm already disintegrating right in front of my eyes." So we moved to team teaching.
We've been at it for five years now, and our people would never want to go back to solo teaching. They enjoy hearing the Word of God through different voice boxes.
THE SEEKER CHURCH HAS BEEN ACCUSED OF MINIMIZING THE IMPORTANCE OF FORMAL THEOLOGICAL EDUCATION. SOME CLAIM THEY'VE HEARD YOU SAY QUITTING SEMINARY WAS ONE OF THE BEST DECISIONS YOU EVER MADE.
I don't recall ever having said that. I quite often say that I feel handicapped that I did not finish seminary. When young men or women come to me and say, "I think I want to be a teacher someday in the kingdom of God, should I hang in with seminary?" I say, By all means.
SOME CHARGE THAT YOU'RE NOT REALLY ATTRACTING SEEKERS BUT DISENCHANTED CHRISTIANS FROM OTHER CHURCHES.
That's not true. We've never changed our orientation, which is toward nonchurched people.
WOULD YOU DESCRIBE YOURSELF AS ANTIDENOMINATIONAL?
No. I would say I'm adenominational. I just don't think it's the wave of the future. I see very little loyalty to denominations anymore, especially among nonchurched people.
SINCE YOU ARE "ADENOMINATIONAL," HOW DO YOU HANDLE TRICKY DOCTRINAL ISSUES, LIKE THE CHARISMATIC GIFTS OR MODE OF BAPTISM?
Our elders just study the Scriptures, led by the Holy Spirit. Sometimes we seek counsel from the outside. We'll call in different theologians and have them sit with us and mentor us in a topic. But in the final analysis, our elders will make that call.
ANOTHER CRITICISM OF THE SEEKER MOVEMENT IS THAT IT DEVALUES THE SACRAMENTS.
The Scriptures say, "Believe and be baptized." So if you become a recipient of amazing grace and haven't obeyed the Lord in this, we ask you why not? We have baptisms twice a year and Communion once a month at our believers' service.
IF YOU COULD SAY ANYTHING TO THE LEADERS OF OTHER SEEKER-ORIENTED CHURCHES, WHAT WOULD IT BE?
I would just tell them to preach the Scriptures unapologetically, to hold very close to the Acts 2 definition of a biblically functioning community, and to concentrate more on being the church than building great buildings.
WHAT DO YOU THINK THE MINISTRY OF BILL HYBELS AND WILLOW CREEK COMMUNITY CHURCH IS SAYING TO THE CHURCH AS A WHOLE?
I think what I'm trying to help the body of Christ understand, if I can be so presumptuous is 1 Corinthians 12, where it says there is one Spirit, but many ministries. I have never contended that every church should be a Willow Creek. I think that would be a travesty. But I think there needs to be some Willow Creek-style churches around the country and around the world, because God is pleased to reach some of the lost through them.
ctjul94mrw4T80185619
Have something to add about this? See something we missed? Share your feedback here.
Our digital archives are a work in progress. Let us know if corrections need to be made.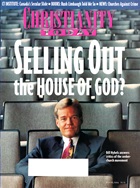 This article is from the July 18 1994 issue.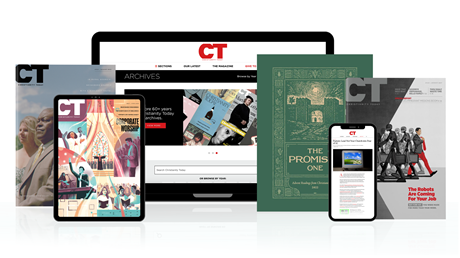 Annual & Monthly subscriptions available.
Print & Digital Issues of CT magazine
Complete access to every article on ChristianityToday.com
Unlimited access to 65+ years of CT's online archives
Member-only special issues
Subscribe
Selling Out the House of God?, Part 2
Selling Out the House of God?, Part 2