In May, Michael Novak, the Roman Catholic religious philosopher and social critic, became the twenty-fourth recipient of the Templeton Prize for Progress in Religion, an honor that places him among a distinguished group of individuals: Past recipients include Charles Colson, Mother Teresa, Billy Graham, and Aleksandr Solzhenitsyn. Novak's life is a story of extraordinary religious scholarship, social commentary, and intellectual courage. On issues as complex as capitalism, socialism, liberation theology, human rights, welfare reform, and the role of churches in a pluralistic world, Novak has set a standard for critical and literate debate.
Formerly on the Left politically, Novak's experience in liberal environments led him to ever-deeper dissent-first on foreign-policy issues, then on cultural issues such as abortion, the family, and crime. Gradually, he became a trailblazer in what came to be called "neoconservativism."
Novak's books, lectures, and essays on the moral basis of democracy and capitalism have been applied by a variety of world leaders-both political and religious. In her 1993 book, The Downing Street Years, former British prime minister Margaret Thatcher praised Novak's work, noting that his writing on the morality of political economy "provided the intellectual basis for my approach to those great questions brought together in political parlance as 'the quality of life.' " In Czechoslovakia, the dissidents of Charter 77 and Vaclav Havel's Civic Forum used Novak's The Spirit of Democratic Capitalism in their clandestine study groups. And in Chile and Argentina, proponents of democracy sought guidance from his writings on the value of free markets and from his critiques of liberation theology.
Long before the public collapse of socialism in 1989, Novak challenged the many Protestant and Catholic theologians who embraced liberation theology and its radical brand of socialist ideas as the preferred political course for Latin America. And when Pope John Paul II issued his encyclical Centesimus Annus in 1991, a call for "a business economy, a market economy, or simply free economy," and defined the free society as a three-fold system-political, economic, moral-many observers detected the significant influence of Novak's writings.
Born to a working-class Catholic family in Johnstown, Pennsylvania, Novak as a young man sensed a calling to Christian ministry. But after spending 12 years preparing for the priesthood, he decided to leave his seminary studies just weeks before his ordination to explore a call to broader intellectual endeavors.
Novak's intellectual calling has taken him to the faculties of Stanford, Harvard, SUNY-Old Westbury, Syracuse, and Notre Dame. Since 1978, he has been a resident scholar at the American Enterprise Institute for Public Policy in Washington, D.C., where, since 1983, he has held the George Frederick Jewett Chair in Religion and Public Policy and is director of social and political studies.
In his Templeton Prize address, "Awakening from Nihilism," Novak concluded by pointing to the One who gave him his call: "The human person alone is shaped to the image of God," he declared. "This God loves humans with a love most powerful. It is this God who draws us, erect and free, toward himself, this God who, in Dante's words, is 'The Love that moves the sun and all the stars.' "
MICHAEL CROMARTIE:
When it was announced that you had won the Templeton Prize, you remarked: "I have tried to work out my theology of economics with the poor in the forefront of my attention." Could you elaborate?
MICHAEL NOVAK:
The existence of poverty raises systemic questions, such as, How does a nation's economic system contribute to its degree of indigence?
In one sense, one of the poorest places on earth is Hong Kong. It has almost no natural resources; it's only a rock. It has a location and a harbor, but because of the structure of its laws and its taxing system, it has become one of the beehives of entrepreneurial activity. The movement of very poor people out of poverty occurs quite rapidly in Hong Kong. And at one point, its gross domestic product was a sizable proportion of the entire product of the People's Republic of China. We've learned that peoples who have very few natural resources but who organize themselves well and have a favorable system of entrepreneurship, invention, and organization are able to raise the standard of living in a very short time.
MICHAEL CROMARTIE:
How does the Hong Kong government inspire this kind of resourcefulness in its people?
MICHAEL NOVAK:
Above all, they concentrate on education and on making it easy to start cheap and lawful businesses. They provide credit to poor people so that they can start businesses when they don't have money. They provide low taxation so that the incentives are great for starting businesses, and this seems to work everywhere it's been tried.
If by contrast you look at the great poor areas of the world in Latin America and in parts of Asia, you see that their systems defeat poor people. In Latin America, it's almost impossible for poor people to start businesses of their own, because the fees and the bribes that have to be paid are so high. These types of systems demonstrate that if you criminalize the entrepreneurial energy and the economic activism of your citizens, you are only punishing yourself and generating poverty where it need not be.
Most people in the world are poor, not because God made this earth poor, but because of politics. The political systems in place penalize the economic behavior of economically creative citizens, and this is an offense against God.
MICHAEL CROMARTIE:
In what way is this an offense to God?
MICHAEL NOVAK:
God made every woman and man in his image to be creators-creators in the economic sphere as well as in the artistic sphere and scientific sphere. If you don't allow them their God-given right to personal economic initiative, you disfigure the image of God in them. Poverty is not necessary. We understand now the causes of wealth, in large measure, and we know how to create wealth in a sustained and systematic way.
MICHAEL CROMARTIE:
Sometimes you have been criticized for deifying democratic capitalism. What is your response to that?
MICHAEL NOVAK:
Only God is God. I've repeated over and over in my writings that no human system-and certainly not the political economy composed of democracy and capitalism-is the kingdom of God. It's the system most helpful to the poor compared to any alternative system-more than socialist systems, more than Third World traditionalist systems. But it has got grave deficiencies.
Far from deifying capitalism, I have argued that my good friend Irving Kristol, who wrote a book called Two Cheers for Capitalism, may have been excessive. One cheer is quite enough. However, my socialist friends, who never tire of dreaming the dreams of socialism and praising in the most glorious utopian colors of community, cannot stand to hear even modest praise for the capitalist system.
MICHAEL CROMARTIE:
Are there ways we can correct the dislocating effects that come with a capitalist economy?
MICHAEL NOVAK:
The design of a democratic system in a political order is filled with checks and balances intended to neutralize the worst habits of the human character, but it cannot eliminate human evil. The same is true of the capitalist system. It is competitive by design, to prevent the growth of monopolies that would allow one person or a few to exercise disproportionate economic power. Unfortunately, it has many other checks and balances that make it difficult for a corporation to survive. We do regulate very intently. But please notice that the whole concept for democratic capitalism requires a three-sided system. The economic system is regulated not only by the political system and the rule of law and its regulations, but also by a moral cultural order, religious principles, and by custom and convention. They limit what is good behavior and mark off what is bad behavior. So there are multiple sources of criticism of business activities. Business is a serious moral activity, and it plays an exceedingly important moral role for the United States.
MICHAEL CROMARTIE:
Why are the benefits of capitalism not reaching the poor in our communities?
MICHAEL NOVAK:
Because they alone have been singled out for a socialist system that makes them totally dependent upon the state for their health care, for their housing, for their food stamps, for their income. And it demands of them, until now, nothing in return. They are excluded from the land of the free and the home of the brave and made to subsist as serfs or even slaves in a kind of federal plantation system. This has debilitating effects on their morale and their sense of themselves. All of this grew out of the good intentions of President Lyndon Johnson's Great Society.
I was one of those who strongly supported the welfare programs of the 1960s, but I didn't tell anybody then that if you support this program, crime will rise by 500 percent in the next 30 years and illegitimacy will go from 6 percent to 30 percent, and to 44 percent among the poor. I didn't tell you that the program costs would go from $10 billion a year to $310 billion. None of us anticipated those developments. But what we put into place had consequences far different from those that we hoped for, and it is simply a matter of responsibility now to take note of those consequences and to correct them.
MICHAEL CROMARTIE:
You have noted a dramatic drop in the morale of the poor in our nation. Has morale ever been high among the poor?
MICHAEL NOVAK:
We should look at the times when many more Americans were poor and when poverty was much more biting than it is today. Consider the period from 1830 to 1950, including the Great Depression: Illegitimacy rates went down to an all-time low of between 4 and 6 percent, where they stayed for 150 years. Alcohol consumption in the United States was cut in half. Sunday schools began, and by the end of the nineteenth century, about two-thirds of all young Americans were attending them. People became more courteous, and basic morals improved. All this happened when people were far more poor than people are today. So you cannot say that the problem besetting the United States is material poverty. When you look to the impact of government programs in our present cultural atmosphere, you see a quite different world from anything our ancestors knew. And somewhere in there are many of the reasons for our present crisis.
MICHAEL CROMARTIE:
You have written extensively about liberation theology. It appears to be a theological movement that is falling on hard times.
MICHAEL NOVAK:
Liberation theologians did a good thing, especially in Latin America, in calling attention to the condition of the poor and to the way in which the good-neighbor policy was not helping their condition. Liberation theology challenged the systems of Latin America, which remained precapitalist, pre-entrepreneurial, and very heavily state directed. However, the liberation theologians made a great mistake by borrowing socialist ideas from Latin America's social scientists. Socialism is not a cure for excessive state control; it only intensifies it. And it has never been good for the poor. Take a look at the condition of the poor in Russia, for example, or in Cuba today. That mistake cost nearly 20 years of development for the poor of Latin America.
The ultimate failure of liberation theology was that it imagined that socialism would provide a cure for poverty and never paid fair attention to the power of a genuinely capitalist system to raise the poor and to help them become middle class.
MICHAEL CROMARTIE:
You were formerly on the political Left. What were the key issues that caused you to re-evaluate your ideas and move toward your present neoconservative views?
MICHAEL NOVAK:
I wish I could say that I had been knocked off a horse like Saint Paul in some dramatic moment that I could tell you of. Instead, it was defeat by a thousand cuts. It was seeing many things that I had supported with enthusiasm, like domestic social-welfare programs, turn to ash. Since it seemed to me that what it meant to be on the Left was to think as clearly as one could and to take responsibility for one's decisions, I thought we should take responsibility for our mistakes and make corrections. I was astonished when many people on the Left did not follow me. It turned out that many people made a big investment in where they were, and they didn't want to move, and they didn't like taking criticism.
MICHAEL CROMARTIE:
Has there been hostility from your former allies on the Left?
MICHAEL NOVAK:
Definitely. If you move from the Right to the Left in this country, that's called growth. If you move from the Left to the Right, that's called treason. So many people who are afraid of being called names hide their real opinions and pretend to be more on the Left than they are.
MICHAEL CROMARTIE:
We are seeing some of that name-calling now with people who are concerned with the rise of religious conservatism in the nation.
MICHAEL NOVAK:
The last respectable bigotry in the United States is against evangelicals and fundamentalists. It seems perfectly acceptable to utter insulting language about them amongst people who would be ashamed of uttering the same sort of language about anybody else. The country will get over that; usually, once you begin to point out a form of bigotry, some of the more fair-minded people begin noticing it, too, and start to correct it. This one will be harder to correct, but the correction will come.
********************
Michael Cromartie is director of the Evangelical Studies Project at the Ethics and Public Policy Center in Washington, D.C.
Have something to add about this? See something we missed? Share your feedback here.
Our digital archives are a work in progress. Let us know if corrections need to be made.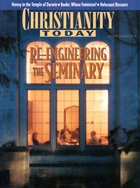 This article is from the October 24 1994 issue.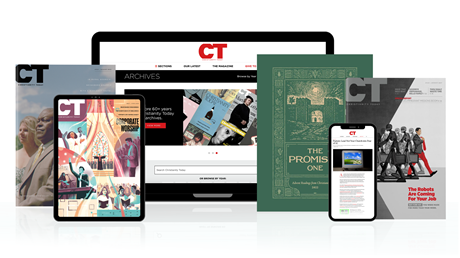 Annual & Monthly subscriptions available.
Print & Digital Issues of CT magazine
Complete access to every article on ChristianityToday.com
Unlimited access to 65+ years of CT's online archives
Member-only special issues
Subscribe
Read These Next
Trending

American Christians Should Stand with Israel under Attack

While we pray for peace, we need moral clarity about this war.

From the Magazine

The Unusual Epistle that Helps Me Counsel on Sexuality

Jude has strong words for immorality in the church. Yet he advocates for mercy for those who doubt.

Editor's Pick

Don't Miss These African Christmas Hits

Jam out this season to highlife, Afrobeats, jazz, a cappella, R & B, rap, dance, and hip-hop artists from Nigeria, South Africa, and more.
ARTICLE: The Good Capitalist
ARTICLE: The Good Capitalist