In the year 1588, a Jesuit priest named William Weston described a large Puritan gathering, which he observed at Ely, England:
Each of them had his own Bible, and sedulously turned the pages and looked up the texts cited by the preachers, discussing the passages among themselves to see whether they had quoted them to the point, and accurately, and in harmony with their tenets. Also they would start arguing among themselves about the meaning of passages from the Scriptures-men, women, boys, girls, rustics, laborers, and idiots. Here over a thousand of them sometimes assembled, their horses and pack animals burdened with a multitude of Bibles.
Thomas Hobbes, who was born in the very year that the Puritan meeting described by Weston occurred, looked back with disdain on the effects of the translation and dissemination of the Bible in the century following the Reformation. "After the Bible was translated," he lamented, "every man, nay, every boy and wench, that could read English thought they spoke with God Almighty and understood what He said, when by a certain number of chapters a day they had read the Scriptures once or twice over."
Both Weston and Hobbes were reacting to a religious revolution that owed much to the labors of one man-William Tyndale.
One is hard pressed today to recall what religious life was like when we all shared a single Bible translation that shaped our theology and piety. But can the late twentieth-century Christian begin to imagine what life was like when the English Bible was available only rarely, in an inferior translation (the Wycliffe Bible), and in an underground form, being passed with great secrecy from believer to believer for fear of the authorities? It was into this backdrop that the man William Tyndale emerged. The legacy he has left for the English-speaking world has forever changed the way the Bible is read.
THE WORD TO THE COMMON MAN
Unlike the big names of the Reformation such as Luther, Erasmus, Calvin, and Cranmer, Tyndale has been the object of what might well be called affectionate obscurity. This is partly because he was a Reformer on the run, harried from pillar to post by agents of the pope, the emperor, and King Henry VIII. He lived a cloak-and-dagger kind of life, even spelling his name in different ways to disguise his true identity-Hychyns, for example, and reversing the syllables, Daltin.
Tyndale never took a wife or owned a home. And, despite his mastery of seven languages, including Hebrew and Greek, he never held a prestigious academic chair. In fact, the most settled position he ever had was that of tutor to the children of his friend Sir John Walsh in his native county of Gloucestershire. If Luther could say that he learned his theology by following where his temptations led him, then Tyndale could reply that he developed his thinking by running wherever his hunters pursued him.
The early course of Tyndale's career followed the pattern set forth by the shapers of Christian humanism, such as Erasmus, John Colet, and Thomas More. After receiving his master's degree at Oxford in 1515, Tyndale transferred to Cambridge, where Erasmus had recently been at work on the first edition of his Greek New Testament. Here Tyndale very likely met Thomas Bilney.
Bilney had bought a copy of Erasmus's Greek New Testament because of his love for classical languages and elegant style. Upon first opening the book, he turned to the words of Paul in 1 Timothy 1:15: "It is a true saying and worthy of all men to be embraced, that Christ Jesus came into the world to save sinners, of whom I am the chief."
"This one sentence," Bilney later recalled, "did so exhilarate my heart, being before wounded with the guilt of my sins, and being almost in despair, that immediately I felt a marvelous comfort and quietness, in so much 'that my bruised bones leaped for joy.' "
Doubtless the study of Scripture had a transforming effect on Tyndale as well. There was born within his heart a burning desire for the Bible to be translated into English. To one cleric who feared that such a project would mean the loss of the church's control over its people, Tyndale declared: "If God spare my life, ere many years I will cause a boy that driveth a plow to know more of the Scripture than thou dost." This task became the magnificent obsession and compelling passion of Tyndale's life.
At first, Tyndale tried to accomplish his mission by working through official channels of the established church. He traveled to London and sought patronage from Bishop Cuthbert Tunstall, a friend of Erasmus. The bishop was impressed with the young scholar's ability in Greek, but he feared the repercussions of hiring so blatant an advocate of reform. Looking back on his interview with Tunstall, Tyndale later referred to him as "a still Saturn" and "a ducking hypocrite."
Tunstall was not willing to oppose the ban on an English Bible, which had been in effect since 1408. In the intervening years, handwritten copies of the Wycliffe Bible had circulated among underground Christians known as Lollards. Many of the Lollards were persecuted and even killed because of their defiance of this ban.
Why did the church authorities so fiercely oppose the translation of the Bible into English? To begin, most of the Lollards belonged to the "common people"-weavers, shoemakers, tailors, "simple laborers and artificers," as John Foxe described them, "of whom few or none were learned … but it pleased the Lord to work in them knowledge and understanding by reading a few English books, such as they could get in corners." Giving the Bible to such people would have been risky. Indeed, in the minds of church authorities, granting such independence of thought and faith to common men and women could only lead to rebellion or outright revolt.
Further, the Lollards had become branded as heretics for their rejection of such Roman church doctrines as transubstantiation and purgatory. The church was convinced that placing the Scriptures in a people's mother tongue would only increase this kind of heretical dissent.
Tyndale built on the heritage of Wycliffe and the Lollards, but he aimed to advance the cause of vernacular Scriptures in two important ways. First, he would translate the Bible afresh from the original languages of Hebrew and Greek, unlike Wycliffe who had worked from the Latin Vulgate. He also desired to use the new technology of the printing press to produce multiple copies of the Bible for wide dissemination among English-speaking people.
GOD'S FUGITIVE
M. M. Knappen has dubbed Tyndale "the first Puritan" not only because he emphasized so strongly the primacy of Scripture but also because he was willing to defy the law and risk his life to advance the cause of reform. In addition, he cultivated an effective network of support among powerful lay citizens. Much of Tyndale's activities revolved around the busy ports of Bristol, London, Antwerp, and Hamburg. Here he came in touch with merchants, sailors, and colporteurs-traveling religious book merchants-many of whom were already smuggling back into England the writings of Luther and the other Reformers.
After his rebuff by Bishop Tunstall, Tyndale turned to these new friends who helped him cross the channel to the Continent. He would never see his native land again. For more than ten years, he lived a hide-and-seek existence dodging the spies of Cardinal Thomas Wolsey and suffering defamation, betrayal, shipwreck, and finally martyrdom. Through all of this he remained single-mindedly committed to his life's work while also displaying the graces of the Christian life in such a way that even his opponents admired him. Thomas More, for example, characterized Tyndale as "a man of right good living, studious and well learned in Scripture. He looked and preached holily."
By early 1525, Tyndale's New Testament was ready for press. A printer at Cologne began the work only to be raided by authorities midway through the Gospel of Mark. Discouraged but not defeated by this aborted effort, Tyndale moved further up the Rhine to the city of Worms where a printer named Peter Schoeffer successfully rolled out 6,000 copies of Tyndale's New Testament.
Tyndale followed the order of books as they appeared in Luther's 1522 New Testament. It is likely that he had spent several months in Wittenberg where he heard and met Luther. However, the extent of Luther's influence on Tyndale remains uncertain.
Thomas More called Tyndale "the captain of our English heretics" and claimed that he was a "confederate with Luther." Tyndale denied the charge and pursued his own independent pathway to reformation. Clearly, on the cardinal doctrines of justification by faith alone, the sovereignty of divine grace, and the infallibility of Scripture, Tyndale saw eye to eye with the great German Reformer. But, like the Lollards, on issues such as the nature of Christ's presence in the Lord's Supper and the role of sanctification in the life of the Christian, Tyndale arrived at a position much closer to that of the Reformed leaders of Switzerland and southern Germany.
In his brief epistle "to the Reader," Tyndale commended his translation of the New Testament in this way: "Give diligence dear reader (I exhort thee) that thou come with a pure mind and as the Scripture sayeth with a single eye unto the words of health and of eternal life: by the which (if we repent and believe them) we are born anew, created afresh, and enjoy the fruits of the blood of Christ." He admitted that his translation was not inerrant and vowed to improve it in future editions.
Although he was accused of willfully distorting the text of Scripture, Tyndale declared: "I never altered one syllable of God's Word against my conscience, nor would this day, if all that is in the earth, whether it be pleasure, honor, or riches, might be given me."
B. F. Westcott, one of the giants of modern biblical studies, compared Tyndale's translation with earlier and later models and vouched for his scholarly integrity: "He deals with the text as one who passed a scholar's judgment upon every fragment of the work, unbiased by any predecessor."
Tyndale's desire to put the Scriptures into "plain plowman's English" led him to introduce a new biblical vocabulary. Just as Luther preferred gemeine (community) to the German word kirche (church), so Tyndale translated church as congregation. Wycliffe's charity, to which the King James Version returned in its translation of 1 Corinthians 13, became love; penance was made repentance; priest rendered as elder, confess as acknowledge, and centurion as under-captain. The enormous influence of Tyndale's translation is seen in the fact that some 90 percent of his words were absorbed into the King James Version and about 75 percent into the Revised Standard Version.
Many of Tyndale's words and phrases have become woven into the fabric of the English language: "the burden and heat of the day"; "eat, drink, and be merry"; "in him we live, and move, and have our being." His translation of John 3:16 echoes through all subsequent versions, including the most recent ones: "God soo loved the worlde / that He gave His only sonne for the entent / that none that beleve in hym / shulde perisshe: Butt shulde have everlastynge lyfe."
Tyndale's books were banned in England and confiscated copies ceremoniously burned at Saint Paul's Cathedral by none other than Bishop Tunstall himself! But Tyndale's New Testament continued to roll off the clandestine presses of Europe and found its way, by hook or by crook, back to his native land. By 1530, Tyndale had translated the Pentateuch. He continually revised his translations, adding marginal notes and also writing commentaries and expositions on various portions of Scripture.
Henry VIII was so impressed with some of Tyndale's theological writings that he promised him a safe conduct back to England and a position in his court as a polemicist to advance his cause of obtaining a divorce from his first wife and establishing his authority in England over that of the pope. Tyndale refused, saying he would return to England only if the king gave authorization and made arrangements for the Bible to be translated into the English language. He remained a fugitive on the continent, constantly on the run in order to accomplish what he believed God had called him to do.
PRISONER OF THE WORD
Tyndale's pursuers did not give up. In 1535, a man named Henry Phillips arrived in Antwerp where Tyndale was staying under the protection of a powerful merchant family. Phillips concocted a plot against Tyndale and, after earning his friendship and trust, betrayed him into the hands of the imperial authorities. Under cover of night, Tyndale was kidnapped and taken to the Castle of Vilvorde, a prison fortress near Brussels modeled on the Bastille in Paris.
Among the last surviving documents from his pen is a letter written to the governor of the Vilvorde prison in the winter of 1535. In that letter, Tyndale, sounding like the imprisoned Paul to Timothy (2 Tim. 4:13), pleads with the man to grant him items from among his confiscated belongings, including a warmer cap and coat for the frigid temperatures of his cell. And "most of all," he wrote, "I beg and beseech your clemency to be urgent with the commissary, that he will kindly permit me to have the Hebrew Bible, Hebrew grammar, and Hebrew dictionary, that I may pass the time in that study." Indeed, like the apostle Paul, even while imprisoned, Tyndale yearned to be active in God's work. There, in his Vilvorde prison cell, he wrote his little treatise Faith Alone Justifies Before God. Likewise, many historians surmise that it was there that he pressed forward with his translation of the Old Testament.
In October 1536, Tyndale, age 42, was strangled to death and his body burned at the stake. According to a tradition passed on by John Foxe, his final words were a prayer: "Lord, open the king of England's eyes."
This year marks the five-hundredth anniversary of Tyndale's birth. As we recall the life of this great Reformer, let us give thanks for the gift of an open Bible and for the courage of an unconstrained conscience before God.
********************
Timothy George is a senior editor of CHRISTIANITY TODAY and the dean of Beeson Divinity School, Samford University, Birmingham, Alabama.
SIDEBAR: Father Tyndale
John Wycliffe might have been the first to translate the Bible into English, but it was William Tyndale's sweeping translation from the original Hebrew and Greek that earned him the title "Father of the English Bible."
An excellent firsthand view of Tyndale's handiwork can be found in two recent volumes, "Tyndale's Old Testament" (643 pp.; $40, hardcover) and "Tyndale's New Testament" (480 pp.; $32, hardcover), both edited by British scholar David Daniell and published by Yale University Press. These modern-spelling editions are ideal for readers put off by the unfamiliar wordings of Tyndale's original sixteenth-century text.
Interested readers will also want to investigate Daniell's "William Tyndale: A Biography" (Yale, 280 pp.; $30, hardcover), due out in December. Daniell's thorough profile examines Tyndale's achievements as a Reformer and biblical translator and surveys his influence on the English language from the age of Shakespeare to the present.
Have something to add about this? See something we missed? Share your feedback here.
Our digital archives are a work in progress. Let us know if corrections need to be made.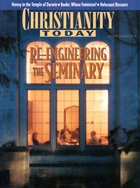 This article is from the October 24 1994 issue.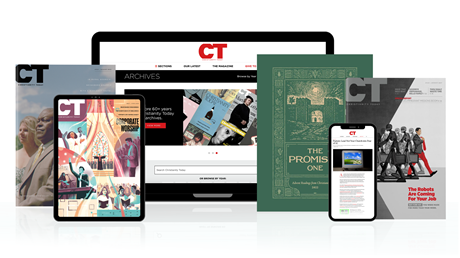 Annual & Monthly subscriptions available.
Print & Digital Issues of CT magazine
Complete access to every article on ChristianityToday.com
Unlimited access to 65+ years of CT's online archives
Member-only special issues
Subscribe
ARTICLE: The Translator's Tale
ARTICLE: The Translator's Tale