Evangelical Scolarship
- I just read Timothy George's article on biblical authority and interpretation ["What We Mean When We Say It's True," Oct. 23]. After all the discouraging and divisive "battle for the Bible" controversies a few years ago, I was pleased to find such a balanced, sophisticated, yet humble overview of the issues evangelicals face in seeking to uphold the authority of Scripture and apply the inspired Word to faith and practice of living Christian communities. When I read articles like this, I feel evangelical scholarship is truly coming of age and evangelicals are increasingly well-positioned to provide leadership for the whole Christian church as it enters the twenty-first century.
- David C. Downing
Lewisberry, Pa.
I'm puzzled: If we evangelicals really approach God's Word as inerrant and perspicuous, why have so many ignored or concocted systems to explain away Jesus' teachings on loving one's enemies? The early church understood the Word of God to be inerrant and chose not to participate in any violent response to evil for over 300 years. If we approach God's Word as inerrant and perspicuous, shouldn't we practice it as such?
- Gary Blosser
Wauseon, Ohio
A NEAT DISPOSITION OF PROBLEMS?
* Craig S. Keener in "Kisses and Veils" [Oct. 23, sidebar] was necessarily brief but came across as making pronouncements that neatly dispose of problems simply not considered.
For example, 1 Corinthians 11:16 indicates [that what] Paul taught regarding head covering was observed by all churches at that time. Yet research shows this cultural practice varied from place to place. The apostle seems to have been urging a practice for the church that countered culture, at least in some locations. Furthermore, the injunction for men not to wear a covering is equally clear. It may be that in our age of feminism the instruction to women is our thorn, but in other times and places it was the instruction to men. This continues to be the truth which needs to be believed and practiced regardless of age or culture.
- Pastor Arlie D. Rauch
Community Bible Church
Glendive, Mont.
"Kisses and Veils" is a classic example of "selective" obedience of the Scriptures.
1 Corinthians 11 addresses two "ordinances" of the church: veiling for Christian women and the Lord's Supper. Consistency would seem to require the literal observance of both, not just one.
- Geo. R. Brunk II
Harrisonburg, Va.
ABSURD GRANDIOSITY
Robert Patterson's review of Tony Campolo's "Can Mainline Denominations Make a Comeback?" [Books, Oct. 23] was astonishing. The liberal dream "has been discredited by the Reagan years, the fall of the Berlin Wall, the Persian Gulf War, Richard John Neuhaus, Rush Limbaugh, Forrest Gump, and the 1994 elections"? Good grief! What absurd grandiosity!
Campolo is not an old hippie tilting at windmills ("a fossil from the 1960s," writes Patterson). He is a deeply faithful man who dares to give voice to parts of the gospel conservatives choose to ignore. Given the choice of Reagan, Limbaugh, or Campolo, I'll line up behind Campolo any day.
- Ronald W. Feltman, Associate Pastor
Good Shepherd Lutheran Church
Columbia, S.C.
LOVE AND FORGIVENESS IN ATLANTA
I was pleased to see that First Baptist Church of Atlanta was more interested in following Scripture than in following the crowd in an interpretation error that has permeated the church for too long ["Stanley Dilemma … ," News, Oct. 23]. Nothing in Timothy or Titus in the passages referring to "husband of one wife" so much as mentions divorce. If that was an issue in qualifying elders and deacons, it would have been specifically mentioned. A normal understanding of the passage is simply to take it as it says: A qualification for elder and deacon is to be monogamous.
There is also the issue of how the forgiveness of God is applicable in the body of Christ. Could it be legitimate for the church perpetually to condemn a brother or sister God has forgiven? The answer in every other realm is "of course not." Only the sin of divorce is held over the head of pastors and deacons for the rest of their lives.
I first heard Charles Stanley on television in 1989, after the worst week of my life: my wife had announced she was going to divorce me. The church board demanded my resignation. Unwilling to put our congregation into a church fight and hoping to reconcile with my now ex-wife, I consented.
I have sought all my life to live for Jesus and have succeeded at times and failed more than I would ever have liked. The one sin, however, for which the church will not forgive me was not my own. Would that all of the church acted with the same courageous love and forgiveness as First Baptist Church of Atlanta.
- W. James Allred
Hastings, Mich.
We know that God hates divorce. But we need to guard against "pharisaism." God is in the business of redeeming people. According to your article, many who are in ministry experienced divorce prior to seminary. Could it be before conversion? Or could it be after conversion and yet there was repentance followed by a substantial period of faithfulness? As a professor of mine once pointed out, using the "husband of one wife" passage to say a person has never had another spouse is dangerous. If that is the case, then all who have ever had a problem with anger, drunkenness, quarreling, greed, and so on are excluded from ministry, too!
- Paul Stock
Mt. Airy, N.C.
HOW, NOT WHEN
Concerning "Future Tense" by Wendy Murray Zoba [Oct. 2], there is no doubt that during past centuries the "blessed hope" of Christ's soon return dominated the hearts of believers. Unfortunately, many well-intentioned people too often brought embarrassment to themselves and to the church by making definite time pronouncements. We should not be surprised if we hear similar unwarranted declarations as the enigmatic year 2000 approaches. As the author pointed out, our real concern should be how we order our lives in preparation for the Lord's return.
- James Supensky
Dayton, Ohio
* "Future Tense" offered an excellent perspective on today's events in our rapidly changing world. It was scriptural, practical, balanced, hopeful, and well-written, avoiding entanglement in specific eschatological viewpoints.
[But] the article left me conflicted. How does one reconcile the idea of investing in a field (as Jeremiah did) with the idea of fleeing to the mountains (as Jesus stated in Matt. 24)? I am led back to the fact that Scripture is not clear on the specifics of what we are to do in the end times, but it is clear on the general commands to trust in the Lord and to be filled with the Spirit. Maybe this is what Zoba meant by living "with hilarity and abandon."
- Roger Medd
Herndon, Va.
If Revelation is so confusing, then how is the reader supposed to be blessed if he can't read and heed it? And if prophecy is so unfathomable, then how are we supposed to derive any comfort from it? Zoba has become what Paul didn't want us to be: an eschatological agnostic. If prophecy/apocalyptic literature is read using the historical-literal-grammatical method of interpretation, then it won't be so "muddled and indeterminable," thus allowing us to be both blessed and comforted, the way its writers intended.
- Daniel S. Zulli
Charleston, S.C.
GUARDIAN OF THE FAITH
Let us keep remembering the plight of the Middle East Christians even as they leave the lands where they have been the guardians of our faith ["The Forgotten Christians of the Middle East," Oct. 2]. Many who will find their way to North America know the risks are great here but apparently not as great as the risks they fear in their homes in Palestine, Egypt, and Lebanon. We earlier immigrants to these shores need to listen to those newest immigrants and hear how they survived and how they kept the faith alive against the ravages of war, poor economic conditions, and the constant reminder under Islam and later Israeli Zionism that they were rejected minorities.
- David Bentley
Zwemer Institute
Pasadena, Calif.
RELEARNING BELIEFS
- Thank you for your editorial "The Road to Orthodoxy" regarding recent changes in the Worldwide Church of God. My wife and I are both members in the WWCOG, and we both appreciated your thoughts on the recent transition the church has gone through.
As you can imagine, coming to see Christ more clearly has been an exciting journey, especially as second generation WWCOG members. It has not all been easy. It is difficult to "relearn" many beliefs and ways of doing things. At times it is overwhelming, but depending on Christ for understanding pulls us through.
- Peter and Susan McClung
Simi Valley, Calif.
Our heartfelt thanks for your editorial. You captured the essence of our journey to Christ and had the courage to share your insights with your readers. As you note, accepting Jesus as Lord has been a painful and difficult experience for us. We have experienced losses, but we have the joy and confidence of having gained Christ and the new life in him. We commend you for being willing to stand with us rather than against us.
- Greg R. Albrecht, Editor
The Plain Truth
Pasadena, Calif.
CBN AND THE FAMILY CHANNEL
John Kennedy's look at Christian television was comprehensive and far reaching [Oct. 2, "Redeeming the Wasteland?"]. However, in reporting the transaction that created the Family Channel, Kennedy failed to point out that CBN was the prime beneficiary of the deal, which brought benefits totaling $600 million to the ministry in the form of cash, notes, stock, debt assumption, and airtime.
In addition, while the majority of Pat Robertson's holdings in International Family Entertainment (the parent company of the Family Channel) are held in a trust that CBN will receive in 15 years, it is important to note that Robertson remains the single largest contributor to CBN. Further, he takes no salary from this ministry, and donates nearly 70 percent of his annual salary from IFE to CBN and other charitable organizations.
- Gene Kapp
Vice President, Public Relations
The Christian Broadcasting Network, Inc.
Virginia Beach, Va.
AUTHORS REPLY TO WYCLIFFE
Your news story "Wycliffe Denies CIA Connections" [Sept. 11] quotes a spokesperson for Wycliffe Bible Translators that certain information in our book, "Thy Will Be Done," about Wycliffe's overseas alias, the Summer Institute of Linguistics (SIL), is "without foundation." Documents cited from Wycliffe's own papers, however, as well as government records and other sources cannot be so breezily dismissed. Three examples: (1) The supervisor of Wycliffe's Jungle Aviation and Radio Service (JAARS), Lawrence Montgomery, took a leave of absence to work on the CIA's payroll in 1981 when counterinsurgency planners used JAARS as a model for jungle air transport for client regimes. (2) SIL assisted a top Green Beret counterinsurgency survey with JAARS transportation in the Ecuadorian Amazon. (3) In Vietnam, SIL translators collaborated with the Pentagon's Advanced Research Project Agency in a tribal survey that complemented CIA-directed Green Beret recruitment of Montagnard tribesmen into the war. (4) Wycliffe remained silent in the face of genocidal policies against Indians in Brazil and in Guatemala.
- Gerard Colby and Charlotte Dennett
St. Albans, Vt.
FULLER ASSOCIATION STILL MINISTERING
CT published articles in June and September 1995 about problems being experienced by Fuller Evangelistic Association, describing how substantial funds had been committed by the association's former management to expansive technological innovations based on assumptions which proved faulty, and how, as a result, the CEO and CFO were terminated. However, though the articles said no more than this, we have encountered considerable speculation to the effect that the association is already bankrupt or about to seek protection from the courts; and in any case, that its ministerial activities have ceased.
Since midsummer, the association's focus has been to downsize and restructure its operations so that a realistic means of repaying its debts can be defined and implemented and that its traditional ministry can be perpetuated. Though the process has been more complex and time-consuming than expected—particularly because of litigation commenced by the former CEO and CFO in part seeking to determine blame for the problems that ensued during their tenure, as well as the resulting attorney general of California's investigation into the association and its relationship with them—the association is committed to the path described. Not only has it not sought the protection of any court during this process, it does not contemplate doing so.
I join fellow board members in apologizing for any misunderstandings and hardship this process may have caused the body of Christ.
- Daniel P. Fuller, President
Fuller Evangelistic Association
Pasadena, Calif.
******************
Brief letters are welcome. They may be edited for space and clarity and must include the writer's name and address. Send to Eutychus, Christianity Today, 465 Gundersen Drive, Carol Stream, IL 60188; fax: 708/260-0114. E-mail: ctedit@aol.com. Letters preceded by * were received online.
Our digital archives are a work in progress. Let us know if corrections need to be made.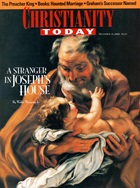 This article is from the December 11 1995 issue.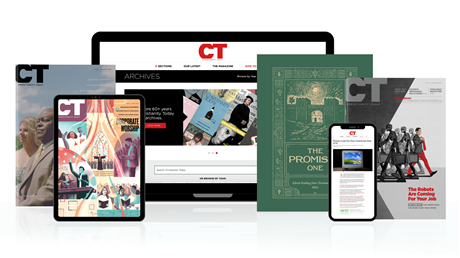 Find hope and historical insight. For a limited time, explore 60+ years of CT archives for free!
Daily devotions from Timothy Dalrymple during this pandemic.
Hundreds of theology and spiritual formation classics from Philip Yancey, Elisabeth Elliot, John Stott, and more.
Home delivery of new issues in print with access to all past issues online.
Join now and get print issues access to archive PDFs.
Letters to the Editors: December 11, 1995
Letters to the Editors: December 11, 1995