Many people, probably even many Christians, think God's love is unconditional. And insofar as God extends his love to all people without distinction, it is true. But many have bought into the sentimental notion of unconditional love evidenced in the old popular song, "Though it makes him sad to see the way we live, he'll always say, 'I forgive.' " This is fuzzy romanticism and cheap grace, not the good news of Jesus Christ.
Is unconditional love the loftiest form of love? Consider three cases:
A mother is having a test of wills with her two-year-old. The young boy wants to continue playing, but it is time for bath and bed. Mom has already given him a five-minute grace period. Now she insists he will do as she says. If the child could speak articulately, he might say, "If you really loved me, you'd let me do what I want." As adults, we can identify with Mom here. She is expressing love, but is it unconditional? Yes, in the sense that she will love her son even if he disobeys. But no, in the sense that she is requiring conditions.
A harder case. Dick and Jane have been married for almost 20 years. But Jane has discovered that her husband has committed adultery, and Dick wants to continue the relationship. He also wants his wife to accept it and continue the marriage. What does real love mean for Jane in this situation? If she loves him unconditionally, won't she accept her husband on his terms as an expression of her love? Or will genuine love require Jane to say, "It's either me or her"? Authentic love requires conditions.
So we come to the third and ultimate case: the love of God, "greater far than tongue or pen can ever tell." Surely God's love is unconditional, right?
Yes, but … Yes, God loves all of humanity and offers salvation to all without conditions of merit or worth. But God's love has conditions. When God created humanity, conditions were there from the start. "You are free … But you must not … " (Gen. 2:16-17). God's love requires conditions, and in this sense it is misleading to call it "unconditional."
The same conditionality underlines the interrelationships of the three Persons of the Trinity. Father, Son, and Holy Spirit love each other unreservedly and without limit. But the condition for their aggregate love is their mutual submission and self-giving. This is the profoundest, but most glorious and most hopeful reality in the universe. In fact, it defines love.
The good news is: God loved our sinful race so much that he sent his Son. He will not, cannot, forgive and accept us except on the basis of Jesus' sacrifice. To do otherwise would betray the integrity of God's own holy character. The condition for God's love to reach us was the Cross.
True love is impossible without the potential for freely given response. The reason for this is that love is about relationship, about reciprocity. Genuine love is a relationship of mutuality between "sovereign" persons, meaning that if love is compelled, it ceases to be love.
If God loved unconditionally in the Rogerian sense of offering unconditional positive regard, he would forgive and accept every person no matter what, requiring no Cross. But then the Christian message would be logically incoherent. It would be as shallow as the love of a person who always accepts another's destructive behavior without ever calling him or her to account.
Why does God not simply accept people (sinners) on the basis of Jesus' sacrifice, irrespective of their responses? Again, the answer lies in the nature of love itself. Without repentance, faith, and discipleship, a woman or man cannot know God's love in its redemptive and transforming power. Without such a response, what a person is conscious of is something less than God's love. It may be relief, psychological peace, or even a (false) sense of security. But it is not God's transforming love, and therefore not salvation.
God's love has conditions, not because he is a tyrant, but because God is love. To those who say this is outmoded mythology, I would say it is moral and psychological necessity. It is grounded in God's character as demonstrated in his acts in history.
If Jesus' Cross was necessary, then so is ours. To rely on God's "unconditional love" apart from Jesus Christ, or even in him but apart from personal faith and discipleship, is to trust in mushy sentiment. The good news is that God's love in Christ forgives, transforms, and empowers for righteous, compassionate living. These are the two essential conditions for experiencing God's love: Jesus' death on the cross (costly grace) and our self-committing trust (genuine faith).
Apart from God's grace, we can do nothing to save ourselves. Our works can never save us (Titus 3:5). But this does not mean salvation is unconditional. Jesus shows us the true nature of love-and its breathtaking cost.
****************************
Howard A. Snyder is Heisel Professor of Evangelization and Church Renewal at United Theological Seminary in Dayton, Ohio. His latest book is "EarthCurrents: The Struggle for the World's Soul" (Abingdon).
ctcurrmrw5T8030576b
Have something to add about this? See something we missed? Share your feedback here.
Our digital archives are a work in progress. Let us know if corrections need to be made.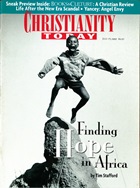 This article is from the July 17 1995 issue.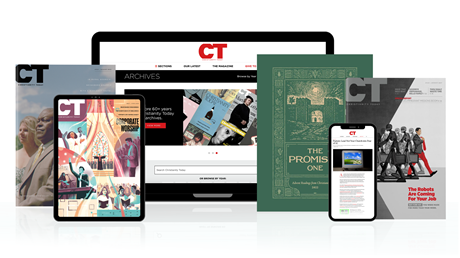 Subscribe to Christianity Today and get access to this article plus 65+ years of archives.
Home delivery of CT magazine
Complete access to articles on ChristianityToday.com
Over 120 years of magazine archives plus full access to all of CT's online archives
Subscribe Now
ARTICLE: Is God's Love Unconditional?
ARTICLE: Is God's Love Unconditional?