"Those white Christians must read from a different Bible," black columnist Barbara Reynolds wrote of the Religious Right after the November elections. In her USA Today column, she denounced the intent to cut aid to the poor, asking, "What kind of Christians stamp on the neediest?"
On this and other issues, many Bible-believing blacks and whites find themselves at odds. Despite differing rhetoric, they do read the same Bible and ultimately proclaim the same goals: equality, dignity, and justice. But their strategies and priorities can differ dramatically.
In light of all this, it was well that the National Association of Evangelicals (NAE) and the National Black Evangelical Association (NBEA) started 1995 off with a convocation on racial reconciliation (CT News, Feb. 6, 1995, p. 48). With the theme that reconciliation is at the heart of the gospel, they brought together in Chicago 180 black and white leaders. Much of the time was spent at racially mixed tables of eight, and exchanges were often candid. African Americans spoke of broken promises, empty rhetoric, resurgent racism. Whites described "double binds," being misunderstood and rebuffed. The issues were complex, emotion-laden, prone to oversimplification. Yet there was a wealth of determined good will. After five years of joint commissions and a nearly 40-year history of carefully worded resolutions, members and friends of the NAE and NBEA were meeting face to face.
Most of us who read CT are white. What can we say to African Americans' dashed expectations? How can we contribute to racial reconciliation? Adequate answers would require volumes. But here are a few modest—yet urgent—recommendations:
Recognize Our Insulation
Despite a barrage of media images, most of us have not experienced what blacks experience. And mentally putting ourselves in their places is neither easy nor equivalent.
At my table during the January meeting, African-American professor Ron Potter said that for black males, the Rodney King beating created an instant affinity. The images of police beating a black man resonated personally. However benevolent most police may be, almost every black male has envisioned being unjustly brutalized.
Station in life is no insurance. Former UN ambassador and Atlanta mayor Andrew Young wrote recently of his anguish on learning that his college-student son was beaten by police. My wife tells of a black friend's husband who is frequently stopped by police for flimsy reasons. When persons of color report such incidents, it is easy for us to think they are overreacting.
But are they? Can we ever put ourselves into a black person's skin? White Christians must listen hard to understand how powerfully racism still affects African-Americans.
Let's have many more small and large steps: pulpit and choir exchanges, reconciliation conferences, sister-church initiatives, reaching out one to one.
Let each of us take at least small steps out of isolation. Way back in the sixties, black author and professor Bill Pannell first advocated white couples and black couples simply going out to dinner together. Now, hundreds in Atlanta are doing that. Let's have many more small and large steps: pulpit and choir exchanges, reconciliation conferences, sister-church initiatives, reaching out one to one. These partnerships take time, as Pastor David Brown of Shawnee, Kansas, discovered. At Executive Editor David Neff's table, Brown told of the 15-year partnership between his largely white suburban Baptist church and a largely black urban Baptist church. It took nearly that long for his white congregation to realize that they were partners, not mere benefactors.
What Bible do whites read? The one in which Jesus says: "By this all men will know that you are my disciples, if you have love for one another" (John 13:35). Racism—even apathy toward racial injustice—is surely the antithesis of love. White Christians must apply Jesus' words (so passionately interpreted by Francis Schaeffer elsewhere in this issue) to racial reconciliation.
Determine Not to Caricature "The Other Side"
In assessing the problems of the Democratic party, columnist Meg Greenfield identified "the worst affliction of the strategizing Democrats: an inability to imagine the basis of legitimate, morally worthy opposition to themselves."
Yes, many conservatives say, we've been too long caricatured as not caring about civil rights or the poor. But do we ourselves too easily caricature black believers whose politics or policy prescriptions do not agree with ours? The issues are numbingly complex, and caricaturing rips apart hopes of reconciliation. Integrity demands we try to understand the depth of others' experiences, especially those who have muddied their hands trying to alleviate nearly impossible situations.
That is far from easy. For example, as the adoptive father of three black children, I was outraged when I read "No, Not One," a seminary professor's article about transracial adoption. Not one black child should be adopted by whites, he argued. He offered black identity reasons for his position, and structural solutions the white establishment should implement to free more blacks to take in these thousands of babies.
I agree that it's far better for black children to be raised in black homes. But while the rules that supposedly block black access are debated, what happens to the children? Every study reveals the devastation from the foster-care system. Children need parents now, and sometimes white parents are the only ones available. No, not one?
Fifty "unplaceable" babies a day land in our Chicago hospitals. It is maddening that rules and inadequate resources make it impossible to get them into good homes instead of a ruinous system. Transracial adoption is not the single answer, but scores of happy, adopted black children among our friends testify to its being a viable alternative.
It was difficult to force myself to see the author's concerns, "to imagine the basis of legitimate, morally worthy opposition" to my views. But I tried. Blacks do adopt more frequently than whites, I told myself. Solutions that build up the African-American community might ultimately accomplish more. The National Association for the Advancement of Colored People (NAACP) largely agrees with the professor and rejects transracial adoptions. Who am I, a white, to disagree with the NAACP about black children?
Still, I strongly disagree. But I try to be sensitive. We must all sort through the issues, never ridicule opponents, and resist the temptation to paint them as unfeeling and uncaring.
Lock Arms with Hopeful People
In the face of devastating social breakdown, all of us, black or white, may lose hope. As we search for fresh answers, our frustrations may again shatter civility. This is a time to listen, pray, and reach out to people with vision and hope.
Franklin Delano Roosevelt was a vigorous man when polio struck him down. Physically devastated, it took herculean effort on Roosevelt's part to overcome his disabilities, to "stand" supported by others. His sons said the biggest change in their father was his increased patience and a willingness to listen.
Patience and a willingness to listen can be a means of hope for racial reconciliation. Black and white, we are as crippled as Roosevelt on the floor, but perhaps we can grasp some crutches and do something. We must reject despair and listen patiently to each other's hopes and fears, and with goodwill go forward, knowing we have only imperfect solutions, imperfect repentance, imperfect people, imperfect love.
At the NBEA-NAE conference we heard stories of hope: a report of reconciliation where despair was common—war-torn Liberia, where a Christian father hugged and forgave the man who had murdered his two sons; the story of the merger of the black and white Pentecostal associations; tales of black-and-white pastoral teams who lead their congregations together. We must link up with these people of hope.
Don't Marginalize the Issue
Reconciliation is at the heart of the gospel. As he wrote to the Romans, Galatians, and Ephesians, Paul formulated his gospel in the context of ethnic reconciliation.
A white evangelical mistake in the sixties was to leave civil rights at the margins. We sometimes said the right things, even wrote some good articles, but (with a few notable exceptions) gave little support to those in the trenches. We failed to see the connection between reconciling with our brothers and sisters and reconciling with God. On other issues of the sixties we were largely right—opposing drugs and free sex, for example—but we lost golden opportunities for racial reconciliation.
Now we must not only make up for lost opportunities, we must learn to give sustained effort to racial reconciliation. Remorse may flow easily in the wake of race riots. God calls us not to occasional fits of good intentions but—rather—in Eugene Peterson's words, to "a long obedience in the same direction."
Billy Graham wrote recently in this magazine, "Racial and ethnic hostility is the foremost social problem facing our world today. . . . The issues that face us are complex and enormous, and simply wishing they would go away will not solve them. . . . Let those of us who claim the name of Christ repent of our past failures and, relying on the Holy Spirit, demonstrate to a weary and frightened world that Christ indeed 'has destroyed the barrier, the dividing wall of hostility . . . through the cross' (Eph. 2:14-15)."
Have something to add about this? See something we missed? Share your feedback here.
Our digital archives are a work in progress. Let us know if corrections need to be made.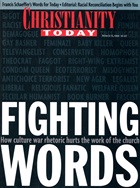 This article is from the March 6 1995 issue.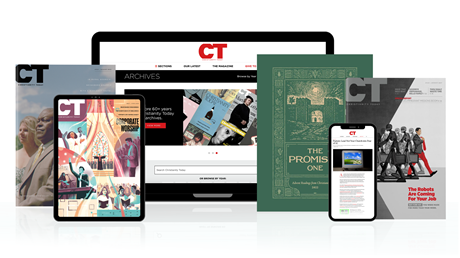 Annual & Monthly subscriptions available.
Print & Digital Issues of CT magazine
Complete access to every article on ChristianityToday.com
Unlimited access to 65+ years of CT's online archives
Member-only special issues
Subscribe
Racial Reconciliation Begins with You
Racial Reconciliation Begins with You