Table Of Contents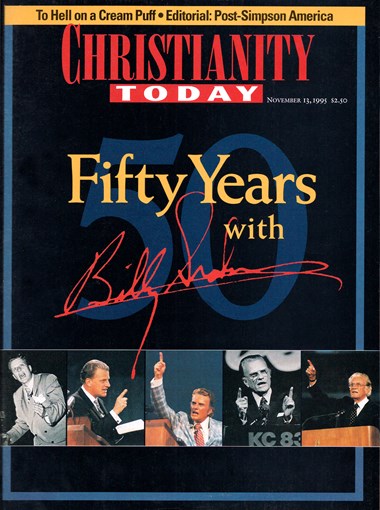 Read CT anywhere you go.
Subscribers have full access to CT's digital archives. Download a PDF of this issue, or browse individual articles below.
About The Archives
The CT archives are a rich treasure of biblical wisdom and insight from our past. Some things we would say differently today, and some stances we've changed. But overall, we're amazed at how relevant so much of this content is. We trust that you'll find it a helpful resource.
Also in this Issue:
Graham's Smallest Audience
Letters to the Editor
Post-Simpson America
Fifty Years with Billy
Grace under Fire
God's Affirmative Justice
Against the Tide
To Hell on a Cream Puff
China's Cross Jonathan Chao Reveals the Secret of Chinese Church Growth
The Post-closet Era
A Brush with Prophecy
Profile: Martha's Angels
Classic & Contemporary Excerpts from November 13, 1995
Principle or Pragmatism?
Atlanta Summit: Cult Watchers Make Amends
Anabaptists: A Christian Community Makes Waves, Not War
News from the North American Scene: November 13, 1995
Simpson Verdict, Farrakhan March Energize Interracial Dialogue
Evangelism: Tentmaking Putting down Stakes in Missions Movement
Parachurch: Empowering the Laity
World Scene: November 13, 1995
Courts: Jury Awards $4.8 Million in Deprogramming Case
Biblical Archaeology: Is Academia Losing Interest in Mideast Excavations?
New York: Top Evangelicals Confer with Pope
Who Speaks for Leonard?