"Gideon's Torch," by Charles Colson and Ellen Santilli Vaughn (Word, 554 pp.; $21.99, hardcover). Reviewed by David Neff.
The villain of Gideon's Torch is not an abortionist or a conniving presidential counsel (though such characters populate this first novel from former presidential counsel Chuck Colson). No, the villain is the Spirit of the Age. Charles Colson and Ellen Vaughn clearly want us to understand this: Our Zeitgeist is an evil Spirit.
Carl Jung wrote that no one "is immune to the spirit of his own epoch, or even … possesses a full understanding of it." Jung would have used analysis to expand awareness of the Zeitgeist. Novelists, on the other hand, use their craft to enlarge our consciousness of what holds our civilization captive. Christian readers have had that consciousness raised in recent years by, for example, Walker Percy's "The Thananatos Syndrome" (which displayed the dark side of biotechnical do-goodism) and by P. D. James's "The Children of Men" (which elaborated the madness of our culture's antichild attitudes).
Now, "Gideon's Torch" explores what happens when the essential impulse toward social order operates in a moral vacuum. If truth is not there, objectively there to be found like an uncut gem, what is to restrain the powerful from feeding their own ambition on a chaotic society's hunger for order, permanence, and stability?
Because for Colson and Vaughn the ultimate issue is truth, their characters occasionally have conversations that sound like they were scripted by Francis Schaeffer—or perhaps Pascal or Augustine.
"What do you mean?" Emily said bluntly. … "It sounds so presumptuous, almost arrogant. How can you be so sure—how can you know there is truth?"
"First of all, because you asked that question," Daniel responded. "Something in you causes you to ask it. … There is something, some ultimate reality, and the mind and soul are restless for it."
The late John Gardner agreed with Colson-Vaughn's Daniel Seaton about the nature of truth, and he applied it to the calling of the novelist: "Either there are real and inherent values, 'eternal verities,' as Faulkner said, which are prior to our individual existence, or there are not, and we're free to make them up, like Bluebeard, who reached, it seems, the existential decision that it's good to kill wives. If there are real values, and if those real values help sustain human life, then literature ought sometimes to mention them" ("On Moral Fiction," in this issue).
"Gideon's Torch" is the kind of fiction that is no longer much in vogue, because it treats truth as real and the novelist's calling as prophetic. That calling is to play what-if games with present realities, to extrapolate current trends into the future, and, seeing there the horrific consequences of our present lives, return to warn us of the madness of our ways.
As Walker Percy wrote in his "Notes on a Novel About the End of the World": "A serious novel about the destruction of the United States … should perform the function of prophecy in reverse. The novelist writes about the coming end in order to warn about present ills and so avert the end."
A PLOT FROM THE HEADLINES
But that is all about the literary enterprise. What about this novel's entertainment value? Is Gideon's Torch a good read? Definitely. I would say the plot elements were drawn from today's newspaper if the author had not assured me he concocted the plot before last April's bombing of the federal building in Oklahoma City prompted talk of restricting constitutional liberties. Concocted it before the July congressional hearings on partial-birth abortions. And concocted it before the suicide of Vincent Foster.
Here are the dramatis personae (all of them well-known types, only a few of which break free of our expectations):
* President J. Whitney Griswold, a New England Brahmin elected in a race in which social conservatives have run a third-party candidate. Griswold is a pro-choice Republican and a moral zombie remote-controlled by his staff. (Colson should know how a president's life and influence are manipulated. And his account rings true.)
* Bernie O'Keefe, Griswold's alter ego, counsel, Yale drinking buddy, and the one person who knows a damaging secret about Griswold's past.
* Emily Gineen, legal positivist, law professor, and reluctant attorney general.
* Paul Clarkson, assistant attorney general, a pro-life Christian with ethics so clean they squeak every time he has to deal with a dilemma.
* Anthony Frizzell, ambitious and out-of-control director of the FBI.
* Daniel Seaton, a pro-life pastor caught between his Christian convictions of nonviolent resistance and the by-any-means-necessary activism of his ne'er-do-well brother, Alex, and their friends.
* Ira Levitz, a civil-libertarian columnist for the "Washington Post" and persistent gadfly for the Griswold administration.
These characters are mostly captive to their ideologies, their politics, or their ambitions. Or they may just be sleepwalking. One exception is Bernie O'Keefe, who struggles with his sense of loyalty and honor under the crushing weight of clinical depression. In that state, further clouded by the interaction of alcohol and antidepressants, he confronts the gospel's demands on the lips of a casual young priest at Georgetown University, who, in Augustinian echoes, urges O'Keefe: "You must believe so you can understand, and when you understand, you will believe."
Another exception is Daniel Seaton, deeply pained over the massacre of the innocents and paralyzed by his Romans 13-inspired need to respect and render unto Caesar. But the paralysis is broken by tragic events, and by novel's end, Daniel becomes a model of Christ's compassion and sacrifice.
THE WOUNDED SOLDIER
Despite its topicality, "Gideon's Torch" is a prophetic novel. Walker Percy wrote of the prophetic novelist as someone who suffers from "a species of affliction which sets him apart and gives him an odd point of view. The wounded man has a better view of the battle than those still shooting." Colson, because of his unique personal history, may be that wounded man who sees the culture war from the blood-soaked ground rather than from horseback. From the ground, he sees not the waving banners and flashing bayonets, but rather the muddy boots and the fallen bodies of fellows-in-arms. His cry is not to abandon the battle, but to be sure to fight the right battle—to rescue the least of these and awaken the morally somnolent. His cry is not to retreat but to deploy the right forces—those governed by nonviolent principle and sacrificial compassion.
"Gideon's Torch" is a watershed "evangelical novel" in that it articulates the commitments and frustrations of the heirs of Francis Schaeffer in the nineties in a way no piece of Christian fiction has done. Indeed, although it is an entertaining read, the novel may belong on bookstore shelves not with Jeanette Oke and Bodie Thoene, but rather with the programmatic writings of Os Guinness and Schaeffer.
Percy wrote that the prophetic novelist is not only a wounded soldier but a canary such as the coal miners "used to take down in the shaft to test the air. When the canary gets unhappy, utters plaintive cries, and collapses, it may be time for the miners to surface and think things over." The canary may not be dead, but it is drooping.
ctcurrmrw5TA040595y
Have something to add about this? See something we missed? Share your feedback here.
Our digital archives are a work in progress. Let us know if corrections need to be made.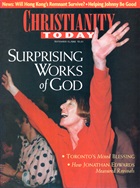 This article is from the September 11 1995 issue.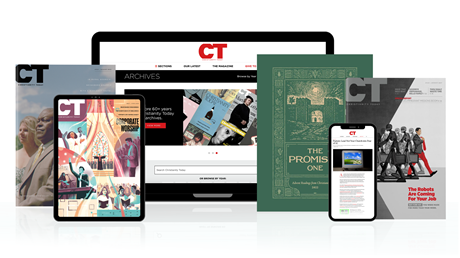 Subscribe to Christianity Today and get access to this article plus 65+ years of archives.
Home delivery of CT magazine
Complete access to articles on ChristianityToday.com
Over 120 years of magazine archives plus full access to all of CT's online archives
Subscribe Now
BOOKS: Possessed by the Spirit of the Age
BOOKS: Possessed by the Spirit of the Age