An excerpt from "Gideon's Torch," by Charles Colson and Ellen Santilli Vaughn.
Make that two crises: Bernie, the president's counsel, has just popped a suspender button while getting dressed for a black-tie aids benefit; and pro-life "terrorists" have hijacked an ABC news feed to broadcast a D&X abortion.
Griswold was on a fast boil. A live abortion on the evening news … his daughter traumatized … get troops moving … take over the studio.
"Let me get this straight, sir." Bernie was seated now at his small conference table, scribbling across a yellow pad with his maroon Mont Blanc pen.
Caroline Atwater, who had seen the broadcast in the press room, had run up the main west wing stairway and down the long corridor to Bernie's reception room, arriving only moments after he picked up the president's call. Bernie's secretary, Barbara Shannon, a plump gray-haired woman who had taken care of her boss through every conceivable crisis for more than a decade, tried to fend her off.
"Please, Ms. Atwater, don't go in," she said, jumping up from her desk. "Mr. O'Keefe is on with the president … see the red light is on … and besides-"
"That's exactly who I want, the president." Caroline threw her head back. "I'm sorry, move aside."
She swung the door open, and there was Bernie O'Keefe sitting at a small conference table, his shirt draped open exposing a hairy chest and rumpled layers of flesh, his white legs punctuated by boxer shorts and dark socks.
Caroline shrieked. Bernie held his hand up, pointed at the door, and shouted, "Shut that!"
"No, no, sir, I wasn't saying 'shut that' to you, Mr. President. It was to Caroline. … Yes, sir, I understand, yes, sir." …
Bernie hung up, darted to the sofa, and threw his pants to Barbara. "Can you get that button back on for me?" he asked in a lather. "National emergency!"
"What? The button?" asked Barbara.
"No!" Bernie shouted at Caroline. "Terrorists on television!" He grabbed his jacket and draped it around his middle. …
"Come in, Caroline, maybe you can tell me what's going on," said Bernie. "The president didn't see it, but he's out of control. Have you called the network?"
"I can't get through," she said. "Their phone lines are jammed, and their correspondents downstairs are as much in the dark as we are."
"That's hard to believe," said Bernie dryly. "Sit down while I call the attorney general. … "
Emily Gineen hadn't seen the broadcast, so Bernie recounted as much as he knew. It sounded even less believable than when the president had told him about it, so he took refuge in talking tough.
"Look, Emily, the president of the United States is in orbit. The First Lady is in shock. What is this, some kind of banana republic where rebels take over the country by seizing radio and TV stations? We give you $10 billion a year, armies of FBI agents, and somebody can hijack a television network and you don't even know it? Maybe I should call the Defense Department and get the army out."
He bulldozed ahead, ignoring her questions, mostly because he had no answers himself.
"Now, I suggest you get back to the department and get your butt in gear. Call me as soon as you do, if that's not too much to ask. The president would like to know what's going on. He'd also like to get a swat team to the ABC studios on DeSales Street."
Bernie felt better after he'd vented for a moment.
"Get on it, Emily! I don't mean to sound harsh, but this is absolutely unbelievable. Thank you. Yes. Yes."
Bernie dropped the receiver hard in the cradle, muttered some more expletives, and took a large gulp from the glass Caroline had set on his desk.
"Welcome to Nicaragua," he sighed.
ctcurrmrw5TA042595y
Have something to add about this? See something we missed? Share your feedback here.
Our digital archives are a work in progress. Let us know if corrections need to be made.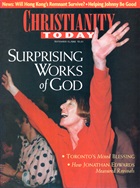 This article is from the September 11 1995 issue.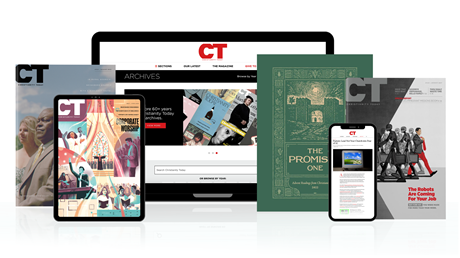 Subscribe to Christianity Today and get access to this article plus 65+ years of archives.
Home delivery of CT magazine
Complete access to articles on ChristianityToday.com
Over 120 years of magazine archives plus full access to all of CT's online archives
Subscribe Now
BOOKS: A Crisis for the President's Counsel
BOOKS: A Crisis for the President's Counsel