For the time being, Hong Kong remains a territory in constant motion. From its towering skyscrapers, business deals are conducted around the globe, around the clock. Its teeming narrow alleyways are alive with the incessant chatter of merchants and shoppers.
Yet, as adept as Hong Kong's 6 million people are at such unremitting action and change, the tiny British enclave is still coming to terms with its scheduled reversion to Chinese sovereignty, now less than two years away.
Although China has promised to allow Hong Kong to continue its boisterous way of life for another 50 years after the transition, lingering doubts over Beijing's posttransition intentions worry nearly every sector of Hong Kong society.
ON BORROWED TIME: Whether or not Hong Kong is ready for what lies ahead, China is coming for its prize. Perched on the edge of Beijing's Tiananmen Square, a 30-foot-high digital clock impassively counts down the number of days, hours, and minutes until the territory's "homecoming" on June 30, 1997.
An identical clock has been installed in the southern Chinese border city of Shenzhen. To the thousands of travelers who pass through the border post each day, it is a poignant reminder that modern Hong Kong is, and always has been, a borrowed place on borrowed time.
For Hong Kong's Christian leaders, fears that the posttransition administration may not grant full religious freedom have led the territory's 1,100 churches to a crisis.
By 1997, it is estimated that one in four Hong Kong Christians will have either left the territory or will be holding a foreign passport. This figure is double the proportion of the general population, which is one in eight. According to the Hong Kong Church Renewal Movement, between 1985 and 1993, up to 75 percent of the territory's pastors in the influential 30 to 50 age bracket emigrated from Hong Kong.
In January, some 800 Hong Kong church leaders met for three days to discuss the implications of the transition. During the symposium, senior Christian figures appealed for calm and for church leaders to hold onto the promises of religious freedom contained in the Basic Law—China's mini-Constitution for post—1997 Hong Kong.
INDEPENDENT OPERATION? Under the Basic Law, churches and parachurches will be permitted to operate independently after 1997. Both Chinese authorities and Hong Kong's religious bodies are to be guided by the so-called three mutuals policy: mutual respect, mutual noninterference, and mutual nonsubordination.
"We have had to make certain assumptions before we can go forward," said Luk Fai, general secretary of the Hong Kong Church Renewal Movement. "So we have made the assumption that the Basic Law will be taken at face value, with both sides honoring it. What else can we stand on?"
After the symposium concluded, however, many delegates admitted that they still have doubts over whether it is realistic to assume that China will adhere strictly to the Basic Law.
"We don't trust the Chinese Communists," said one delegate from a large institutional church denomination. "We don't believe that they are speaking the truth or that they will allow democracy in Hong Kong after 1997."
Less than two months after the Basic Law was unveiled in April 1989, Hong Kong's confidence in China was shattered by news of the government's brutal crushing of the Tiananmen Square democracy movement. Since then, critics have accused China of already breaching the Basic Law by refusing to allow the territory's Legislative Council to operate beyond the July 1, 1997, threshold or allowing more than one overseas judge to sit on the influential Court of Final Appeal.
CHINESE LAWLESSNESS: Adding to the apprehensions, Hong Kong's newspapers offer a disturbing insight into the rising lawlessness in China. Reports of high-level corruption, arbitrary rule changes, businessmen being kidnapped, and the Communist Party's control over the Chinese judiciary have all left their mark on the Hong Kong psyche.
Journalists, lawyers, and clergy alike now question whether Hong Kong's rule of law, which has been a pillar of its prosperity, can survive after 1997.
Hong Kong's church has been deeply wounded by the retreat of so many of its top leaders. According to Li Cho Yiu, a pastor with Hong Kong's Church of Christ in China denomination, the exodus has led to a feeling of despondency among many Christians.
"A church may have a pastor come and serve them for two or three years—long enough for them to get to know each other—and then he suddenly leaves," said Li. "The congregation experiences a sense of helplessness and begins feeling as if they can't rely on their leaders anymore."
Left behind to guide Christians through this period of uncertainty is a young, overworked, and inexperienced church leadership, pushed to the front in an effort to fill the void. The average Hong Kong senior pastor is now 35 years old.
According to Kim Kwong Chan, chaplain of Chung Chi College at Hong Kong's Chinese University, fatigue and low morale among the new leadership are creating their own problems.
"Many young pastors are facing burnout," said Chan. "They feel as if they are being pushed into positions, and that there's no way out."
SPECIALIZED TRAINING: In an attempt to address this dilemma, the Hong Kong Church Renewal Movement is now providing pastors with counseling, specialized training, and insights into the trends currently affecting Hong Kong society.
"There are no courses in seminary that cover the kinds of political and social changes that we are going through now," said Luk.
But the younger leadership also brings a greater sense of vitality to the church, said Chan Hay-him, general secretary of Hong Kong's Chinese Coordination Center of World Evangelism. "In many ways, they have greater potential to help the church understand society and offer it relevant physical and spiritual service."
While controlling religious activities is not likely to rank high on the future government's list of priorities, few doubt that China will eventually attempt to bring the church under its dominion. Some claim that the post-1997 administration already has a number of strategic control factors at its disposal.
With land a scarcity in the tightly packaged city, many congregations meet in commercial centers, housing estates, or school classrooms. Sources estimate that more than 25 percent of these churches breach existing zoning laws and fire regulations. The territory's colonial government appears largely to have ignored such infractions. But there are no guarantees that Hong Kong's future leaders will adopt the same attitude.
Regardless of whether the post-1997 administration chooses to capitalize on the church's vulnerable areas, few deny that it will give the government a distinct psychological advantage.
MISSION EFFORTS: Also uncertain is the impact the transition now less than two years away will have on the ability of Hong Kong churches to send missionaries to mainland China and abroad. According to Operation World, a Christian resource book, Hong Kong sends 220 Protestant missionaries and 60 Catholic missionaries to other countries. Much of that activity is focused on the People's Republic.
Kwok Nai Wong of the Hong Kong Christian Institute said there is nothing in the Basic Law that would prohibit missionary work continuing. However, since missionaries are technically not allowed in China, increased Chinese administrative oversight of Hong Kong may also bring increased awareness of Hong Kong missionaries doing unsanctioned work in China.
Brent Fulton, associate director of the Institute for Chinese Studies at the Billy Graham Center of Wheaton College (Ill.), said, "China's policy has been that the Hong Kong church not interfere with the Chinese church, that China doesn't need missionaries. However, I would see no problem from their point of view of Hong Kong churches sending missionaries to other countries."
FAITH OVER FEAR: Another area in which the church could be susceptible to manipulation is its dependence on government handouts to fund its far-reaching community projects. Though Protestants and Catholics constitute only around 8 percent of the population, the church is responsible for 60 percent of the territory's social-welfare programs, 40 percent of all secondary and primary schools, and 20 percent of Hong Kong's hospitals.
What disturbs some Christian leaders, however, is that the government subsidies received for these projects could be subtly used by a future administration to ensure that the church remains silent on sensitive topics.
Just how far the church is willing to go to ensure that its community projects will continue after 1997 is a matter of considerable debate. According to Luk, many of the institutional churches are more inclined to cooperate with the future government and refrain from speaking out on contentious issues in order to preserve their status quo.
Many evangelical Christians, on the other hand, say they would be willing to surrender privileges such as the church's social projects should a conflict of interest arise. However, according to Chan of the Chinese University, most still refrain from publicly voicing opinions on "political" issues for fear it might lead to retribution after 1997.
Only a few Christian leaders, such as pastor Kwok Nai Wong of the Hong Kong Christian Institute, have shown a willingness to critique government policy openly and campaign for broader democratic freedoms. According to Kwok, Hong Kong's Christian community is suffering from "tunnel vision" if it seeks to maintain its own religious liberties without showing concern for the rights of other groups within society.
"If the church is not going to be around to stand with [the people of Hong Kong] and articulate their fears and concerns to those in authority, then I think the church has failed miserably," said Kwok.
But as Jonathan Chao of Hong Kong's Chinese Church Research Center has often asked: How can the church console society when it is harboring so many of its own anxieties?
"Fear has the power to stop the church from reaching its objectives," he said. "The Communists know this. So it's a matter of strengthening our faith to overcome this fear."
Luk of the Hong Kong Church Renewal Movement agrees. "Even the worst-case scenario is no worse than what Chinese churches are encountering now," he said. "Of course, we cannot expect the best scenario, either. So we are looking for something in between."
CELL GROUP FORMATION: Luk's organization is now urging Christian leaders to consider forming cell groups within their churches in an effort to decentralize leadership. Already, some 70 churches have adopted a cell-group structure and are among the fastest-growing churches in the territory.
To counter fears of decreased religious freedom after 1997, the New China News Agency—China's de facto representation in Hong Kong—has invited many evangelical church leaders to social events in an effort to forge new friendships.
But many remain doubtful about the Chinese officials' intentions. "It all sounds very good, but we cannot be certain whether this is just a 'united front' style of propaganda for the transitional period, or whether it's going to be real," said Chao.
Many Sinologists agree, however, that the economic changes now being embraced by the Chinese government will eventually lead to a corresponding rise in political reform. How far and how fast these political changes progress in China may help determine what the church of Hong Kong must endure.
Despite the anxieties that still surround the transfer of sovereignty, senior church leaders are challenging Christians to look higher and harder at their future.
"It would be a great mistake for us to concentrate too much on our survival and to miss the great opportunities that lie in wait for us," said Chan of the Chinese Coordination Center of World Evangelism.
"The church in Hong Kong is in a strategic position," he said. "On one side we have 1.2 billion Chinese people … on the other side is the rest of the world. We are in the middle and understand both.
"I have great hope that Hong Kong people can help the Chinese church spread the gospel all over the world."
ctcurrmrw5TA054595y
Have something to add about this? See something we missed? Share your feedback here.
Our digital archives are a work in progress. Let us know if corrections need to be made.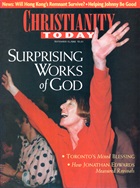 This article is from the September 11 1995 issue.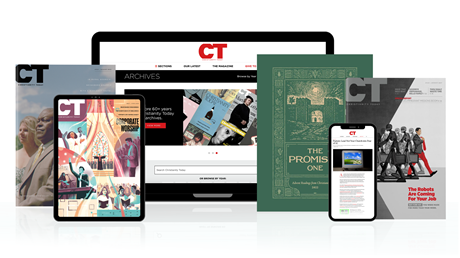 Subscribe to Christianity Today and get access to this article plus 65+ years of archives.
Home delivery of CT magazine
Complete access to articles on ChristianityToday.com
Over 120 years of magazine archives plus full access to all of CT's online archives
Subscribe Now
Countdown to Communism
Countdown to Communism