For seven years, Gerald Derstine of Gospel Crusade, Inc., in Bradenton, Florida, inspired his followers with sensational accounts of miracles, mass conversions, and subsequent martyrdoms among Arab Muslims in Israel and the West Bank.
Derstine's supporters responded generously, contributing $2.8 million in 1994 alone to support the ministry and the persecuted church in the Mideast.
But in March, one of Derstine's Arab ministry leaders confessed, in the face of mounting evidence, that the reports were fabrications. The Gospel Crusade board of directors suspended the Arab leader and another individual in April. Gospel Crusade also withdrew from circulation literature and videotapes containing the leader's stories, including the 1993 book "Fire Over Israel."
MUSLIM CONVERSIONS? The 67-year-old Derstine, a former Mennonite pastor, first became known nationally as a speaker with the Full Gospel Business Men's Fellowship in the late 1950s. While leading a 1981 tour to Israel, he was approached by East Jerusalem resident Mohammed Rawidan, who began selling silver necklaces to Derstine's ministry. Later, Rawidan professed to have been born again and invited Derstine to become the "holy man" of his large Muslim clan.
In 1988, Derstine began circulating accounts from Rawidan and his associates that thousands of Muslims were converting in the wake of healings, signs, and wonders.
Derstine persisted despite early and repeated warnings from evangelical leaders in Israel. "He said that he believed the word of his 'apostles' over the word of the local church," said Roger Elbel, for ten years a Christian and Missionary Alliance missionary to Arabs. The United Christian Council in Israel, an umbrella group representing 23 evangelical churches and organizations, stated in November 1994 that it could not "affirm or endorse" Derstine's ministry.
Derstine said that he published the reports "without any inkling it was a lie," but added that "no matter how accurate we get, there will still be an element out there that won't believe it."
PATTERN OF MISREPRESENTATION: Recent visits to several of the Arab villages featured in "Fire Over Israel" confirmed a pattern of misrepresentation and staging of events for Derstine and his tour groups. In the Hebron area, a reputed "Muslim sheik"—said to have converted after first attempting to kill the baby of regional ministry leader Sa'id Almagathe—turned out to be Almagathe's brother-in-law Omar Nufal, who was visiting from Jordan.
In an interview, Nufal explained that Derstine and Almagathe came to his home "to help poor families," gave him $200, took his picture, and left.
Similarly, two ministry videotapes featured "actual footage" of an attempt to assassinate Derstine in the village of Halhoul. "The mosques are emptying in that region," Derstine reported, "and they blame this man that came from the West."
But the keffiyeh-garbed teenager wielding a butcher knife, sent from the local mosque to kill Derstine, was in fact Mohammed Sahho, the son of another of Derstine's paid local workers.
Questioned about these and other reports in a meeting in a Bethlehem restaurant in March, Derstine's regional leader Almagathe confessed that "all is false" and claimed that he had recently come to repentance.
That evening he telephoned Derstine, whom he said sincerely believed in the reports supplied by his local leaders, and afterwards summarized their conversation: "I told him, 'Please don't believe anything, brother. I cannot go any further with this because God is punishing me. … ' I told him there was very little truth in what he was told.
"I told him, 'Brother Gerald, of this money I have only the house and car. I will give it back to you.' "
For their ministry reports, and for various fictitious emergency appeals, the local leaders have received as much as $500,000 since 1988, according to Almagathe. He himself built a new three-story home with ministry funds. Derstine's literature called it the "First Church of the Martyrs," saying it would give shelter to the widows and children of some 35 new believers violently killed for leaving Islam.
CORRECTIVE ACTION: Almagathe acknowledged that there were no martyrs—indeed, claiming that there were not even any sincere Muslim converts associated with Derstine's ministry. Naif Shahin, who led "house church" meetings for Derstine in exchange for $9,000 to add a new level to his home in the village of Wadi Hamam, confirmed that the "believers" in Galilee in fact continued to be practicing Muslims.
The Gospel Crusade board—which includes Derstine, his son, and his daughter—only took corrective action after local ministry head Rawidan was himself implicated in a fraudulent account.
In a pamphlet published by Gospel Crusade, Rawidan claimed that the body of a martyred infant turned into dust in his hands, and then into a large, white bird, which flew off heavenward.
When the board saw a copy of the infant's death certificate, showing that she had died from Sudden Infant Death Syndrome and was buried normally, Rawidan and Almagathe were then suspended.
Phil Derstine, son of the founder and Gospel Crusade president, said in an April letter that an "accountability procedure" is being put into place for leaders receiving support from the ministry. He said they "deeply regret any hurt or confusion" resulting from the incidents. On independent verification of miracle reports by the ministry, Gerald Derstine said recently, "This is a matter of discernment, not intellectual. … You're not qualified to do this job if you don't see by the Holy Spirit."
ctcurrmrw5TA064595y
Have something to add about this? See something we missed? Share your feedback here.
Our digital archives are a work in progress. Let us know if corrections need to be made.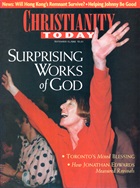 This article is from the September 11 1995 issue.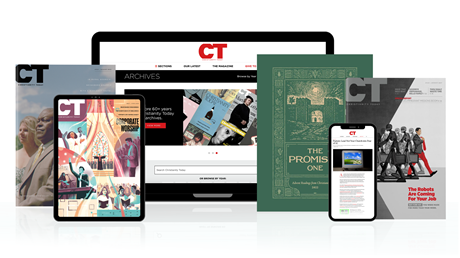 Subscribe to Christianity Today and get access to this article plus 65+ years of archives.
Home delivery of CT magazine
Complete access to articles on ChristianityToday.com
Over 120 years of magazine archives plus full access to all of CT's online archives
Subscribe Now
Mideast Leaders Falsified Ministry Reports
Mideast Leaders Falsified Ministry Reports