Conversion reshapes Norma McCorvey's views.
Norma Leah McCorvey, the "Jane Roe" plaintiff of the famous Roe v. Wade U.S. Supreme Court case that legalized abortion in 1973, has been baptized as a Christian and announced her opposition to abortion, except in cases of fetal deformity or to save a mother's life.
"I'm pro-life. I think I've always been pro-life. I just didn't know it," McCorvey, 47, said after her August videotaped baptism was shown on ABC's World News Tonight.
RELATIONAL EVANGELISM: McCorvey's conversion came about after Operation Rescue National (OR) moved its offices last April into space adjoining the Choice for Women abortion clinic in North Dallas, where McCorvey worked as marketing director.
Flip Benham, director of OR, struck up a friendship with McCorvey, greeting her in the parking lot and discussing the music of the Beach Boys.
From there, conversations turned to spiritual matters. McCorvey eventually accepted an invitation to attend services at Hillcrest Christian Church, an invitation initiated by a seven-year-old daughter of an Operation Rescue staff member. Shortly thereafter, McCorvey accepted Christ and asked Benham, a Free Methodist minister, to baptize her.
McCorvey told ABC's Nightline host, Ted Koppel, "I don't think the [pro-abortion] movement is the issue here. I've found a spiritual path with Jesus Christ." McCorvey has also joined Benham's Dallas office staff as a filing clerk.
McCorvey's road to that walk with Jesus has been circuitous indeed. She was raped as a teenager, dropped out of high school, and married for a brief time at age 16. She has acknowledged a dependence on drugs and alcohol and dealing illicit drugs.
In 1971, McCorvey was a 21-year-old carnival barker when she became pregnant for the third time. Wanting an abortion, she claimed she had been raped and agreed to become plaintiff Jane Roe in the Roe v. Wade case, which challenged the antiabortion statute in Texas.
McCorvey never had the abortion that gave rise to the court suit, and her child was adopted. McCorvey remained anonymous for 16 years after the Supreme Court decision, but in 1989 she announced her identity. Last year she published a book, "I Am Roe," in which she detailed the hard life that she had encountered and confessed that her original claim of having been raped was false.
DISCIPLESHIP COUNSELED: In the aftermath of McCorvey's conversion, pro-abortion forces dismissed her as an insignificant part of their movement, while Christian leaders counseled Christian discipleship for McCorvey.
Kate Michelman, president of the National Abortion and Reproductive Rights Action League, said, "The Roe decision isn't about any individual woman."
Reaction within the Christian community was cautious, with many commenting that McCorvey should avoid the limelight in spite of her "celebrity convert" standing.
"Don't allow yourself to be paraded around as a trophy. Stay home and study the Word of God until you know what you are talking about," advised William J. Murray, a former atheist and plaintiff in a historic school prayer case, which reached the Supreme Court. When he left the American Atheist Association founded by his mother, outspoken atheist Madalyn Murray O'Hair, Murray became a Christian.
Murray, whose latest book, "Let Us Pray," supports school prayer, said, "I don't want to have happen to her what happened to me.
"I was rushing around, speaking in churches before I really understood what being 'saved' meant," Murray told CHRISTIANITY TODAY. "I feel very strongly that new Christians who are celebrities should be protected by the church rather than used up by it." He said few churches were prepared to receive "over-18" converts whose lives included the consequences of worldly experience.
"There are a couple of churches which know how to treat those [converts] who have some baggage," Murray said, "but many just sweep the baggage under the rug and pretend it's not there."
NO EXPLOITATION: Charles Colson found himself subject to intense media scrutiny after his conversion in 1973, the year of his imprisonment for Watergate-related offenses. Colson today agrees with the notion that churches need to be sensitive to converts such as McCorvey.
Colson, founder of Prison Fellowship, said church congregations "need to take [well-known converts] in. Disciple them and love them, but don't exploit them."
McCorvey has withdrawn from the media spotlight, indicating her sensitivity to past experiences with the pro-abortion movement. "I've been exploited enough to last a lifetime," said McCorvey, who has been in a lesbian relationship for 21 years.
In the August 14 issue of Newsweek, McCorvey said she would rather give up her newfound faith than abandon her lover. However, Benham told CT that although McCorvey made that comment, the "physical" part of their relationship has stopped.
For Benham, McCorvey's salvation is not a trophy, but the triumph of being a witness "at the gates of hell."
"Jesus Christ has reached through the abortion mill wall and touched the heart of Norma McCorvey."
ctcurrmrw5TA070595y
Have something to add about this? See something we missed? Share your feedback here.
Our digital archives are a work in progress. Let us know if corrections need to be made.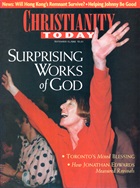 This article is from the September 11 1995 issue.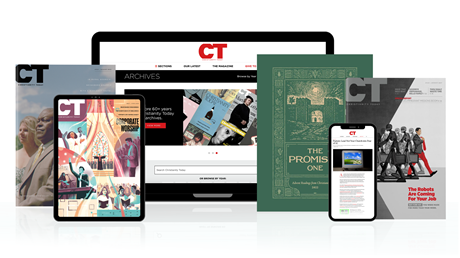 Subscribe to Christianity Today and get access to this article plus 65+ years of archives.
Home delivery of CT magazine
Complete access to articles on ChristianityToday.com
Over 120 years of magazine archives plus full access to all of CT's online archives
Subscribe Now
'Jane Roe' Plaintiff Joins Pro-life Movement
'Jane Roe' Plaintiff Joins Pro-life Movement