Inconsistency marks our major political options. As a consequence, Christians seeking a biblically balanced political agenda find it difficult to find a political home. President Clinton champions the "right" to abortion and then leads the campaign against smoking out of respect for the lives of the 400,000 people who die annually from cigarette-caused cancer. Sen. Jesse Helms leads the pro-life forces against abortion and then lobbies for tobacco subsidies.
Many of the members of Congress who receive a 100 percent score (and thus the Friends of the Family Award) on the Christian Coalition's Congressional Scorecard also receive large donations from the tobacco and liquor pacs. One also has to wonder why the Christian Coalition's Congressional Scorecard considers eliminating environmental and safety regulations as "pro-family" votes. Surely God cares about the family and the poor, the unborn and creation.
So often the Christian Right has rightly championed the family and the sanctity of human life but neglected to work for equal opportunities for the poor, uncritically endorsed American nationalism, ignored concern for God's creation, and neglected the struggle against racism. Equally one-sided has been a Christian Left that rightly promoted justice, peace, and the integrity of creation but largely forgot about the importance of the family and sexual integrity, and failed to defend the most vulnerable of all--the unborn and the very old.
The result is that many evangelical Christians find it increasingly difficult to feel at home within the current political landscape. Evangelicals who seek to be good stewards of the environment find some of their strongest allies to be folks who think mandatory parental notification for teenagers contemplating an abortion is oppressive. Meanwhile, activists who seek the legal protection of the unborn find themselves keeping company with elements on the Right who think the United Nations is part of an international conspiracy designed to usher in a demonic New World Order.
This can all be sloughed off with the rationalization that "politics makes strange bedfellows." But there is a deeper problem. In this polarized environment, the voices of those are effectively muted whose Christian convictions lead them to support the legal protection of the unborn and who want to protect endangered species, who oppose legalizing homosexual marriages and favor restrictions on the tobacco industry.
This is not to say that the failure to protect endangered species or regulate the tobacco industry is morally equivalent to the current regime of abortion on demand. But it is unbiblical for pro-life Christians to overlook the sanctity of life of those who die unnecessarily because of tobacco, war, pollution, or starvation.
WHAT CAN BE DONE?
Evidence demonstrates that the current popular political options fail to represent a large segment of American Christians. Lyman A. Kellstedt at Wheaton College and Corwin A. Smidt at Calvin College have studied evangelical political attitudes more extensively than anyone else in the last ten years. They point out that although evangelicals now overwhelmingly vote Republican (78 percent in 1994), only 39 percent of all evangelicals feel "close or very close" to the Religious Right.
The secular media sometimes seem to suggest that evangelicals care only about the family, the unborn, and biblical sexual norms. But the Kellstedt/Smidt team discovered in a 1992 nationwide poll that a majority of evangelical voters favor tough environmental regulations (54.7 percent), comprehensive health insurance (54.9 percent), and vigorous efforts to ease hunger and poverty (53.8 percent).
Most black Christians want government to continue to battle against racism and poverty, but most also strongly oppose homosexual practice; research indicates that over the last 20 years, blacks have consistently demonstrated a lower approval rating for abortion than whites. A similar pattern exists in the Hispanic community: in one survey, 71 percent agreed that all human life should be protected, including the unborn.
Other Christian groups do not easily line up with current partisan options. Instead, they support a consistently pro-life Christian agenda. Evangelical Anabaptists have long sought to preserve the sanctity of human life whether the issue was starvation, abortion, war, capital punishment, or euthanasia; and theologically evangelical Christians in mainline Protestant churches are dissatisfied with their denominational leadership and are also looking for the kind of balance represented by a consistent ethic of life.
We should not neglect Catholics as potential partners as well as models. For more than a decade the American Catholic bishops have officially supported a consistent ethic of life. Their public policy efforts are pro-life and pro-family, yet they are deeply concerned with the poor, peacemaking, and caring for creation.
Evangelicals, African American and Hispanic Christians, and Catholics constitute a substantial number of American voters. Is it too much to hope that in the next two decades these groups could discover new ways to work together to shape American culture and public policy in a biblically balanced way?
Together we could hammer out strategies (both cultural and political) that would help us recover sexual integrity and empower the poor, respect the sanctity of human life, support the dignity and equality of women and racial minorities, affirm heterosexual marriage as the societal norm without scapegoating homosexuals for the decline of the family, restrain evil and work for peace, and strengthen the family and renew the creation.
Several caveats are in order: our efforts at political engagement need to be informed by a biblical perspective on God's mission in the world, not by the platforms of partisan politics. Some of the problems with which we need to struggle do not, ultimately, have political solutions; political means do not resolve what, at heart, are moral and spiritual problems. Further, if judgment begins with the household of God, then renewal must start there also. The church cannot expect of the body politic what it does not demonstrate itself.
Nevertheless, a new coalition of evangelicals, African American and Hispanic Christians, the historic peace churches, mainline Protestants, and Catholics could contribute substantially to the renewal of our society in the next two decades--if we could agree to cooperate and develop a biblically balanced consistent ethic of life. If we do not, we will have ourselves to blame for our persistently frustrating options, and the immoral, inconsistent society they reflect.
******************
Ron Sider is a corresponding editor for CHRISTIANITY TODAY and president of Evangelicals for Social Action.
Have something to add about this? See something we missed? Share your feedback here.
Our digital archives are a work in progress. Let us know if corrections need to be made.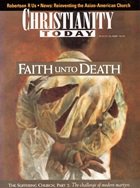 This article is from the August 12 1996 issue.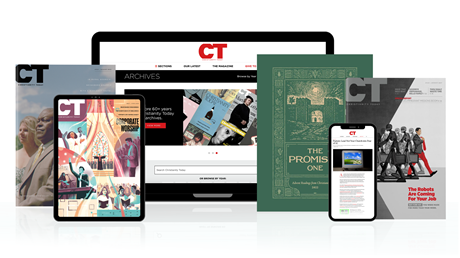 Subscribe to Christianity Today and get access to this article plus 65+ years of archives.
Home delivery of CT magazine
Complete access to articles on ChristianityToday.com
Over 120 years of magazine archives plus full access to all of CT's online archives
Subscribe Now
EDITORIAL: Our Selective Rage
EDITORIAL: Our Selective Rage