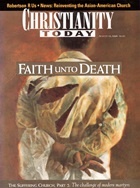 This article is from the August 12 1996 issue. Subscribers can read all of CT's digital archives.
Many people dislike Pat Robertson--so much so that they miss his significance. Few would list him with "major religious figures of the twentieth century"--people like Karl Barth, Pope John Paul II, Mother Teresa, and Billy Graham. But he belongs on that list. As much as anybody, he has put his stamp on American Christianity as it approaches the third millennium.
Just to get the negatives on the table, let's acknowledge the Geraldo factor. Robertson has spent 35 years in front of television cameras. He is a talk-show host, prone to colorful, shoot-from-the-hip glibness. Let's also acknowledge the Jim Bakker factor: he is a religious talk-show host, which gives many secularists (and some religious people) the shivers. Like much TV religion, Robertson's 700 Club offers populist, Pentecostal faith. He receives, on the air, with eyes clenched shut, messages from the Lord that someone's respiratory illness is being healed. He asks for money; and he is not just raising money to help the sick and needy around the world, he is trying to fund a flying hospital.
Robertson is also extremely conservative politically. He lobs shells against gay rights and abortion; he backed the contras in Nicaragua and the white government in South Africa; he fought to get Jesse Helms reelected. He even made friends and business deals with Zairean dictator Mobutu Sese Seko. Such conservatism has its enemies, and besides, many Americans remain extremely uncomfortable mixing politics and faith.
Yet you don't have to be popular to be important. Robertson has shaped three major religious developments: the charismatic renewal, Christian tv, and evangelical politics. The charismatic renewal, of which Robertson is a founding member, modernized and broadened Pentecostalism, ...
1
ARTICLE: Robertson R Us, Part 1
ARTICLE: Robertson R Us, Part 1