In Northern Ireland, where renewed violence this summer stalled the peace process, Presbyterians and evangelical Catholics are exchanging public offers of forgiveness as a means to reconcile the region's divided people.
Ken Newell, a Presbyterian pastor, and Paddy Monaghan, an evangelical Catholic, are emerging as key figures in motivating church leaders to a more active part in the peace process. In addition, an Irish Christian magazine, Bread, is playing a critical role in advocating peace between Protestants and Catholics.
Newell has been involved in dialogue with Republican and Loyalist politicians for the past 20 years. Monaghan is a founding member of the Evangelical Catholic Initiative in Ireland, which was created in 1991 by a group of concerned lay leaders and clergy in the Roman Catholic church.
DAY OF REPENTANCE: Monaghan has succeeded in obtaining the support of 130 Protestant and Catholic church leaders for a National Day of Repentance this month. "Evangelical Catholics and evangelical Protestants need to come together to repent," he says.
The call for repentance says in part: "Is it not time for all Christian leaders and pastors throughout the country to call their congregations together in repentance before God and each other for the sectarian bitterness and strife? If we can do this, God will hear, God will forgive and God will heal."
Also, Christian peace activists have turned to South African leader Michael Cassidy of African Enterprise as a new resource. At an October national prayer breakfast attended by top Irish politicians from the North and the Irish Republic, Cassidy detailed how Christians helped broker peace talks and black-majority rule in South Africa.
An important peace breakthrough occurred in late summer in the wake of bloody confrontations, which started in February when an Irish Republican Army bomb exploded in London, and the ira simultaneously announced the end of a cease-fire.
Months after the cease-fire ended, Protestant parades in Drumcree, 30 miles from Belfast, were the catalyst in July for the worst rioting between Protestants and Catholics in Northern Ireland in 25 years.
In Northern Ireland, July is the annual marching season, and every July 12, the Loyal Orange Order, which is a Protestant society pledged to perpetuate the Bible, Christianity, the Reformation, and allegiance to Great Britain, organizes large marches throughout the North.
The parades on July 12 are especially significant because they commemorate the 1690 victory of Protestant William of Orange over the Catholic James II at the Battle of the Boyne near Drogheda in the present Irish Republic.
More than 2,500 parades take place in Northern Ireland each July, always magnifying Catholic-Protestant differences.
Prior to the July 12 march, the Protestant Orange Order refused to back down on its demand to march through a Nationalist Catholic area in Drumcree.
Although there were no serious incidents as the march occurred, widespread rioting broke out for a week afterwards in both Nationalist and Loyalist communities. When the violence ended, two people were dead, a bomb had exploded, and the gulf had widened between the Protestant and Catholic communities in Northern Ireland.
FORGIVENESS EXCHANGED: In the aftermath, 25 Presbyterians issued a public document, asking for forgiveness from Catholics for "the sins of disobedience, rebellion, anger, and sectarianism" in connection with the violence after the July marches.
In August, Evangelical Catholic Initiative responded to the Presbyterian letter, accepting the offer of forgiveness and itself requesting forgiveness from the Protestants for wrongs inflicted on Protestants by the Catholic community.
Newell told Christianity Today that it is not likely the evangelical Catholic statement would make an impact on Loyalist Protestants. He explained that in Northern Ireland neither faith listens to the other. "It's the dialogue of the deaf," Newell says.
"Protestants would, however, listen to other Protestants," according to Newell. He says that the Presbyterian statement asking for forgiveness has made other Protestant groups rethink their actions. He says, however, that only about 20 percent of the Protestant community has been actively involved in promoting reconciliation with the Catholic community.
The advent of the Dublin-based Evangelical Catholic Initiative has been welcomed by many evangelical Protestants as a means of finding common ground, according to Ray McCullough, editor of Bread. "Their positive actions have endeared these Catholic brothers and sisters to us and have made our endeavors toward common understanding that much easier," he says.
Mark Noll, church historian and author of Adding Cross to Crown, says, "The line between legitimate patriotism and sinful nationalism has long been blurred in Northern Ireland.
"It is a sign of the goodness of God which passes human understanding that not all members of the ecclesiastical communities most directly affected have chosen the way of despair."
Have something to add about this? See something we missed? Share your feedback here.
Our digital archives are a work in progress. Let us know if corrections need to be made.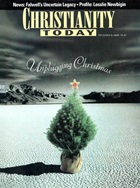 This article is from the December 9 1996 issue.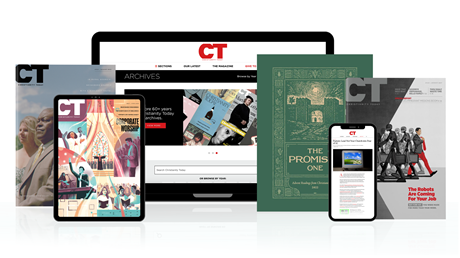 Subscribe to Christianity Today and get access to this article plus 65+ years of archives.
Home delivery of CT magazine
Complete access to articles on ChristianityToday.com
Over 120 years of magazine archives plus full access to all of CT's online archives
Subscribe Now
Northern Ireland: Christian Peace Activists Refocus on Forgiveness
Northern Ireland: Christian Peace Activists ...