John Stott joins together what most people tear asunder--or at least are incapable of holding together. He is a theologian of depth and breadth, yet he preaches and writes with clarity to a wide audience. He integrates social concerns into the mission of the church without ever minimizing his commitment to evangelism. Since he was ordained in 1945, he has ministered within a mainline denomination (the Church of England), while neither compromising his convictions nor diminishing his role as an evangelical thought leader. Engaged in parish ministry for 50 years at All Souls, Langham Place, in the center of London, where he now holds the title rector emeritus, his influence among evangelicals is of international proportions.
One of Stott's enduring legacies is as the key framer of the historic Lausanne Covenant (1974), which serves almost as an evangelical apostles' creed in many Third World settings. His faithful witness to the gospel in his writings and preaching has made him mentor and friend to a global community. The author of 34 books, Stott's primer on the faith, "Basic Christianity," has been translated into over 50 languages, and 22 more are in progress.
Speaking of "Authentic Christianity," an anthology of his writings from the past 50 years (forthcoming from InterVarsity), evangelical historian Mark Noll serves up this accolade: "I consider John Stott the sanest, clearest, and most solidly biblical living writer on theological topics in the English language." It is difficult to dispute this assessment.
More than his books, documents, or institutions, Stott's most important legacy to the church has been his wisdom. Thoroughly biblical, disarmingly open, shrewdly discerning, Stott's thought has helped guide the evangelical movement as it engaged social concerns, the charismatic movement, female clergy, homosexuality, and challenges to core doctrines. In preparation for Stott's seventy-fifth birthday, Roy McCloughry, associate editor of the British Christian magazine "Third Way," interviewed this evangelical Solomon on these and many other topics. The discussion can serve as a measure of where we are as a movement--and where we need to go.
YOUR MINISTRY STRETCHES BACK OVER 50 YEARS. HOW HAVE YOU CHANGED OVER THAT TIME?
I was very naive when I was ordained. I was more an activist than a thinker. I saw needs and wanted immediately to meet them, and this crowded out my studies.
It was in the early days of my ministry that I learned the necessity of stepping back, looking where I was going, and having a monthly quiet day to be drawn up into the mind of God and look ahead for the next six or twelve months. That was an enormous benefit to me.
YOU'VE COVERED AN IMMENSE RANGE OF ISSUES IN YOUR MINISTRY--THEOLOGICAL, SOCIAL, DOCTRINAL, AND CULTURAL. HAS THAT BEEN DUE TO CURIOSITY OR TO OBLIGATION AS A MINISTER?
A bit of both. Even before my conversion, I believe that God gave me a social conscience. When I was only 14 years old, I started a society at school whose major purpose was to give baths to tramps. I had a great concern for these homeless, dirty men.
We called it the ABC, because we thought they could understand that; having decided on the letters, we had to look around for words that would fit, and we came up with two: either "Always Be a Christian" or "the Association for the Benefit of the Community." It only lasted a few years, and we never gave any baths to tramps; but we did some other good works until the treasurer loaned all the subscriptions to his brother, who spent everything.
My father was a doctor and a very high-minded, high-principled person, though not a Christian. He believed in a national health service before it was even dreamed about. My mother, too, was very concerned for the maids in the doctors' homes who had nothing to do on their afternoons off. She started the Domestic Fellowship. So they both had a social conscience.
EVANGELISM AND SOCIAL ACTION
SOME PEOPLE MIGHT DIVIDE YOUR MINISTRY INTO TWO HALVES, ONE FOCUSED ON PIETISM AND ONE CONCERNED WITH THE VERY BROADEST SOCIAL, CULTURAL, AND ECONOMIC ASPIRATIONS OF SOCIETY. WHAT CAUSED THIS CHANGE?
I think it was reading the Bible. As I read and studied and meditated, my vision of God grew and I came to see the obvious things: that God is not just interested in religion but in the whole of life--in justice as well as justification.
I don't see any dichotomy between the "pietistic" and social realms. To me, they're two aspects of the same thing: a pursuit of the will of God. I have always been moved by the phrase "to hunger and thirst after righteousness"; righteousness covers both personal holiness and social justice.
SOME PEOPLE MIGHT SAY THAT YOUR COMMITMENT TO THE JUSTICE OF GOD, EXPRESSED IN SOCIAL TERMS, LED TO A WATERING DOWN OF YOUR COMMITMENT TO THE GOSPEL.
I think that's rubbish, honestly. I remain committed to evangelism. I have had the privilege of leading more than 50 university missions all over the world, and they spanned a period of 25 years until I felt I was a little out of touch with the student generation and too old.
I can honestly say that my social concerns have not diminished my zeal for evangelism. If anything, it's the other way round. What people could say is that I talk a lot about social action but don't do much about it. And that is true, because my calling is to be a pastor. Although I disagree with polarization between these two, I've often said I do believe in specialization.
Acts 6 is the obvious biblical basis for this specialization of roles: the apostles were not willing to be distracted from the ministry of the Word and prayer. In fact, the seven were appointed to handle the care of the widows. Both those works are called diakonia, "ministry"; both required Spirit-filled people to exercise them. Both were necessary, but one was social, the other pastoral.
DON'T SOME PEOPLE FEAR THAT RENEWED EMPHASIS ON SOCIAL CONCERN MIGHT MUFFLE THE CALL TO EVANGELISM?
There are a number of mission leaders, particularly Americans, who are frightened that we want missionaries to give themselves to social-political work, which is none of their business and would distract them from their primary role in evangelism. I have no wish for missionaries to change their role. There is a real need for evangelists who are not engaged in holistic mission because their calling is evangelism. I don't criticize Billy Graham because he simply preaches the gospel and doesn't engage in social-political work--well, he does a bit, but not much--any more than we don't criticize the Good Samaritan for not preaching the gospel to the man assaulted by robbers.
It's partly our existential situation that determines what we concentrate on, partly our vocation. Everybody cannot do everything, as I keep saying to myself.
IN "ISSUES FACING CHRISTIANS TODAY" (1984), YOU SAY: "EVANGELISM IS THE MAJOR INSTRUMENT OF SOCIAL CHANGE. FOR THE GOSPEL CHANGES PEOPLE, AND CHANGED PEOPLE CAN CHANGE SOCIETY." ISN'T THAT REALLY A RUGGEDLY INDIVIDUALISTIC PICTURE OF SOCIAL CHANGE?
I think that quote is from where I list four or five instruments for social change. I put evangelism first because Christian social responsibility depends on socially responsible Christians, and they are the fruit of evangelism.
Having said that, I would also want to make the complementary point that Christians are not the only people who have benefited or reformed society. We evangelicals do have a very naive view. Take marriage: people say, "They have got to be converted and then they'll have a good marriage." But there are Christians who don't have good marriages, and there are plenty of excellent marriages among people who are not Christians. Morality and social conscience are not limited to Christian people.
WHY IS THE CHURCH SO OFTEN THE LAST TO JOIN A PROTEST MOVEMENT? THE CHURCH IN TIME MIGHT TAKE THE LEAD; AND IT MAY SPEAK WITH THE GREATEST INTEGRITY AGAINST JINGOISM OR APARTHEID OR NUCLEAR WEAPONS OR THE ABUSE OF THE ENVIRONMENT. BUT THESE MOVEMENTS ARE OFTEN STARTED BY OTHERS.
Well, that has not always been true. The slave trade is a good example and Shaftesbury's reforms in relation to mental illness. Nevertheless, by and large what you say is true. Why? First, because we're busy; we're busy evangelizing and doing other things, mostly in the church. We don't always demand our liberty from the church in order to be active in the world.
Second, we have such a strong doctrine of fellowship and are so clear about our responsibility not to be unequally yoked with unbelievers that we have seldom learned that we can be "cobelligerents," to use Francis Schaeffer's well-known term, even if we are not in active spiritual fellowship with one another.
SOME PEOPLE MIGHT SAY THAT THE CHURCH IS SIMPLY VERY CONSERVATIVE. IT ONLY JOINS THESE MOVEMENTS FOR CHANGE UNDER PRESSURE FROM SECULAR FORCES IN SOCIETY.
I wish it were always Christians who took the initiative in seeking needed social change. But I am still thankful when others take the initiative and Christians follow, even under secular pressure.
We must not set secular fashion and the Holy Spirit over against each other, as being always and inevitably incompatible. Public opinion isn't always wrong. What is wrong is to bow down before it uncritically, like reeds shaken by the wind. Why should the Holy Spirit not sometimes use public opinion to bring God's people into line? The Spirit seems to have done so on a number of occasions in the debate between science and faith.
WHAT IS THE THEOLOGICAL BASIS FOR CHRISTIAN SOCIAL INVOLVEMENT TODAY? IS IT ENOUGH TO SPEAK OF BEING "SALT AND LIGHT"?
Start with the nature of God. God is interested in and concerned about more than religion: God is the Lord of creation and the covenant. God is the lover of justice, one who protects and champions the oppressed: this is God's nature. If this is the kind of God we have, then clearly God's people have got to be the same.
Second, there is the doctrine of human beings, of male and female made in the image of God--the unique dignity and worth of human beings. William Temple said, "My worth is what I am worth to God, and that is a marvelous great deal, because Christ died for me." And I would say that the ministry of Jesus in life and death exhibits the enormous value of human beings.
Then, I would want to back up this biblical theme with examples from history. Take Mother Teresa, for example, who sees a woman on the pavement of Calcutta with awful sores infested by live maggots. Mother Teresa kisses this woman and picks her up. She sees an intrinsic value in her.
That, surely, is what has motivated people. That is why the word humanization, which was first adopted in the World Council of Churches, is something we evangelicals ought to have taken up. Anything that dehumanizes human beings should be an outrage to us, because God has made them in his image. The whole concept of the rehumanization of human beings, and the deliverance of human beings from anything that dehumanizes, ought to inspire people, and has inspired people.
MAINLINE CHURCHES
DO YOU STILL THINK THE ANGLICAN CHURCH MAKES A GOOD HOME FOR EVANGELICALISM?
Yes, I think it's a good boat to fish from, but that's not the reason I'm a member of it.
There are three options for evangelicals in mainline denominations. The two extremes are to get out or cave in. The third is to stay in without giving in. The extremes are actually the easy options. Anybody can cave in: that's the way of the coward, the way of the feeble mind. To cave in is to stay in but to fail to hold on to your distinctive evangelicalism. You just compromise.
To get out is to say, "I can't bear this constant argument and controversy any longer." That also is an easy option. I know people have done it and suffered because they have given up a secure job and salary; but it's an easy option psychologically.
The difficult thing is to stay and refuse to give in, because then you're always in tension with people with whom you don't altogether agree, and that is painful.
BUT NO CHRISTIAN CAN GIVE UNQUALIFIED ALLEGIANCE TO ANY INSTITUTION. WHAT, FOR YOU, WOULD BE THE SIGNALS THAT IT IS TIME TO LEAVE THE CHURCH OF ENGLAND?
I've always felt that it's unwise to publish a list of criteria in advance. Nevertheless, I'm quite happy to talk about them. I think one's final decision to leave would be an exceedingly painful one, a situation that I cannot envisage at the moment.
I would take refuge in the teaching of the New Testament, where the apostles seem to distinguish between major and minor errors. The major doctrinal errors concern the person and work of Christ. It's clear in 1 John that anyone who denies the divine-human person of Jesus is anti-Christ. So, if the church were officially to deny the Incarnation, it would be an apostate church and one would have to leave.
Then, there's the work of Christ. In Galatians, if anybody denies the gospel of justification by grace alone through faith alone, that is anathema: Paul calls down the judgment of God upon that person.
On the major ethical issues: the best example is the incestuous offender in 1 Corinthians 5. Paul called on the church to excommunicate him. If you want me to stick my neck out, I think I would say that if the church were officially to approve homosexual partnerships as a legitimate alternative to heterosexual marriage, this so far diverges from biblical sexual ethics that I would find it exceedingly difficult to stay. I might want to stay on and fight for a few more years, but if they persisted, I would have to leave.
EVANGELICAL FRAGMENTATION
IT SEEMS THAT EVANGELICALISM HAS FRAGMENTED INTO DIFFERENT GROUPS, WITH DIFFERENT HEROES, PUBLISHERS, AND CULTURES. HOW SHOULD WE THINK OF OURSELVES NOW?
I don't mind plurality as long as it goes hand-in-hand with unity. But I've given a great deal of my life to the development and preservation of unity within the evangelical constituency. I have never believed that our differences have been great enough to warrant fragmentation. I don't mind people founding their own societies and going after their own thing--again, it's an example of specialization--provided they still recognize that we belong to one another.
(continued)
Have something to add about this? See something we missed? Share your feedback here.
Our digital archives are a work in progress. Let us know if corrections need to be made.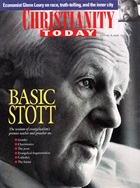 This article is from the January 8 1996 issue.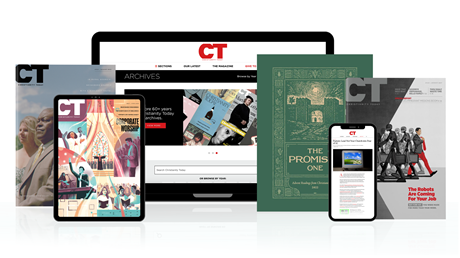 Annual & Monthly subscriptions available.
Print & Digital Issues of CT magazine
Complete access to every article on ChristianityToday.com
Unlimited access to 65+ years of CT's online archives
Member-only special issues
Subscribe
Basic Stott, Part 1
Basic Stott, Part 1