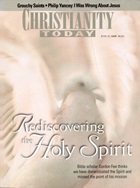 This article is from the June 17 1996 issue. Subscribers can read all of CT's digital archives.
"Reaching Out Without Dumbing Down: A Theology of Worship for the Turn-of-the- Century Culture," by Marva J. Dawn (Eerdmans, 316 pp.; $17, paper). Reviewed by Robert W. Patterson, a frequent contributor to Christianity Today.
Not being tied to a defined ecclesiastical tradition, evangelicals have proven themselves winners at reaching American Baby Boomers, a highly mobile generation slow to put down roots. But their preference for a no-frills, generic church also leaves evangelicals vulnerable to conflict over matters that the restraints of a tradition might otherwise mediate. This applies especially to worship, as evangelical churches wrestle with the degree to which they should adopt contemporary worship in hopes of reaching the unchurched or simply holding on to the younger crowd already in their midst.
Few can predict how evangelicals will resolve this hot issue, but in weighing pros and cons, they will find a vigorous defense of more traditional worship from Marva Dawn, whose "Reaching Out Without Dumbing Down" challenges a number of megachurch premises, including that "seeker-sensitivity" is a ticket to growth. A lay member of the Evangelical Lutheran Church in America who freelances as a writer, consultant, and scholar, Dawn warns that the lights aimed on bringing new people in the church's front door are obscuring the vast numbers exiting via the back. As for those who are attracted strongly enough to stay, Dawn contends that the "dumbing down" inherent in many contemporary approaches to worship will produce theologically illiterate congregations poorly equipped for witness and service. That unintended consequence will sabotage the otherwise laudable attempt to "reach out," since a committed laity has historically ...
1
Our digital archives are a work in progress. Let us know if corrections need to be made.
BOOKS: The Worship Wars