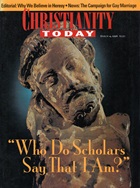 This article is from the March 4 1996 issue. Subscribers can read all of CT's digital archives.
"Growing Up Fundamentalist: Journeys in Legalism and Grace," by Stefan Ulstein (InterVarsity, 225 pp.; $12.99, paper). Reviewed by John Wilson.
My grandmother was a missionary to China, and my mother spent most of her childhood on the mission field. It's no surprise, then, that among my first books--along with tales of King Arthur and his Knights of the Round Table, the Hardy Boys, and a well-thumbed copy of Ken Smith's "Baseball's Hall of Fame"--were a series of missionary biographies. Crudely but vividly illustrated, they recounted the heroic lives of figures such as Adoniram Judson, Mary Slessor, and Hudson Taylor. They radiated the purity of a single-minded commitment to serving God and saving the lost. In a lifetime of reading, few books have made a deeper impact.
In "Growing Up Fundamentalist," a collection of 22 interviews, Stefan Ulstein has assembled a gallery of exemplary lives quite different from those missionary biographies. His subjects vary widely in age, in occupation, and in other ways, but they have one thing in common: all were raised in conservative Christian homes. (Don't put too much weight on the term fundamentalist. The Christians I grew up with would recognize themselves--frequently in caricature--in Ulstein's preface, "Fundamentalism Defined," but they never identified themselves as "fundamentalists," nor as "evangelicals," for that matter. If pressed, they might have simply called themselves "Bible-believing Christians." I suspect that many of CT's readers could say the same.)
The lives Ulstein profiles are not presented as models. To preserve confidentiality, his subjects are not even identified by name: an administrator at a Christian college; a thirtysomething lawyer who "handles landlord-tenant ...
1
BOOKS: Anti-Hagiography