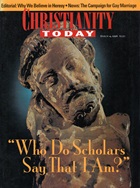 This article is from the March 4 1996 issue. Subscribers can read all of CT's digital archives.
Nothing seems more incongruous than scholarship as a spectator sport and scholars as celebrities. Academic types ply their trade in the solitude of book-lined studies and read long papers before learned societies. If scholarship goes public, it's strictly low-profile: reviews of published works, an occasional quotation by the news media, or, for the select few, a Nobel, Templeton, or other coveted prize. Otherwise, the business of publicity is ill-suited to this world, a garish intrusion into an art that demands concentration and cognitive judgments.
Or so it has seemed until the public-relations blitz of the Jesus Seminar, a highly publicized scholarly think tank that has met twice yearly since 1985 to vote on the historical accuracy of the sayings attributed to Jesus in the Gospels. The Jesus Seminar has made Jesus into a media event. Seminar members cast ballots on each saying attributed to Jesus in the Gospels, including the Gospel of Thomas, which was discovered in 1945 and is considered by most scholars to represent an erratic gnostic Christianity. A red ballot indicates that a given statement (or something like it) was spoken by Jesus; a pink ballot, that a statement resembles something Jesus might have said; a gray ballot, that, although the ideas may be close to those of Jesus, the statement did not originate with him. A black ballot is a definite negative--the statement was derived from later tradition. All sayings, it is assumed, are black unless they can be "proven" to be a different hue.
The result of the voting is a sensation for the media, but dismal for Bible-believing Christians: 82 percent of the words attributed to Jesus were not spoken by him. Only one statement in the Gospel of Mark (generally regarded ...
1
Our digital archives are a work in progress. Let us know if corrections need to be made.
ARTICLE: Who Do Scholars Say That I Am?
ARTICLE: Who Do Scholars Say That I Am?